2004/2005 Specials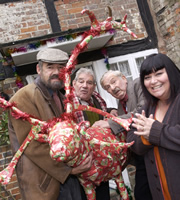 First broadcast: Saturday 25th December 2004
It's been 10 years since Geraldine arrived in Dibley, and the villagers set out to celebrate in ways that only they could dream of. A lingerie model, chocolate fountain, copious amounts of wine and the Archbishop of Canterbury make this a Christmas to remember!
First broadcast: Saturday 1st January 2005
Geraldine's 40th birthday is approaching, and she's determined that she doesn't want any celebration. Her friends, however, are determined to make the occasion somehow, and detecting how lonely she appears at times, contribute £1.50 each for a ticket to a speed-dating evening...
First broadcast: Friday 11th March 2005
The Antiques Roadshow stops in Dibley, and Alice is particularly keen to have her apparently incredibly valuable Papa Smurf model assessed by the programme's experts.
2004/2005 Specials Products