Comic Relief 1999 - Celebrity Party
A film is shooting in the village, and Geraldine plucks up the courage to invite its star - one Mr
Johnny Depp
- to meet some of the locals at a small party in the vicarage. He accepts the invitation, but David isn't nearly as convinced he'll turn up!
Further details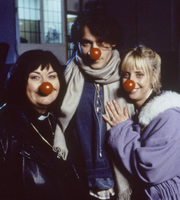 A film crew write to the Council to ask if they can film some of their latest production in the village. After the last production in the village, Sense & Sensibility, blew the electrics, David wants to decline the request. However, when it's revealed that Johnny Depp is the star, the rest of the council cannot vote 'yes' fast enough!
Come film time, and Geraldine plucks up the courage to invite Depp to a party at her Vicarage to chat and meet with some of the villagers. He graciously accepts, as long as he can bring a few friends who he was planning on going out with that evening. Alice is soon preparing for the party but doesn't realise she has her backless dress on the wrong way round!
Just as Geri's luck would have it, the moment that Depp and his friends arrive, the village's electrics blow! Nevertheless, a wild party's had by all: Depp, Alice and the Vicar; Sean Connery and Madonna; the Duchess of York; and Robin Cook - plus Owen, Hugo and Jim.
The following morning, the Vicar is inspecting her beer can and balloon-strewn home, plus a large love bite on her neck (courtesy of Robin Cook!), when the doorbell rings. Having heard theat the party occurred in the dark, it's David, come to gloat that Depp must have turned up with a couple of impersonators to make a fool of the villagers. He's particularly unimpressed by the 'evidence' of Maddona's bra left on the table!
Moments later however, David is speechless. Sarah Ferguson knocks at the door looking for a tiara she'd lost the night before - and her friend's brassiere!
Notes
This short is also known as Red Nose Day Special.
Broadcast details
Date

Friday 12th March 1999

Time

7pm

Channel

Length

14 minutes
Cast & crew