We chat to Sorry, I Didn't Know host Jimmy Akingbola...
Hi Jimmy. For those that haven't seen your show yet, how would you describe it?
Sorry, I Didn't Know, AKA #SIDK, is a new and original, diverse comedy panel show about history but... with a touch of colour.
Two teams are quizzed by me about their knowledge of Black History. This inclusive show educates and entertains everyone no matter your race, gender, age, religion or sexuality. It will have you laughing and at the same time shouting at your TV screens with the answers.
If you, your friends and family love shows like QI, Have I Got News For You, A League Of Their Own, The Chase or Who Wants To Be A Millionaire?, then you will love this.
We've been so thrilled with the reception so far; Episodes 1 and 2 were trending on Twitter and the viewing numbers have been great.
Our audience's response has been very positive, and we hope the show continues to be loved and watched for the rest of the month and on ITV Player. Certainly, it's shown that there's a want and need for this type of programme. We would love to have the opportunity to do a second series with more episodes, and to continue beyond that!
You've got two great team captains?
Our two captains are Chizzy Akudolu (Holby City) and Judi Love (Loose Women), two of the funniest women on TV in my book, who both deserve their own shows!
It's crazy that in 2020 you still never see female team captains on comedy panel shows. We wanted to change that because representation matters and watching these talented women work is like a comedy masterclass.
Our show is like a delicious cocktail that is addictive, especially when you add amazing, fun guests to it like Paul Chowdhry, Kojo Anim, Russell Kane, Angie Le Mar, Kerry Godliman, Tom Allen to name only a few. I've never cried with laughter so much.
Who from history do you personally admire the most?
I've been asked this question a lot so today my answer is Mansa Musa I. He is the richest person who ever lived! Born in 1280, Mansa Musa was ruler of the Malian Empire and acquired most of his wealth from production and trade of salt and gold. So, move over Jeff Bezos and Bill Gates...
You're first and foremost an actor. How did you find taking on the role of presenter?
Being a presenter is fun and yet surreal; it took me a while to get used to walking into my dressing room and not having to put on a costume. I felt like Bruce Wayne... I also enjoyed being an executive producer on the show and seeing the fantastic, diverse and inclusive crew we hired.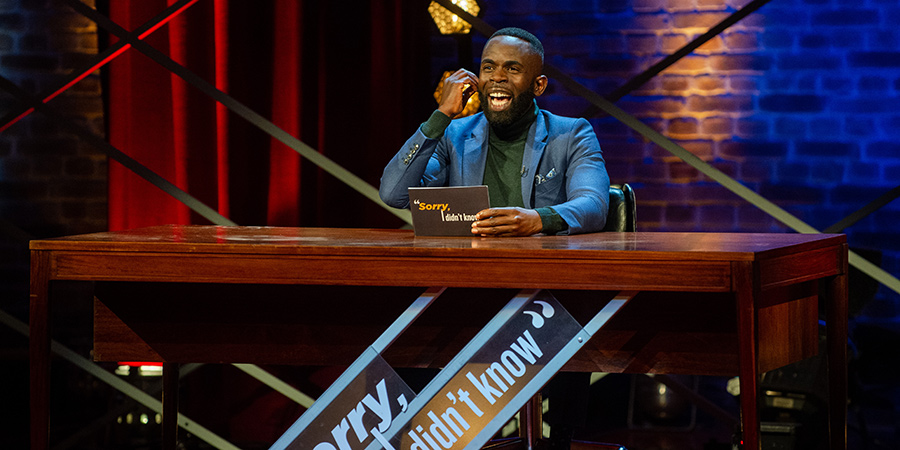 There was four years between the pilot and the series, and for a while it looked like no network wanted to make more. Was that a frustrating time?
Unfortunately, this was not surprising but, yes, very frustrating, especially because there was no other show like it in the world and we knew how important and game changing Sorry, I Didn't Know was, even back in 2016.
For me, it clearly shows just how much the industry needs to change. But, as Frederick Douglas said: "If there is no struggle, there is no progress." We never gave up; through persistence and hard work, here we are.
I'm so happy that ITV have supported us and commissioned the series and believe in it. It's heartening to be able to bring it back and so important to recognise and celebrate black history. It is encouraging that there is such an appetite to learn more. This is an important, historical moment that must be celebrated.
This series has been scheduled with Black History Month, which in some ways is great... but presumably you'd like the format to be something that continues outside of this month too?
Our pioneering show is filling a much-needed, and much overdue part of the TV schedule, which again shows its importance. Yes, we have always wanted the show to be on TV beyond Black History Month; it wasn't made just for October.
I would like Sorry, I Didn't Know to be given more episodes and for it to be treated in the same way as we would any other comedy panel show. We need to show that there is a place in the mainstream schedule for content like this. Let's see, hopefully the show will inspire the industry to change its attitude and it will be on our TV screens beyond just this month.
The show is made by TriForce, which you co-founded. It's involved in more than just making TV. Can you tell us a bit more about the organisation?
Myself and Fraser Ayres set up TriForce Creative Network after identifying issues in the entertainment industry regarding diversity, access and "knowing the right people".
We're really proud to have been at the forefront of developing and nurturing diverse and inclusive talent for 17 years. We provide opportunities for actors, writers, directors, producers and crew through a range of initiatives, all designed to address the specific barriers that people from under-represented backgrounds face in our industry.
Our actors programme MonologueSlam is a nationwide, industry-supported, free actors' showcase. The show has been all over the UK and to LA.
Then there's WriterSlam, our programme for writers looking to break into television. Over the years we have worked with Channel 4, ITV, Sky, BBC and Amazon with prizes including paid commissions.
Unfortunately, our TriForce Short Film Festival, had to be postponed this year due to the pandemic, but our focus is to showcase talent in contemporary filmmaking and help emerging filmmakers to develop skills and access opportunities to further their careers.
We have had thousands of success stories over the years, with previous performers and writers including Chizzy Akudolu, Jaz Deol (EastEnders), Sophie Petzal (Wolf Blood), Oliver Stark (9-1-1) and Zack Momoh (Harriet).
As you can see, we don't just talk, we do and we're proud to champion underrepresented voices. For more information please visit www.thetcn.com
Looking ahead, aside from hopefully more Sorry, I Didn't Know, what else is on the horizon for you?
I'm looking forward to filming Kate & Koji (Series 2, ITV) in 2021 and I'm also keeping my fingers crossed for In The Long Run (Sky) Series 4.
Plus, I'm really excited to be producing and working on a documentary for TriForce Productions. It's been a very busy year, with Most Dangerous Game too, which was nominated for an Emmy, and I've been reading new scripts. There's lots more to come, so watch this space!
---
Sorry, I Didn't Know is on ITV at 10.45pm on Tuesday 20th and 27th October, and on ITV Player
For more information about TriForce Creative Network visit www.thetcn.com