Series 4, Episode 1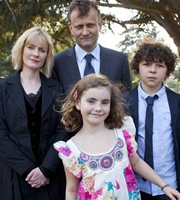 The Brockman family have some tough decisions to make about work, video games and who to take to a family funeral. The vicar probably wishes none of them had ever come.
Broadcast details
Date

Friday 2nd September 2011

Time

9pm

Channel

Length

30 minutes
Repeats
Supporters and subscribers get more
This content is exclusive to
BCG Pro subscribers
and
BCG Supporters
. Join them and get extra features including this episode's audience figures and further repeats data.
Already a donor or subscriber?
Sign in
Cast & crew
Video
Mum and Dad are a bit apprehensive about taking Karen to the funeral of Dad's Uncle Bob and try to explain what will happen on the day.
Featuring: Hugh Dennis (Pete), Daniel Roche (Ben), Ramona Marquez (Karen).