Series 5, Episode 1
The Brockman family find themselves confronted with a new set of challenges, as the sitcom returns for a final series.
Further details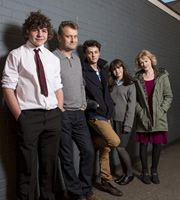 Karen has started at secondary school, where she is struggling to make friends - despite her Mum inviting one home for a disastrous tea.
Ben has auditioned for the school show, Spartacus - The Musical, and has been cast as Spartacus himself, despite the fact that he has a voice like a walrus.
Jake has got himself an interesting new body decoration and Dad is keeping an eye on his wife's talent for explosive emails.
Broadcast details
Date

Wednesday 29th January 2014

Time

9pm

Channel

Length

30 minutes
Repeats
Supporters and subscribers get more
This content is exclusive to
BCG Pro subscribers
and
BCG Supporters
. Join them and get extra features including this episode's audience figures and further repeats data.
Already a donor or subscriber?
Sign in
Cast & crew