Kathy Burke writes autobiographical series for Sky Atlantic
Kathy Burke writes autobiographical series for Sky Atlantic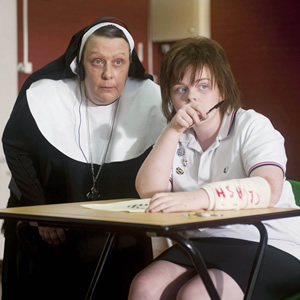 Kathy Burke, the multi-award winning comic actress who shot to fame after starring in The Harry Enfield Television Programme, has written a four-part comedy series for Sky Atlantic about how she became the person she is now, from humble beginnings on the streets of Islington.
Walking And Talking will be the first TV series that Burke has written. It follows the one-off short she created for Sky1's festive autobiographical series Little Crackers in 2010, which told the story of how a chance meeting with the band The Clash had a big impact on her.
Reprising their roles as young Kathy and best friend Mary are Ami Metcalf and Aimee-Ffion Edwards (pictured below), whilst Burke will herself appear in each episode as an Angry Nun, a role she also played in the Little Crackers short. Coronation Street actor Sean Gallagher will play Pretty Nun, and controversial stand-up comic and magician Jerry Sadowitz has been cast as 'Jimmy the Jew'.
The four-part series, which will be filmed by Stewart Lee's Comedy Vehicle director Tim Kirkby, will tell more stories inspired from Burke's teenage years - time spent skiving from school with her best friend, talking about boys and planning for the future. It was a period that young Kathy harboured a dream to be an actress, but circumstance and her upbringing made it an unlikely dream at the time.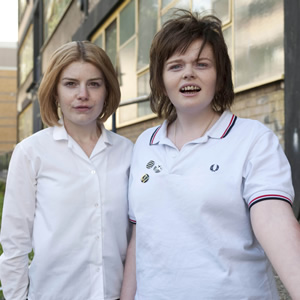 Talking about the show, Kathy Burke commented: "I wanted to write a semi-autobiographical piece that was uplifting and heart-warming. Walking And Talking is my love letter to books, 70s television, music and friendship."
Lucy Lumsden, Sky's Head of Comedy, added: "We loved Kathy's Little Cracker so much we demanded more. We are immensely proud to have this exquisite series for Sky Atlantic HD."
Following the success of its strategy to commission more home-grown comedy series for Sky1, the satellite broadcaster is now looking to do the same with sister channel Sky Atlantic. A second series of surreal sitcom This Is Jinsy will be on the station next year and, as reported yesterday, Jack Dee is working on a panel show pilot for the channel called Don't Sit In The Front Row.
Walking And Talking is the second of Sky's 2010 Little Crackers to be turned into a series. Sky has also ordered a six-part autobiographical sitcom called Moone Boy from IT Crowd star Chris O'Dowd following the success of his Little Crackers short.
Sky Atlantic is expected to show Walking And Talking in the summer.
Below is a clip from Kathy Burke's Little Cracker, with the star playing the nun.
Share this page