The Curse
People Just Do Nothing team developing crime comedy The Curse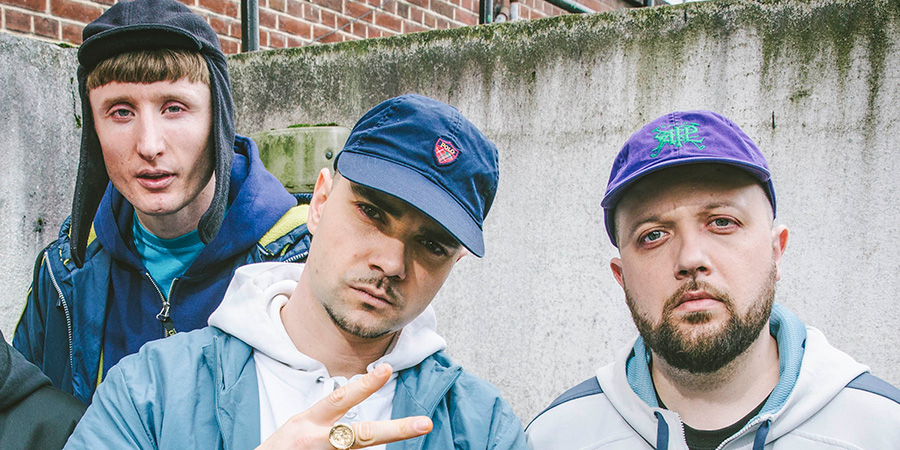 The People Just Do Nothing team are making a crime-based comedy drama for Channel 4 with Tom Davis, British Comedy Guide can reveal.
1980s-set The Curse is based on a true story about a gang involved in a robbery who get more than they bargained for once they have the loot.
Written by Kurupt FM team Steve Stamp, Allan Mustafa and Hugo Chegwin (pictured) with Davis and his regular collaborator, director James De Frond (King Gary, Murder In Successville), shooting on The Curse will take place in London.
Davis and Stamp are known to have roles in the comedy but further casting details have yet to emerge. A pilot was shot in London's East End in April last year, at locations including the Palm Tree Pub in Mile End.
One possible inspiration for The Curse, which is being made by Davis and De Frond's production company Shiny Button (Pls Like, Dial M For Middlesbrough), is the 1983 Brink's Mat robbery, in which thieves stole £26 million of gold bullion, diamonds and cash from a warehouse at Heathrow International Trading Estate.
However, several of the robbers died soon afterwards in shady circumstances linked to their efforts to launder the gold.
Davis and Mustafa previously appeared together in the 2016 prison-set short film Bossman.
Writing on The Curse is currently ongoing. Shiny Button are also working on a King Gary Christmas special and developing their first film, about council estate gangs and petty crime, Davis told This Country creator Daisy May Cooper in an Instagram interview in May.
"We're trying to write a film which is all based around growing up in the nineties. When you grow up in inner London, it was before gang culture, it's like naff gang culture, rival council estates with kids trying to sell weed" he said.
Elsewhere in the interview, Davis reiterated that his production company's scripted focus is on working-class stories.
He disclosed that producer Kate Heggie is developing a comedy drama for Shiny Button called Dropping Off with writer Emma Adams. A four-part thriller for ITV, it's "all about school mums in a rough Leeds estate" he said.
King Gary was commissioned for a second series in February. Meanwhile, the People Just Do Nothing movie, Big In Japan (a working title), is set for a February 2021 release in cinemas after being delayed from this August due to coronavirus.
A Channel 4 spokesperson told BCG that The Curse is still in development and there are currently no filming plans in place.
---
For updates, click the buttons below.
Share this page