Young Ones documentaries
Gold announces Young Ones documentaries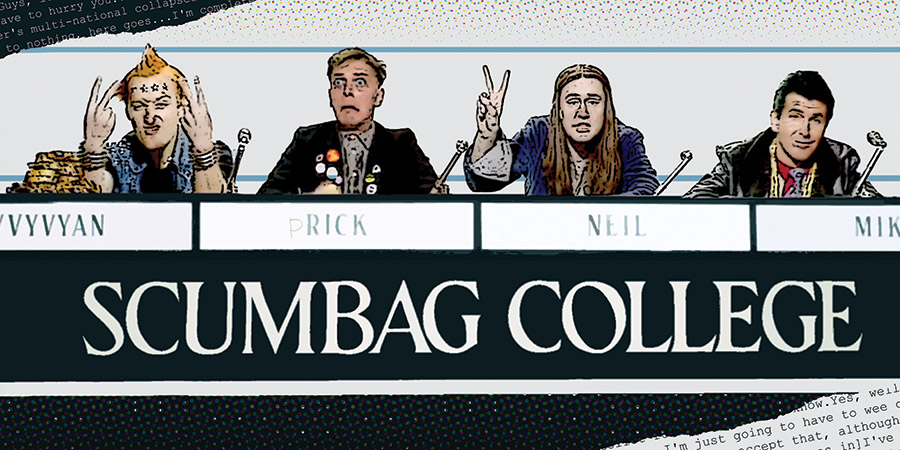 TV channel Gold has announced two new programmes celebrating 1982 sitcom The Young Ones.
Starring Rik Mayall, Adrian Edmondson, Nigel Planer and Christopher Ryan, the comedy ran for just two series in the early 1980s but was emblematic of a sea-change in British comedy, with the rise of the so-called "alternative comedy" movement.
One programme, The Young Ones' 20 Greatest Moments, will be an hour-long countdown of highlights from the 12 episodes of the BBC sitcom, "selected by comedians and industry experts".
The broadcaster has also commissioned the more extensive two-hour documentary How The Young Ones Changed Comedy.
It will combine archive footage with revelations from many of the stars who were involved both in front of and behind the camera, and hear from comedians that followed in its wake to discuss how it influenced them and galvanised the British comedy scene.
Those confirmed to be taking part include co-stars Nigel Planer and Alexei Sayle, producers John Lloyd and Paul Jackson, and the comedy's co-writer, Lise Mayer.
Both programmes have been made by North One Television, and commissioned by Joe McVey, Richard Watsham and Steve North.
McVey says: "I can think of no other sitcom that has had a larger influence on modern comedy than The Young Ones. And while watching it in glorious HD may not have the same illicit thrill as watching it on some dodgy VHS passed around the playground most fans of the show's eyesight isn't what it was so it's probably for the best. For true fans of the show may I suggest watching it with a youngster and enjoy the repetition of the phrase 'so that's where that comes from.'"
Steve North, manager of Gold, says: "We know Gold viewers loved our retrospective on Only Fools And Horses and are eagerly awaiting our forthcoming documentary about dinnerladies. With The Young Ones proving to be a real shot in the arm for British comedy, it will be fascinating to revisit."
Executive producer John Quinn adds: "Terrifyingly, I am old enough to remember watching the first episode go out as a kid. I had no idea what it was, but the moment Rik Mayall launched into a poetic eulogy to Cliff and Vyvyan made his crashing entrance through the kitchen wall screaming 'I've been down the morgue - I got a leg!', I knew I would never look at comedy the same way again. It's a thing of sheer joy to be making this overdue tribute to a genuine game-changer."
Both programmes will be broadcast later in the Spring.
---
For updates, click the buttons below.
A mad, helter-skelter, rude, awesomely violent, unpredictable, swaggering, staggering, joyously infantile, exhilarating steamroller of a sitcom, The Young Ones provided the breakthrough for the new generation of aggressive and forthright 'alternative' comedians.
Join Rick, Vyv, Neil and Mike in their crazy and surreal comedy adventures in this 25th anniversary box set, with each episode uncut and a selection of special features.
First released: Monday 29th October 2007
Distributor: 2 Entertain
Region: 2
Discs: 3
Catalogue: BBCDVD2236
Buy and sell old and new items
Search for this product on eBay
Distributor: 2 Entertain
Region: All regions
Discs: 3
Catalogue: BBCDVD2236
Buy and sell old and new items
Search for this product on eBay
It looks like you're in the US? Fear not! Almost everything can still be ordered.
Amazon UK
deliver internationally,
Amazon.com
carries many items separately, or you can look out for US/Canadian flags on our product listings for direct links.
If ordering from a UK store, please note that you are in Region 1 (DVD)/Region A (Blu-ray), whilst the UK is in Region 2/B, respectively. This means that many - but by no means all - may fail to play. Look for products marked "Region free", "All regions", "Region 0" or "Multi-region". Blu-rays may also be marked "Region A/B/C", or variations thereof. You may also check whether your DVD/Blu-ray player supports multi-region playback (also referred to as "region free"), or whether it can be set to do so. There should, of course, be no problems with books, CDs, or other physical items.
More advice & help on importing
Share this page