The New Statesman spin-off
Development stalled on The New Statesman spin-off
The planned spin-off from political sitcom The New Statesman has stalled for various reasons
Creators Marks & Gran say its a strugge to find a TV channel that will broadcast the show's "scurrilous filth"
They've also found it "impossible" so far to find an actor who can step into the shoes of Rik Mayall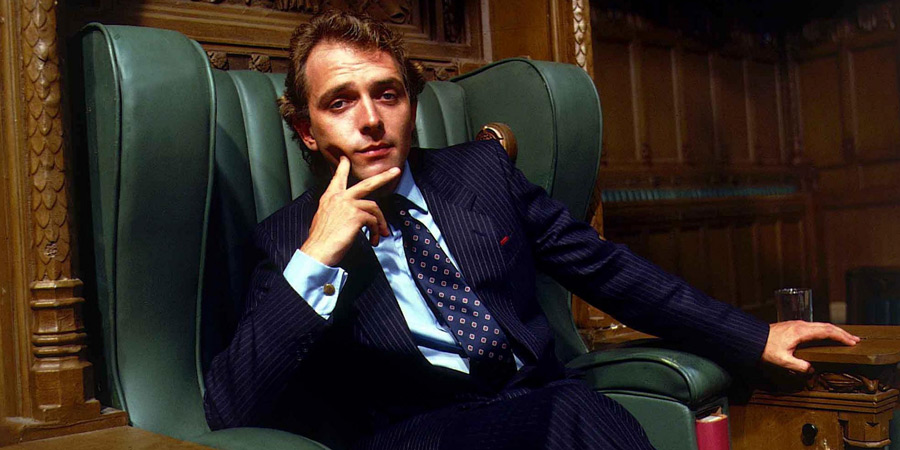 The plan to make a new spin-off from political sitcom The New Statesman is currently stalled, creators Laurence Marks and Maurice Gran have admitted.
Writing in a news update on their website, Marks & Gran said: "It's been harder than we anticipated to get this project into production."
The plan to make The B'Stard Legacy was announced in March, via a comical letter to the press.
The new series would follow the adventures of Arron, the son of Sir Alan B'Stard, the central character from the original show, played by the late Rik Mayall.
Arron - who operates a string of websites, including the world's most popular social media platform - was to be the result of a sperm donation the Tory MP made whilst he was still alive.
Speaking at the time, the writers said: "Unprecedented political events, ranging from Brexit to the election of President Donald Trump in the US are shaping the country. With the political satire genre, much like our political landscape, in crisis and in need of help, Marks and Gran believe that the new show, The B'Stard Legacy, is what the world needs in the time of the alt-right and Fake News."
However, writing today, the creators have given three reasons for why the show hasn't yet made it to television:
"It's almost impossible to find an actor prepared to step into the giant highly polished brogues previously worn by the late great Rik Mayall.
"It's almost as difficult to find a TV channel willing to broadcast the sort of scurrilous filth that characterised The New Statesman.
"Present day politics are so bizarre and extreme. It's tough for mere satirists to come up with storylines more outrageous than real life."
However, they concluded: "Nevertheless, we still have a cunning plan... More next year, we hope."
The New Statesman ran on TV for four series and a number of specials between 1987 and 1994, starring Rik Mayall as the immoral and corrupt politician.
The comedian last played the character in a 2007 stage show, and then briefly again in a 2011 political advert campaigning against the Alternative Vote system. Mayall died of a suspected heart attack in 2014, aged 56.
Marks & Gran also announced today plans to make a Goodnight Sweetheart musical and a stage show about the development of Birds Of A Feather titled Early Birds.
---
For updates, click the buttons below.
Share this page