Early Birds live show
Birds Of A Feather linked live show 'Early Birds' planned
The creators of Birds Of A Feather have revealed they're planning a new live show
Early Birds is expected to premiere at the Edinburgh Festival Fringe in 2018
Timed to coincide with the show's 30th anniversary, it is expected to focus on how the sitcom was developed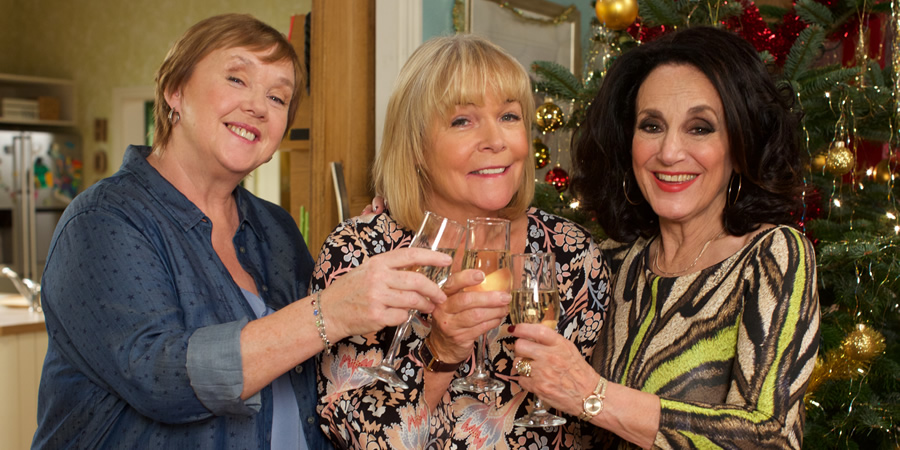 The creators of Birds Of A Feather have revealed they're planning a new live show titled Early Birds, which would premiere at the Edinburgh Festival in 2018.
The show would tie in with the sitcom's 30th birthday. Laurence Marks and Maurice Gran, writing on their website, say: "Incredibly, next year will see the 30th anniversary of the birth of the Birds. It was in 1988 when Maurice took his family for Christmas dinner at a West End hotel, and spied two fellow diners who looked to him as if they might be 'Gangsters' Molls'. A few days later these two innocent - if overdressed - housewives inspired a conversation between us which ended with Laurence saying, 'Sounds like a show for Linda and Pauline.'
"The route from idea to script to transmission was funny, intriguing, suspenseful and ultimately joyous, so we're taking these ingredients to cook up a new theatre entertainment for next year's Edinburgh Festival. The working title is Early Birds. Everything is in place, we just haven't written it yet because we're busy writing this [a Goodnight Sweetheart musical]."
Further details about Early Birds is expected to be revealed after the script has been written. It's currently unclear whether the production would feature the TV sitcom stars Pauline Quirke, Linda Robson and Lesley Joseph (pictured), however it would seem unlikely and the script is more likely to focus on the writing duo's efforts before the scripts came to screen.
A new Birds Of A Feather Christmas special is due to be shown on ITV on Monday (18th December) at 9pm.
The synopsis is as follows: "It's Christmas in Chigwell and the Birds are back. Tracey has got big plans that could upset the festive harmony in the house, Sharon has found a novel way of doing her Christmas shopping and Dorien has got a mystery to solve. What could possibly go wrong?"
The writers say: "This year's hour-long special, entitled The House For The Rising Sons maintains the tradition of setting Christmas shows somewhere unusual and exotic. This year we're in Chigwell. We hope you have as much fun watching it as we had making it."
---
For updates, click the buttons below.
Share this page