Taskmaster Champions
Taskmaster Champion Of Champions specials to be filmed
October update:
The studio sections will be filmed in November.
Tickets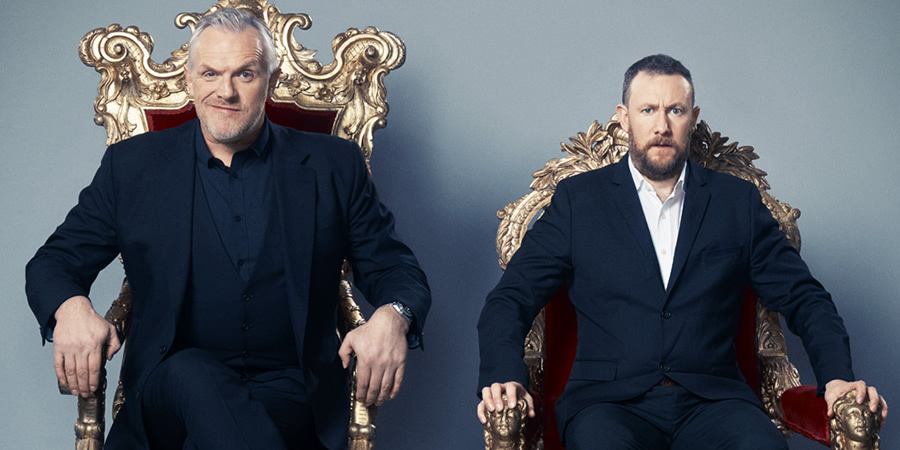 Channel Dave has announced it is to broadcast Taskmaster Champion Of Champions, two hour-long specials featuring the winners of the first five series of the hit challenge show.
Producers announce: "Taskmaster will bring together all five of the show's series champions for the ultimate battle in a brand new two-part special, Taskmaster Champion Of Champions, airing on Dave later this year."
Josh Widdicombe, Katherine Ryan, Rob Beckett and Noel Fielding were the winners of the first four series of the show.
Meanwhile, the fifth spot will be determined at the end of the current series, which launches on Dave tonight (Wednesday 13th September) at 9pm. The contestants for the new series are Aisling Bea, Bob Mortimer, Mark Watson, Nish Kumar and Sally Phillips.
Producers Avalon say: "Greg Davies will once again rule as the all-powerful Taskmaster with loyal assistant Alex Horne firmly by his side as they put the series victors through their paces with a collection of confounding new assignments in the fight to become the ultimate Taskmaster champion."
Series 5 was filmed earlier this year alongside Series 4, but the winner is being kept a closely guarded secret. Studio filming for the new Champion specials will take place on 20th November, with the programmes airing in December.
Whilst no further runs of the multi-award winning show have yet to be announced after the Champion Of Champions episodes, a sixth series is expected to be made in 2018 alongside a number of new international editions for foreign broadcasters.
Taskmaster creator Alex Horne is also currently working on The Button, a format for BBC One which involves families taking on challenges; and - alongside Taskmaster task consultant Tim Key - new quiz show pilot called The Percentage Game.
---
For updates, click the button below.
Share this page