Porridge series in 2017
BBC One orders six more episodes of Porridge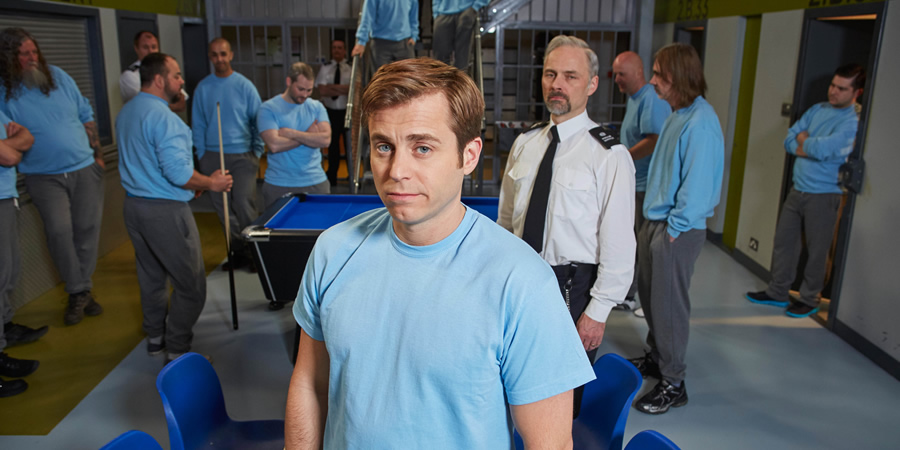 BBC One has ordered a full series of the new version of Porridge.
Six episodes will go into production in January 2017, following the success of the one-off episode screened as part of the BBC's Sitcom Season.
This new update of the classic prison sitcom, written by original creators Dick Clement and Ian La Frenais, focuses on Nigel 'Fletch' Fletcher, the grandson of Ronnie Barker's iconic character Norman Stanley Fletcher. The young Fletch has been locked up in Wakeley Prison for a series of cyber-crimes.
A one-off episode, which was watched by over 4 million viewers in August, saw Fletch manage - just about - to stay on the right side of prison hard case Richie Weeks, while narrowly escaping the attentions of wily Officer Meekie. The BBC tease: "Whether he'll be able to keep them at bay for a whole series is another matter entirely..."
The cast for the series has yet to be confirmed, however Kevin Bishop is expected to return as Fletch, as are Mark Bonnar as Officer Meekie, Ralph Ineson as prison bad boy Richie Weeks, and Dave Hill as cellmate Joe Lotterby.
The cast for the special also included Dominic Coleman as Officer Braithwaite, Harman Singh as naive prisoner Aziz, Jason Barnett as Shel and Ricky Grover as Scudds.
The show, which was paired with a new episode of Are You Being Served? in the schedules, was approached with trepidation by many, but won most of the audience around, garnering a majority of positive feedback across social media.
Speaking about the recommission, writers Dick Clement and Ian La Frenais say: "We're in a state of disbelief that Porridge is coming back after all these years, but Kevin Bishop is a worthy successor to Ronnie Barker. So even though we feel like recidivists, we're more than happy to go back inside."
Kevin Bishop adds: "It was an honour to be asked to play Fletch although I never thought it would go further than just the one off homage. To be welcomed back by Porridge fans and the BBC to make a full series, is one of the proudest moments in my career. Dick and Ian are true sitcom masters and I know they're going to write a brilliant series."
Share this page