Filming starts on new BBC comedy The Kennedys
Filming starts on new BBC comedy The Kennedys
---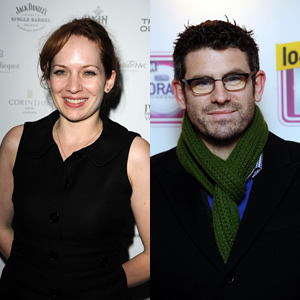 Filming has started on The Kennedys, the new BBC comedy series based on the memoirs of actress, writer and TV presenter Emma Kennedy.
The six-part "aspirational family comedy" is set in the 1970s and follows a multi-generation family, loosely based on Kennedy's best-selling book The Tent, The Bucket and Me.
Katherine Parkinson, star of The IT Crowd, and House Of Fools actor Dan Skinner will star as Emma's parents Brenda and Tony.
The central character of 10-year old Emma will be played by Lucy Hutchinson, a young actress who has previously had guest roles in comedy shows such as Inside No. 9 and Not Going Out.
In the show, Emma is portrayed as a Star Wars-obsessed tomboy who is happy to tag along with her much-loved parents as they move into a new estate in Stevenage.
Talking about the family, the BBC explain: "Delighted and enthused at the fact they are now on the cusp of being considered middle class, they quickly embrace community spirit and organise activities for the whole neighbourhood to get involved in. In each episode, the Kennedys pursue every opportunity they can to climb the social ladder, from organising an Opportunity Knocks style talent show to hosting the estate's first ever dinner party."
Speaking to British Comedy Guide in August 2014 when news of the series was first revealed, Emma explained: "It's going to be set on the estate I grew up on in Stevenage, all the episodes are based on real events. It's adapted from The Tent, The Bucket and Me but we'll be staying mostly at home with the odd holiday thrown in - so in that sense it's not a straight up down adaptation of the book. And because of that I've been able to use stories that I couldn't use in the book. So it's like a bonus book companion.
"Mum made me read her the scripts as she lay on her death bed (this is absolutely true) and I got to a bit where a character is mentioned in a slightly unflattering light. She stopped me and said 'You have to change that name. Your father still sees her in Sainsbury's.'"
Other characters in the comedy include the Kennedys' best friends, who are an unmarried couple. Tim is a 70s alpha-male who is going out with the young yet traditional Jenny. Tim will be played by Harry Peacock, the Toast Of London actor who is Parkinson's husband in real life. Up The Women star Emma Pierson has signed up for the role of Jenny.
Additionally, Shola Adewusi and Clive Rowe feature in the series as the family's unassuming and often confused neighbours, Dee and David.
As filming started today, Emma Kennedy said: "I grew up on a council estate when they were places of aspirational wonder. Social housing was simply the greatest start in life a young family could have, and in The Kennedys I hope I have delivered a series that reflects that hope and joy. It's been a sharp thrill from start to finish."
Myfanwy Moore from the BBC adds: "The series is a joyful and nostalgic reflection on growing up in a time of innocence and double denim. Warm family life is punctuated by anarchic fun and silliness, as portrayed by a wonderfully funny cast."
The Kennedys, which is being produced by Emma Strain (Miranda) and directed by Christine Gernon (Gavin & Stacey), will air on BBC One later this year.
Share this page