Filming begins on Still Open All Hours series
Filming begins on Still Open All Hours series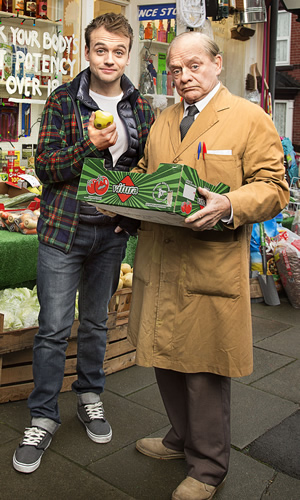 Production has begun on the new series of Still Open All Hours, with location filming underway in Doncaster.
Studio filming dates at Teddington Studios have also now been announced for the 10th, 17th and 24th October, plus 7th, 14th and 21st November 2014. To apply to be in the audience see our free tickets page
The new episodes follow on from the Christmas special revival of the classic 1976 to 1985 sitcom Open All Hours, which starred Ronnie Barker and David Jason. The new incarnation sees Jason reprising his role as Granville Arkwright, with James Baxter playing his cheeky son Leroy.
The BBC One series will see Granville still running the corner shop with Leroy's help. Six new episodes, written by original creator Roy Clarke, will follow Granville's antics as he comes up with new schemes to make money and continue his pursuit of old flame Mavis under the beady eye of her sister Madge.
Maggie Ollerenshaw and Brigit Forsyth return as the sisters, with Lynda Baron once again playing Nurse Gladys Emmanuel and Stephanie Cole as Mrs Featherstone, aka The Black Widow.
Also returning for the new series from last December's special are: the pessimistic Eric, played by Johnny Vegas; Mrs Hussein, played by Nina Wadia; and Cyril, played by Kulvinder Ghir.
Benidorm star Tim Healy has also been cast as a new regular character in the show. He will play Gastric, a man whose stomach has a mind of its own. As his wife has left him, love-sick Gastric turns to Granville, who sees himself as his romantic adviser.
The new series was commissioned following the success of the revival special, broadcast on Boxing Day 2013. It became one of the festive period's highest-rating programmes with consolidated figures revealing more than 12.2 million people saw the episode, making it the most-watched comedy since The Vicar Of Dibley in 2007 and the third highest-rated comedy in over a decade.
Speaking about getting more episodes at the time of the series commission, Roy Clarke said: "I'm delighted. It's like going back home."
David Jason added: "I am so delighted that we are doing a series of Still Open All Hours as the feedback from our Christmas Special has been so rewarding and encouraging. We want to have more fun giving the audience the kind of show they seemed to appreciate. It goes to prove that the corner shop is still open all hours."
Executive Producer Mark Freeland comments: "We were all delighted by the response that the Christmas special received. It was so difficult to shut up shop after that. So we haven't. Granville's is well and truly open for business."
The new episodes are expected to be shown on TV either late this year or in early 2015.
The Daily Mail has pictures of David Jason and Johnny Vegas filming scenes outside the shop on Monday.
The below clip, taken from the Christmas special, sees Granville selling a new product to Eric:
Share this page