All-star cast announced for Gangsta Granny
All-star cast announced for Gangsta Granny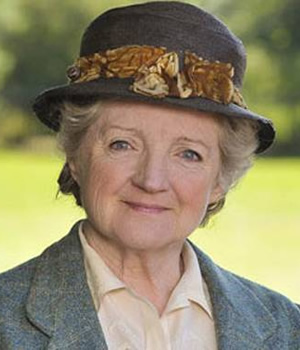 The BBC have announced an all-star cast for Gangsta Granny, the television adaptation of David Walliams's best-selling children's novel.
Filming begins on the 60 minute one-off special this Sunday. The comedy drama tells the story of schoolboy Ben, who is bored beyond belief after he is made to stay at the house of his grandma; all she ever wants to do is stay in, play Scrabble, and eat cabbage soup.
However, one day, Ben's grandma tells him a story that she was once an international jewel thief. Together they go on a wild adventure to complete the one heist she never quite managed in her criminal heyday, a challenge which brings them face-to-face with Her Majesty The Queen.
Julia McKenzie (pictured), the star of shows including Fresh Fields, Cranford and Miss Marple, will take the lead role in Gangsta Granny, with young actor Reece Buttery (from CBBC's The Dumping Ground) playing Ben.
David Walliams and Miranda Hart will appear as Ben's Strictly Come Dancing obsessed parents, Mike & Linda.
Meanwhile, Joanna Lumley will play HRH The Queen, who appears as the adventure reaches its conclusion.
Other stars include Rob Brydon as Mr Parker, the nosy neighbour who could scupper Ben and his grandma's plot; and Jocelyn Jee Esien as Kelly, the pushy mother of Florence with whom Ben has to dance in a local ballroom competition.
The cast list is completed by Harish Patel (Run, Fatboy, Run, Mr Stink), Max Olesker (from comedy duo Max & Ivan), and Steve Speirs (Big School, Stella).
The programme is being made by the team behind Mr Stink, the 2012 BAFTA-nominated adaptation of one of Walliams's other books.
David Walliams says: "I am thrilled that we have such a stellar cast of comedy legends for Gangsta Granny. I can only apologise that I am in it too!"
Gangsta Granny is Walliams's fourth children's book. First published in 2011, it has sold over 430,000 copies and is at the time of writing still in the top 20 bestsellers list on Amazon.
The BBC's Mark Freeland adds: "David asked us not to muck up his massively popular book on TV. So we cast him and then added some of the most-loved and wonderful comedy actors in the country. I hope it will be a very special Special."
Gangsta Granny will be broadcast this Christmas on BBC One.
Share this page