ITV orders second series of Vicious and The Job Lot
ITV orders second series of Vicious and The Job Lot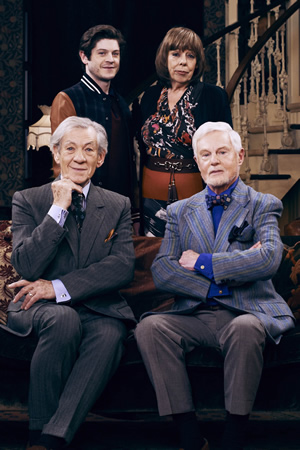 ITV has today confirmed that both of its new sitcoms - Vicious (pictured) and The Job Lot - will return for second series.
As previously reported, Ancient Rome-based sitcom Plebs is also now confirmed as returning for another run.
ITV's Director of Entertainment and Comedy, Elaine Bedell, said: "A sharp tongued couple, a west midlands job centre, Rome in 27 BC - we're delighted to be returning to all of them. More importantly, we're pleased to be continuing our push in scripted comedy and to have a developing raft of shows, across ITV."
The first series of Vicious and The Job Lot aired in a double bill on Monday evenings in April, May and June. The shows started with over 5 million viewers which, according to ITV, makes them the highest rating new half-hour scripted comedies of the year so far, based on whole series averages. However, viewing figures dropped after the initial episodes.
The Guardian reports that ITV chief Peter Fincham has "refused to commit the first sin of broadcasting" and bail out on the show because of low ratings.
Speaking at the Edinburgh Television Festival, he said: "I don't think the issue is what went wrong with it, the issue is a show like that finding its feet. If we are committed to comedy, I don't want to commit the first and most obvious sin of broadcasting ... To say we are going to bail out at the first sign of ratings falling off. We are committed."

Vicious follows a bitchy gay couple, Stuart and Freddie, who have lived together for the past 50 years. They spend their days entertaining their friends, avoiding Stuart's mother, checking their ailing dog is still alive and bickering.
Sir Derek Jacobi, Sir Ian McKellen, Frances de la Tour, Iwan Rheon and Marcia Warren are all set to return for the new run of episodes.
The Job Lot observes on the goings on in a West Midlands Job Centre. It focuses on the relationships between the people that work there and the people that don't work there, or anywhere else for that matter. The ensemble cast includes Sarah Hadland and Russell Tovey.
The second series of The Job Lot will be moved from the network's flagship station to ITV2, the network's entertainment channel for young and predominantly female audiences. ITV2's Angela Jain says of the acquisition: "First Plebs and now The Job Lot. Both shows have incredible talent on and off screen and are an important part of ITV2's on-going commitment to comedy."
The new series of Vicious and The Job Lot will be shown in 2014. A Christmas special of Vicious has already been filmed and is set for transmission this December.

Other comedies coming up on ITV include comedy drama Pat & Cabbage about two 60+ year old women enjoying life; bed & breakfast-based comedy drama Edge Of Heaven; a new, revived series of 1990s BBC sitcom hit Birds Of A Feather; and a sixth series of hit 'sun and sand' sitcom Benidorm.
Below is the trailer used to promote the first series of Vicious and The Job Lot.
Share this page