Series 3
This is a guide to comedy-related episodes of this programme only.
First broadcast: Thursday 14th September 2017
John sits down with David as he opens up about his life and career, including the evolution and success of Little Britain, his extraordinary sporting achievements for Sport Relief, and his acting and presenting roles. He speaks honestly about living with depression, his close relationship with his family and his love of writing for children.
2. Nadiya Hussain
First broadcast: Thursday 21st September 2017
Great British Bake Off winner, TV presenter and author Nadiya Hussain sits downs with John Bishop for an intimate one-to-one conversation about her rise to fame since winning The Great British Bake Off almost two years ago. She discusses her discovery of baking at aged eight, the initial formality of her marriage and her close relationship with her family. Nadiya speaks candidly with John about her life-long struggle with panic disorder, and on being "the most vocal representative of Muslims on British TV".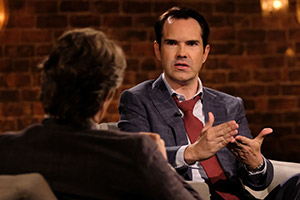 First broadcast: Thursday 28th September 2017
Jimmy Carr talks to John Bishop about his start in comedy following a nine-to-five career, his subsequent rise to become one of the UK's hardest-working and respected comedians on the circuit, and the highs and lows that comes with the job. Jimmy talks candidly on the tabloid backlash following his financial "error of judgement", and how his precise comedy style translates to his huge US fan-base.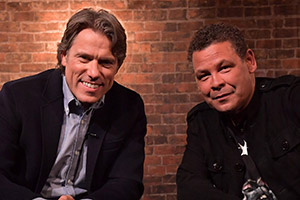 First broadcast: Thursday 5th October 2017
Craig discusses his long and varied career, his early start as performance poet on the Liverpool comedy circuit, iconic status as part of the enduring sci-fi comedy series Red Dwarf, and becoming a cast member of ITV's longest running soap, Coronation Street. He speaks openly about his headline grabbing addictions, his family life and his passion for soul music, which has seen him tour the world as a respected DJ.
5. Melanie C
First broadcast: Thursday 12th October 2017
Mel discusses her early ambition to succeed as a performer, the global success of the Spice Girls and the effects that the media scrutiny had on her at the time. She speaks passionately with John on how the group managed their phenomenal yet demanding career, and her pride at their contribution to the UK music industry. Mel discusses her relationship with her daughter and speaks openly about living with depression and her unyielding passion for performing on stage.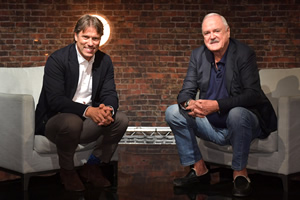 First broadcast: Thursday 19th October 2017
John Cleese discusses his early success as a writer and performer on The Frost Report, being a founding member of Monty Python and star and co-writer of the comedy classic Fawlty Towers. Bishop asks Cleese about his move to Los Angeles and continued success in Hollywood.
7. Katie Price
First broadcast: Thursday 26th October 2017
Katie discusses her start in the industry as glamour model under the pseudonym Jordan, growing up in the glare of the media, and becoming a successful brand in her own right. She opens up to John about her well-documented relationships, her role as parent to a child with special needs, the abuse son Harvey has suffered through internet trolls, and speaks passionately about her campaign to make trolling a criminal offence.
8. Samantha Womack
First broadcast: Thursday 2nd November 2017
Samantha chats to John about her early life - from childhood on the QE2 to leaving home at 15 and her troubled early relationship. She speaks to John about representing the UK in the 1991 Eurovision Song Contest, and how unprepared she was for the media attention that followed. She talks with passion about her love of acting, from Game On to EastEnders, and shares her experience of dealing with the controversial baby swap storyline. Samantha speaks candidly about her relationship with her father and the effect his suicide has had on her life.
9. Dame Joan Collins
First broadcast: Thursday 9th November 2017
Dame Joan discusses her early success in Britain as star of stage and screen. Her move to Hollywood at aged 22, negotiating her salary with studio bosses at Twentieth Century Fox and winning a pivotal film role over Marilyn Monroe. John talks to Dame Joan about her close relationship with her late sister, novelist Jackie Collins, the resurgence of her career starring on TV in iconic 80s soap opera Dynasty, and speaks candidly on marriage, heartache, being a mother and grandmother, and life with her soulmate, husband Percy.
10. Professor Brian Cox
First broadcast: Thursday 16th November 2017
Professor Brian Cox OBE opens up to John about his early fascination with science and the stars, whether there is life beyond earth and his role in making science appealing to all. He discusses touring Europe in the mid-80s as keyboard player with rock band Dare and speaks honestly about juggling university with being a member of chart-topping dance band D:Ream. John talks to Brian about sharing the stage with a victorious Labour party after Tony Blair's win to become Prime Minister.
11. Jeremy Corbyn
First broadcast: Thursday 23rd November 2017
The Leader of the Labour Party opens up for an absorbing discussion about his life and his politics, including his thoughts on Trump, the investigation into the war in Iraq, and the death of his brother.