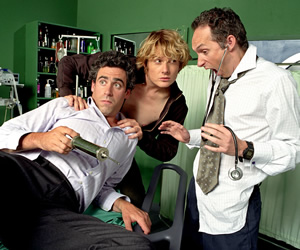 Green Wing is a popular cult British comedy series based around the lives of the crazy and bizarre staff who work at the fictional East Hampton Hospital Trust. Series one was broadcast on Channel 4 in 2004 and a second series followed in 2006. A final special was broadcast in January 2007. Green Wing has also been shown in a number of other countries worldwide; including America, Australia and New Zealand.
Green Wing was created by the team behind the award-winning Smack The Pony, the popular Channel 4 sketch show which ran between 1999 and 2003. Writers Victoria Pile, Robert Harley, James Henry, Stuart Kenworthy, Oriane Messina, Fay Rusling, Richard Preddy and Gary Howe are the writing brains behind Green Wing, a genre-defying show which proves that filming in a hospital doesn't have to involve any reference to medical issues.
Tamsin Greig played the idiosyncratic Dr Caroline Todd; Julian Rhind-Tutt, the fop-haired, wise-cracking heartthrob Dr 'Mac' McCartney; Stephen Mangan the lustful 'love god' Guy Secretan; Mark Heap the stammering, neurotic Statham; Pippa Haywood the tyrannical, age-obsessed Joanna Clore; Michelle Gomez the terrifyingly unpredictable staff liaison officer Sue White; Karl Theobald the endearing failure Martin Dear; and Oliver Chris is Dr Statham's student nemesis Boyce.
The Characters and Plot
Green Wing begins as Dr Caroline Todd joins the hospital staff as the new surgical registrar. It isn't long before the indecisive Caroline has got herself tangled in a complicated emotional web with the charming Dr Mac, arrogant anaesthetist Guy and the inexperienced and nervous house officer Martin.
Elsewhere in the hospital one of the best comedy characters of all time exists - the bizarre, pompous, over-sexed Dr Alan Statham. The consultant radiologist is always getting himself into embarrassing situations and doesn't help his cause by having intimate relations with bitter and bored 48 year-old human resources manager Joanna Clore.
When Joanna isn't reluctantly allowing Alan to do rude things to her, she is either stalking Lyndon Jones (Paterson Joseph) the charming IT technician or bullying her staff. The HR girls comprise of absent minded mum Harriet Schulenburg (Olivia Colman), Kim Alabaster (attractive but with a bad attitude, played by Sally Bretton), Naughty Rachel (the name says it all, played by Katie Lyons) and quiet Karen Ball (Lucinda Raikes), who fancies Martin.
Sue White is the staff liaison officer who doesn't care whether people think she has a screw loose... as she clearly has many loose. Completely bonkers, Sue carries out the most surreal and crazy practical jokes upon the staff who come to visit her in her office. Demands for her help are normally either rudely dismissed with a string of swear-words or met with a bizarre request (for example a furlong of bras in return for assistance). Sue actively stalks Dr Macartney and despises anyone who gets in the way of her objective to marry him and have his babies.
Green Wing also focuses on other staff members including Angela Hunter (Sarah Alexander), the attractive but irritating senior registrar in paediatrics. Whilst Angela appears to mean well she often taps into Caroline's insecurities and, to makes matters worse for Caroline, soon ends up as her flatmate.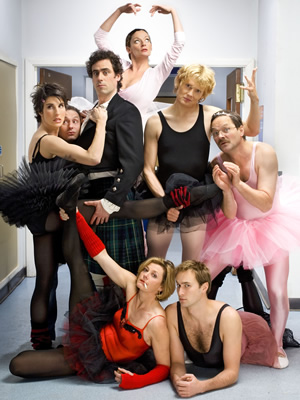 Elsewhere, student doctor Boyce does not appear to be interested in learning - his sole aim in the hospital appears to be to have fun and, more importantly, annoy Statham. This he manages to do very effectively through innuendo, carefully setup stunts and bursting in upon Alan when he is having an intimate moment with his desk stationary, Joanna or a musical instrument. Despite his ruthless mickey taking, Boyce appears to actually be quite taken with Alan and, from time to time, helps him get out of trouble.
Spoilers follow in the next seven paragraphs...
Series 1 ended with a literal cliff hanger: Guy discovered that that Joanna, who he had just drunkenly slept with, was not only Martin's mother but his too, and so he steals an ambulance and drives off in a rage (with both Martin and Mac on board). He loses control of the ambulance and the boys end up teetering on the edge of a cliff.
In the second series, which was broadcast an agonising seventeen months after the first (the wait almost killed some of the show's fans), it was revealed that the boys had escaped from the ambulance; however Mac was in a coma as a result of the accident. The heart-throb doctor soon recovered (albeit with a bad case of amnesia) and life in hospital returned to normal... well, as normal as you can get at East Hampton.
Series 2 plotlines included Alan running for a position of office in the local elections, Guy having to cope without a driving licence, Angela hogging the limelight when a documentary crew visit the hospital and Sue White giving birth to... well, a lion cub. The major focus of the series however was around whom Caroline would end up with - she had to choose between Martin, Guy, the hopstial's therapist Jake Leaf (Darren Boyd) and Mac (who's ex-girlfriend Holly had returned to the hospital to complicate matters). After many dates she opted for Guy, but only because Mac appeared to back off (she didn't know at the time he'd done this because he had found out he was dying).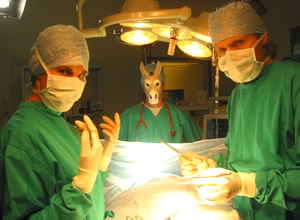 The second series ended with another tantalising literal cliff hanger - Alan, Joanna and Martin were left hanging over the same cliff in a camper van this time. Alan and Joanna had stolen the mobile home they were dangling in as part of an attempt to escape from the law (Alan had accidentally killed Joanna's dwarf cousin when a practical joke badly backfired).
Fans then had another agonising wait before they could find out what happened to the occupants of the camper van and discover whether Caroline would indeed marry Guy, or if Mac's diagnosis was a mistake. To pass time fans discussed every possible plot arc in minute detail on the various GW forums that existed on the net at the time, with two camps being built up; the "Caromacs" (people who wanted Caroline to go with Mac) and the "Guyolines" (people who wanted Caroline to end up with Guy). Eventually the final special was broadcast, but bizarrely it was first shown in Australia and Belgium (on the 29th December) before Channel 4 showed it on the 4th January 2007.
As the final special episode went out it became apparent that the writers had taken the bold move of confirming to viewers that Mac was actually indeed dying and it wasn't an administration mistake with his notes, which is what many fans had been hoping they would say. Despite Mac's impending death, he married Caroline anyway after she had - somewhat un-surprisingly - quickly tired of Guy's massive ego.
The other major plot strand in the final concerned Alan and Joanna, who had escaped their cliff predicament. During the special they accidentally killed three more innocent people whilst attempting to escape the long arm of the law. Eventually they decided they could no longer hide and in a moving final scene the pair are last seen walking out to sea naked to commit suicide (one suspects they weren't successful though).
Creating Green Wing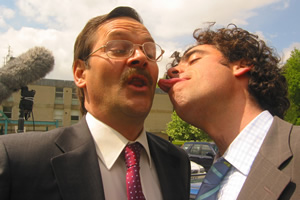 Green Wing is not, as one might expect, the name of the hospital building in which the characters work. The title was inspired by a small plastic green man with wings that creator Victoria Pile found on her desk.
The internal office scenes were shot in a studio, however much of the filming was carried out at two real hospitals to add an element of realism to the surroundings - the main locations used were Northwick Park Hospital in Middlesex and North Hampshire Hospital in Basingstoke. Whilst filming in these real hospitals added a flavour of realism to the proceedings it did cause the production team problems as they had to work around the daily goings on in the working hospitals. Real doctors, nurses and patients regularly got in the way of the programme's cameras (or should that be the other way around?). Some of the actors have since said they found the hospital scenes difficult because the grim realities of medical care would sometimes surface during a take (such as a real trauma victim being wheeled behind the cameras), this made it hard for anyone to continue to be funny.
Each episode stands at sixty minutes long (including advertising time), whilst the special is an extended 90 minutes. The unique style of the filming is mainly down to the skillful work of Billy Sneddon and Lucien Clayton in the post production studios. Using Jonathan Whitehead's music (which was composed especially for the show) as a base for each edit, Sneddon and Clayton used a pioneering combination of blurring and adjusting of frame speeds to create the unique pace that became a trademark of Green Wing. As Sneddon explained to BCG, the increased frame rate allowed for the action leading up to a scene or following a scene to be seen without 'wasting' time (for example a character dancing all the way down a corridor following some good news could be shown to the viewer in full). The speeded up effect also allowed for body language to be emphasised in a comic way.
Reaction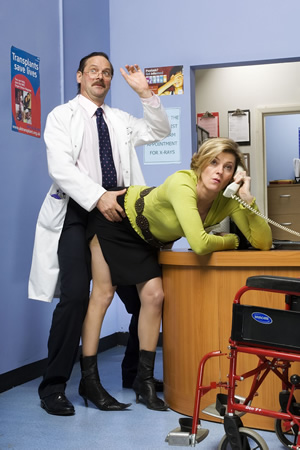 Whilst Green Wing never broke any audience records on Channel 4 (an average episode would attract a modest 2 million viewers) the first series was greeted with favourable reviews from critics and quickly established a loyal fan base. The second series was greeted less favourably - some felt it started to stray too much into the drama arena - however a large loyal fan base from Series 1 remained entertained.
Despite the fact Green Wing has now long finished, it still has a fanatically devoted loyal fan base who debate every episode in worrying detail on the various internet forums devoted to the show. Green Wing is also one of just a few modern comedies to have generated a convention - Wingin' It was held in London in January 2007. There has also been four very well attended DVD signing sessions, and the show was analysed at a sold-out evening at the British Film Institute too.
The first series attracted a number of awards. Most notably it won the BAFTA Pioneer Audience Award in 2005, which was the first BAFTA ever to have been decided by an audience vote. Tamsin Greig was awarded the "Best Comedy Performance" at the 2005 RTS Awards, whilst Pippa Haywood won "Best Female Comedy Performance" at the prestigious Rose d'Or awards. Also Jonathan Whitehead's outstanding work on the unique music used within the editing was recognised at the RTS Craft & Design Awards 2005 where he won "Best Original Score". The programme was also voted the best comedy of 2006 in The Comedy.co.uk Awards.
Ideas invented by the show have gone on to become popular outside of TV. Guyball (pronounced 'Gee Ball'), the fictional sport Guy plays in the series, was played at the Green Wing Convention and for a period there was a society for the 'sport' at King's College London. The simple but fun 'Spoon of Destiny' game also became a firm favourite in halls of residence at certain universities for a brief while.
From our own BCG perspective, Green Wing was one of the freshest and funniest comedies of the noughties. The different take on the humour and sharp one liners was certainly a refreshing change from other hospital based comedy shows (we're still trying to forget about TLC and Doctors and Nurses). There's also a charming lack of medical attention - in the US sitcom Scrubs the doctors worry if the patient dies, whereas in Green Wing the consultants are more worried about silly things like whether their coat 'flows' as they walk round corners!
The Never-To-Be-Made Third Series
Sadly, a third series of Green Wing has been ruled out. We spoke to a fair few people connected to the production after the 2007 special and, we're sorry to say, they all agreed that the show had come to an end. The main reason given by those connected to the production was that they felt the comedy has run its course and any more episodes would be a step too far.
Channel 4 chairman Luke Johnson was also quoted at the time as saying: "Green Wing was an outstanding programme but the numbers do not stack up. We will not have series three or four."
Even if the mood changed, it would now be almost impossible to bring back the show. The writers, cast and crew have all moved on to other projects, with many of the cast - most notably Tamsin Greig and Stephen Mangan - going on to become some of the most in-demand actors in the industry.