Ciarán Dowd regularly performed at the Edinburgh Fringe as part of the sketch trio Beasts, before his debut solo show, Don Rodolfo, scooped the best newcomer award at the 2018 festival. Dowd brought the cocksure, sword-wielding lothario back to the Fringe the following year and now introduces him to television with a sitcom pilot for BBC Two.
How much of Don Rodolfo is taken from the likes of Zorro, Don Quixote and Casanova, and how much of him is you without any inhibitions?
I guess he is me a little bit. He's me if all the brakes were off. I mean, his arrogance is through the roof, his toxic masculinity is cranked up to 11. But it has all come out of my head, so I guess it's all in there isn't it?
Were you ever concerned that you might not have enough charm to balance his swaggering ego?
When I knew in my head that I was doing this, it was 2018, the year of #MeToo. I knew I was writing a character that was incredibly problematic. But it was more about: is there a way of doing a version of Casanova or Don Juan that's more aware of things like consent and sexual politics? So I was never really worried because I was always keeping an eye on it.
He is an arrogant arsehole. And it's interesting to think about how you make that appealing to an audience. I don't know why audiences don't hate me. I mean, I do a little bit. If I were genuinely really handsome and went on stage and talked about how handsome I was, that's not funny or interesting, it's obnoxious. But a guy coming on with a belly and a double chin who believes himself to be the greatest lover the world has ever seen is inherently ridiculous and the audience can see that. They can see that there's a twinkle in my eye and an impishness. I've tried to cultivate that in everything I've done, in the sketch show too. The audience could always tell that I knew it was silly bullshit and we were all in on it.
But you can't do that sort of knowing wink to the television audience without it turning into Mrs Brown's Boys, it's too knowing. In TV you've got to commit to what you're doing. But after years of working on it, knowing his politics and opinions, we weren't going to go far wrong at this stage.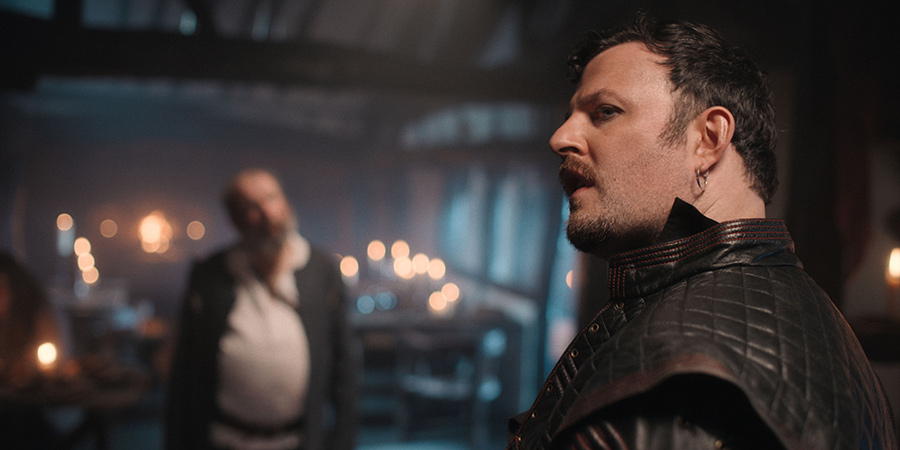 He's a very cinematic character. Did you always picture him on screen?
Er, yeah. The very first version was long before Edinburgh, it was in my third year at university. I wrote a short play, maybe half an hour long. He had a different name. But he was this arrogant swordsman trying to avenge his father. I was a student, it was absolute garbage.
When it came to 2018 and me deciding what I wanted to do for my first [Edinburgh Fringe] solo show, I came back to it. All those things I used to watch - The Princess Bride, The Three Musketeers, Zorro, Robin Hood - they're such a rich world for comedy. And historical stuff generally, there's loads of fun to be had playing with it.
What's it like co-writing with Tom Parry of Pappy's, as you seem to occupy a similar role in your respective sketch trios, the ebullient manchild?
What's interesting is that I play that character and he is that character. In reality, I'm much more pessimistic and down. He peps me up a lot when I need it. But in terms of the working relationship, he's just really good. As silly as he is on stage, the craft behind it and the way he talks about comedy is fascinating to me. So many ideas about story and structure. All these things you wouldn't believe when he's getting his top off.
I knew from him [directing] Beasts that he can craft a story incredibly well. It seemed natural to get him in for the Don Rodolfo shows, especially when I knew it was going to be a big, sweeping, epic narrative, he seemed the best person to help shape them with me.
When it came time to do this TV version, we knew the BBC wanted a big director who'd done a lot of television before, so it wasn't necessarily going to be him. We got in Tom Marshall, who I worked with years and years ago on one of my first acting jobs and has gone on to do incredible things like Ted Lasso and Chewing Gum. But he'd also come to see the Rodolfo shows in Edinburgh, so he knew the character. And that meant I could keep Tom [Parry] as co-writer, which seemed logical, because a lot of his notes were on structure and editing. We work pretty well together. I tend to over-write and over-think and he's more impulsive, happy to get rid of stuff.
The pilot features Ariyon Bakare in a rare comedy role and Jayde Adams as Rodolfo's Sancho Panza-like squire. Why did you want them for these parts?
With Jayde, I wanted a Sancho Panza or Baldrick-type of sidekick who's as bad as he is, driving him on to be even worse. Although she's a servant, she's equal to him in every way. They drink together, they're just as sexually promiscuous. Having worked with Jayde before, I knew we got on with each other and that we needed that shorthand as we only had one day of rehearsal and two days to film. But also I knew how funny she is. You're seeing her in a way you haven't before, which I think the BBC were interested in. Because everyone knows her as really glamorous, always in full-on hair and make-up. So to take that all away and grotty her up, make her play this disgusting sidekick, was really compelling to me.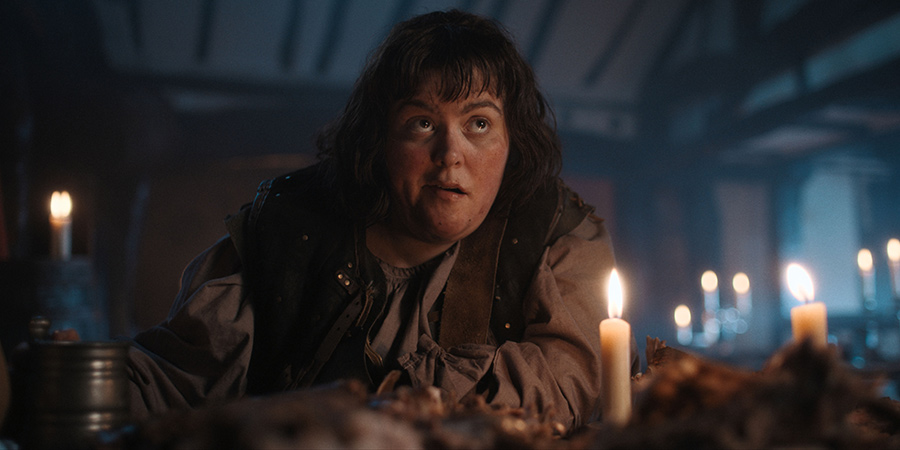 And then with Ariyon, it was about getting someone in the cast who had that Royal Shakespeare Company gravitas. He's the only one that sees through Rodolfo. Everyone else is fawning. And you've got one character who just can't understand how everyone's been hoodwinked by this ridiculous idiot. I thought that there was no way we'd get him. But maybe because he hasn't done a lot of comedy, that it was something different for him, that persuaded him. I was happy to get the cast we did, they were amazing.
Do you have a series arc mapped out if the pilot is picked up? Will Rodolfo find religion, as in the second live show?
Basically, we've got a three series plan. Not to get ahead of myself. And it's down to the BBC of course. But the idea is that the first series would almost mirror the first live show, in that it's all about finding the six-handed man, the avenging of his father is it's own mini-quest. And then when that's accomplished, much like the second show, in the second series he would find religion and try to be a better man. So there will definitely be parallels to the live shows. But only if we get a series.
Are you channelling some of your Catholic upbringing into the character?
I don't know how much that played into it. Obviously, I grew up Catholic. But I'm an atheist and not interested in it. It's enforced on you in terms of school, its not really a question about whether you get communion or confession, you do them. Being surrounded by the iconography and the stories, I'm sure it all played into what I wrote. But it doesn't come from me being religious and wanting to share that with the character. Considering he is Spanish and of that time, that's just the way he would be.
Was part of the appeal of working with the BBC all those period props and costumes you'd have access to?
I don't know if you saw and remember the posters for the live shows? There was always a great visual aesthetic I wanted to create. But obviously when you do it live, you're in a Portakabin with only some black curtains, you lose all the visual intrigue and it just becomes a guy in a frilly shirt. Which is fine, it's a man engaging with the audience on that level.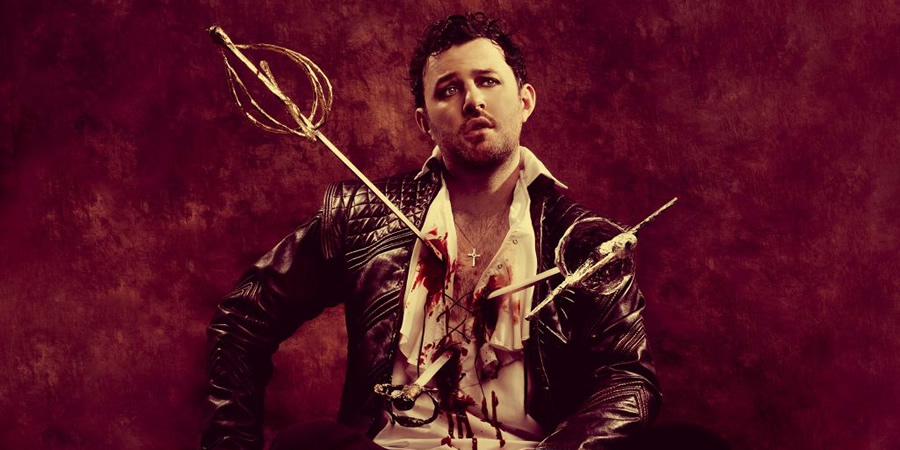 But going to TV and being able to reintroduce the visual aspects from the posters and deciding what it would be like and the texture of the world, whether that's a historical element or the slight fantasy element visuals, it was really interesting to be able to play with that. It doesn't have to be historically accurate. You can use that but you can also subvert it. The main thing is just to be funny.
Will you continue to perform Don Rodolfo live? On television you can't interact with the audience or have your accent occasionally wobble.
On TV you probably have to play it a bit straighter and commit more to it. I mean, I'm not the most gifted at accents, so there are times when it slips of its own volition. But I definitely would like to keep doing it live. I should have been doing a third show in Edinburgh last year. I'd started writing it when Covid happened and it all got shut down. At the time it made sense because it would have been three shows in three years and would have been a sort of completed trilogy.
Now, maybe two years after that, I don't know if it makes as much sense to do a third version. It feels so removed from what came before. Audiences in Edinburgh change all the time. You maybe get people going for a few years as students, then they move on and you get a whole new generation. So whether anybody's even aware of what happened in 2018 by the time Edinburgh happens, I don't know. Obviously, if you do a good show people will come, so there's always that. Whether it can be as closely linked to the others, I don't know.
But doing a live version will always be something I want to do because he's a lot of fun and that response and interaction with an audience is something you just can't get on TV. So I hope I'll be able to do it. Maybe a bigger show even, that has more people, some of what the TV show has. Maybe an amalgamation of all three of the shows into a big, proper play on a bigger stage, that's something that really interests me as well.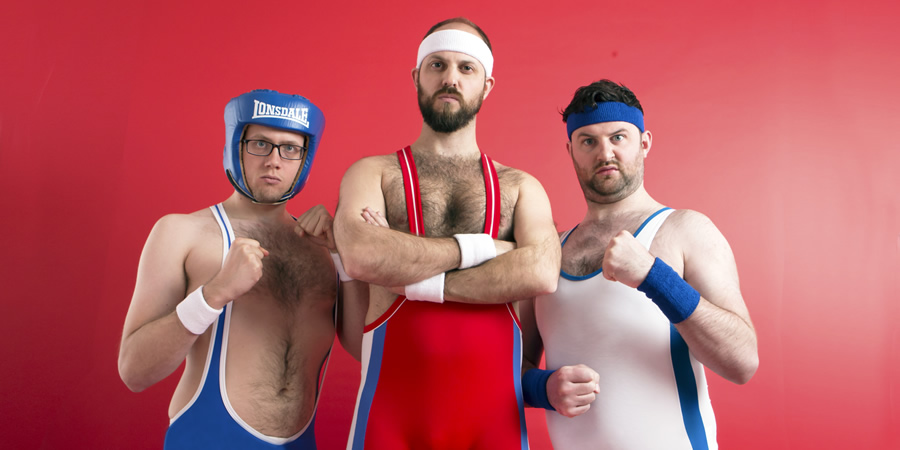 I understand that you did three years of stage combat training in drama school. Are you tasty in a fight? And could you go toe-to-toe with your Beasts colleague and boxing enthusiast James McNicholas?
Yeah, you don't need to worry about me, I'll be alright. The thing about James is that he's dangerously dyspraxic. So in terms of him actually hitting me, I'm feeling pretty confident.
It's weird. I did all that training and enjoyed it. I was good at it at the time. But then you don't do it for 15 years, so it's been a long time since I've held a sword. Getting to do it again was great. Even the rubbish little fights that we had in the live show, I got to choreograph myself, a lot of fun.
There's not much actual fighting in the pilot. But if it goes to series, maybe I'll get some training again. Maybe I'll get to ride a horse, someone could teach me that! A whole new skillset, it'll be lovely.
Could you follow in the footsteps of comedy actors like Chris Pratt, Simon Pegg and Kumail Nanjiani by becoming an action star and getting a six-pack?
Oh look, the six-pack definitely appeals. I'm trapped in this flat, with a load of mirrors, looking at myself slowly getting older, balder, fatter. The idea that you could halt that in any way is obviously attractive. But someone like Chris Pratt was successful a lot younger, so it made more sense. If this goes well, I'd be happy with Rodolfo being the thing that I "do". I don't know whether after that there will be much call for me to be a young, sexy action hero. I'll be hitting 40 by that point. But I wouldn't say no.
Owen Roberts from Beasts also appears in the pilot. Your sketch trio last performed an Edinburgh hour of new material in 2016. Are you still a going concern?
I mean, nobody's concerned. It's a complicated thing. At the time we knew we weren't doing another Edinburgh, it didn't feel appropriate to go 'well, we've quit'. Because who cares? Nobody's waiting for that press release or crying in the streets because Beasts have broken up. And also, we just didn't know. We weren't going to do that Edinburgh. And that turned into not doing the one after. Now it feels like we're all doing our own thing and enjoying it.
But we all look back on that time really fondly. Doing solo stuff is so much more lonely than group stuff. Even when I was having some success with Don Rodolfo at my first Edinburgh [as a solo performer], that show ended around midnight. You'd finish and walk out into the night on your own with all this adrenaline and no-one to share it with. That's a little sad.
If there was a time when we were all free and up for it, I don't think we wouldn't do another show together. There's just no plans at the moment, we're all going in slightly different directions and pulling towards different things. We never fell out, we never anything really.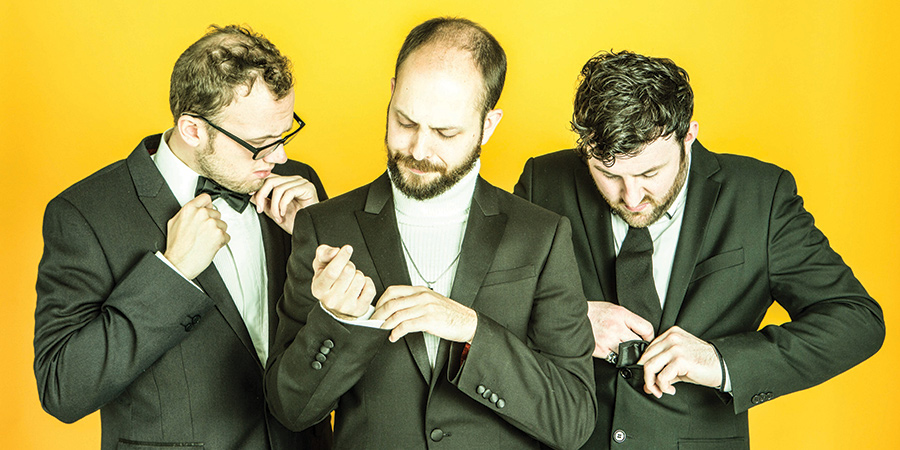 Hank Azaria apologised to Indians recently for voicing Apu on The Simpsons. Is there anything you wish to say to the people of Spain?
Do you know what, the weird thing is that the Festival Internacional De Comedia in Madrid and Barcelona invited me to come over and do the show. And I said no. I just couldn't figure out what they'd make of it. Would they think "he's being one of us and that's fun"? Or would they be absolutely appalled? I've nothing to say to them. It's all done with love and they should get on board.
You starred in the play Chasing Bono written by sitcom legends Dick Clement and Ian La Frenais. Who would be your dream collaborator?
Taika Waititi or Edgar Wright are two of the most interesting filmmakers, who maybe I'm drawn to the most because they both have a great comic sensibility. They clearly love film and when they make a genre film it's always exciting and perfect and could only have come from them - you ask Taika for a war film you get Jojo Rabbit or a vampire film and you get What We Do In The Shadows. Edgar Wright makes a heist movie and you get Baby Driver or a zombie film and you get Shaun Of The Dead.
And in the same way that Shaun Of The Dead is influenced by and contains nods to every zombie film - they parody some things, subvert other things and just go to town on the genre - with Rodolfo, I've tried to take everything that's big and fun and stupid about the genre of swashbuckling or the character of a lothario and tried to create something new and original that recognises, challenges and plays with the tropes and lineage.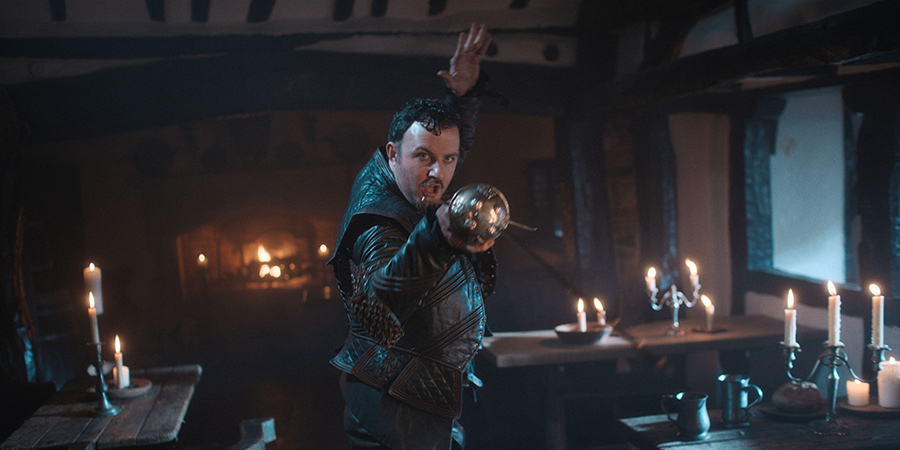 I understand that your drama school audition came about drunkenly and by chance. Did you have a life plan before that, were you always going to be a performer?
Yeah, I'd say from my teen years on I was aiming to be a performer and I'd stopped trying at school, to the point where performing was the only option I'd have left. Anything academic was out the window. At the time all the best theatre and TV was coming out of the UK. Even the best Irish things like Father Ted were produced here, still are when you look at the likes of Derry Girls, The Young Offenders, Normal People.
But I graduated at 17, which was too young to go to a UK drama school. So I was biding my time doing an acting course in Dublin for a couple of years and hadn't bothered to apply. But after a drunken night out in Cardiff I ended up at The Royal Welsh College of Music and Drama where they were holding second round auditions. I think the arrogance of youth and the .2 blood alcohol level drove me inside where they thankfully let me join in with the auditions. I may have ended up there anyway and think I'd always have ended up performing in some capacity. But that night out accelerated everything. And it was at that audition that I met a less than impressed Owen Roberts who I would go on to start writing and performing comedy with.
Did winning the Edinburgh Comedy Award change things overnight for you? And did it change a lot?
It's really hard to quantify what it's done. There was an idea that maybe 20 years ago you won the award and got your series the next day. I don't know if that was ever true but it's certainly not true now. It's incredibly well thought of, but things take time. We're three years on from the award - granted, one of those years has been a lockdown that stunted everyone's progress - but it's taken this long to get something made.
Also, I'm a difficult act to do something with. I'm sure if I was a straight stand-up who'd won the award there would be TV offers for Live At The Apollo, Mock The Week, 8 Out Of 10 Cats etc. And once you've done those, big tours become a possibility and you get to go on Celebrity Pointless. But there's nowhere for a character/sketch/alternative act to really get a foothold in the industry.
The award is huge for me because it opens doors, raised my profile and gives a validation that you don't get many other places. It won't be an overnight thing but I'm sure I'll look back at the career I've had 10, 15, 20 years down the line and be able to trace the success of it back to that award. Or maybe I'll have been a massive failure and the award will have been the high point. Either way, nice to win something.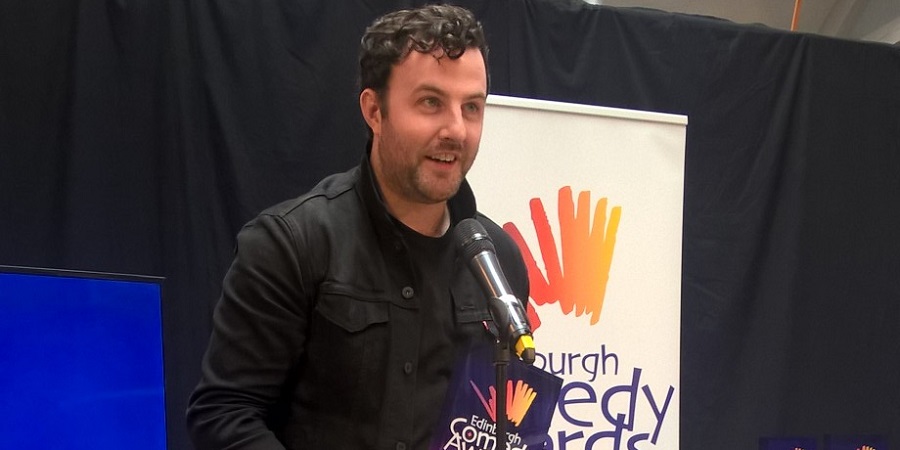 Is it true that Don Rodolfo is named after a reindeer in a Saturday Night Live sketch?
Yes, there's a sketch you can still watch on YouTube about two doormen telling Christmas stories to the tenants of their building as they enter and exit. It's from the dress rehearsal and never made it on air - it's not a great sketch, but is a really enjoyable video because Bill Hader and Fred Armisen can't keep it together and corpse the entire way through. Fred is supposed to be Spanish and tells the story of Rodolfo The Red Nose Reindeer. And I was playing around my flat, mimicking him and trying out the voice and the word I most enjoyed saying was Rodolfo. At the time I think my character was called Phillipo. But thanks to Fred Armisen, he graduated that day to Rodolfo.
You've had small roles in things like The Duchess and Fighting With My Family. Does it feel markedly different on set when it's your "vehicle"?
When you get on any set there is always the pressure to perform and for every take to be good, whether it's your show or someone else's. I don't want to be the one that messed up Katherine Ryan's good take of a difficult scene, just as much as I don't want to set a bad precedent on my set, that the guy whose show it is isn't getting it right or bringing his A-game.
And it's just as tiring and draining being on a set when you have very little to do as when it's all you. The main difference is the sense of achievement I guess, and getting to look around at everyone on the crew pulling towards your vision, and the other actors performing your words - I got such a buzz out of it. It was the best experience I've ever had on set, but unfortunately has probably given me a thirst for more of it that I may find hard to quench.
You play a stand-up in the film Masters Of Love. Would you ever consider doing more personal live comedy like that?
I don't know is the answer. When I chose to do Don Rodolfo as my first solo show it wasn't because I thought of myself as a character actor. If anything, I'm quite bad at characters - as my accent in this will attest to. It was just that I had a funny idea for a show I wanted to make.
But I don't have a host of characters up my sleeve, I'm not about to reveal my Australian chef at the next Edinburgh. I don't know what my next show will be. I think I'll just have an idea or a story I really like and go from there. I wouldn't rule out something that feels more like traditional stand-up but it all has to come from the idea and whatever best serves that.
Finally, what's next for you?
Well I'm writing a project at the moment and have been throughout lockdown. I'm filming a few small things in the next few weeks, but I hope once Don Rodolfo is released we'll start working on a way to make more of it.
---
Don Rodolfo airs this Thursday at 10pm on BBC Two. Catch-up via BBC iPlayer