What Next?
By: Abigail Dooley & Emma Edwards
Sitcom Mission 2011 finalist
Winner of The Sitcom Mission 2011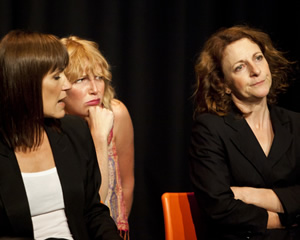 Lauren Henderson, mother / sister / daughter / concert pianist is determined to reinvent herself. Consummate liar (see concert pianist) and lightweight, life is not just passing her by, it's sniggering behind her back. Horrified at her closing window of opportunity she decides to take action.
First step, get a job. Easy, all Lauren needs to do is combat a sociopathic shop assistant, ignore a pyromaniacal child, find Ronnie Barker and discover what the Mitfords did with a pencil...
Hell-bent on helping her are her two sisters: Anne, ex-cop control freak, and flakier-than-filo Saskia.
Together they have endured numerous family crises: caravan holidays, home perms, dodgy boyfriends and more than 40 Christmases. So, what next?
Credits
| Cast | | Character |
| --- | --- | --- |
| Joy Merriman | ... | Lauren |
| Carla Mendonca | ... | Anne |
| Kate Rawson | ... | Saskia |
| Toby Park | ... | Byron |
| Richard Thomson | ... | TinTin |
Abigail Dooley & Emma Edwards
Abigail and Emma were born to two different sets of parents and raised apart. Unaware of each other's existence for their first 40 years, they led completely separate lives.
Abigail trained at East 15 Acting School and spent several years trying to be the next Dame Judy. Meanwhile, Emma studied Creative Arts in Manchester and then went to Spain and sung in a Country and Western band. After embarrassing family and friends they trained at Ecole Philippe Gaulier (alumni include Sacha Baron Cohen, Roberto Begnini and Simon McBurney).
Abigail they went on to devise and perform with companies including Companie Philippe Gaulier, Trestle, and Told By An Idiot. Emma became artistic director of an award-winning children's theatre company, collaborating with Amanda Wilsher, Paul Hunter and Javier Marzan.
They have been writing together for the last couple of years after studying script writing with Graham Alborough, Robert McKee, Noel Grieg and Steve Kaplan.
Which is which? Abigail has hair like Beethoven, and Emma has hair like Jane from Rod, Jane and Freddie. Abigail is a tri-athlete. Emma can't catch. They have five children, two husbands and no shame.
Cal McCrystal (Director)
Cal McCrystal was born in Belfast. He trained at the Royal Scottish Academy of Music & Drama and at École Philippe Gaulier.
As an actor he has worked extensively in television, theatre, film and radio. As a writer/director his productions are regularly seen worldwide. He was comedy director for Sacha Baron Cohen's Borat as host of the 2005 MTV European Music Awards and is Comedy Director for the acclaimed clown routines in Cirque du Soleil's touring circus, Varekai, their syndicated TV variety series, Solstrom, and erotic cabaret, Zumanity - Another Side of Cirque du Soleil resident at the New York New York Hotel and Casino in Las Vegas.
He directed the original Mighty Boosh shows, winning the Perrier Award for Best New Comedy. His successful productions at Derby Playhouse include Joe Orton's Loot and Alan Bennett's Kafka's Dick. He has written and directed countless touring shows, working regularly for companies such as Spymonkey (UK), La Clique, Peepolykus (UK), Coloniales y Salazones (Spain), Pluck (UK), Operacion Clown (National Theatre, Mexico), Piggy Nero (UK), Teatro Circo Price (Spain), 4 Poofs & A Piano (UK), Just For Laughs (Canada), The Comedian's Theatre Company (UK), Palazzo Circus (Germany), Miss Behave (UK), Cambridge Footlights and The Comedians Theatre Company.
In London, his productions are regularly invited to the South Bank Centre and the Barbican. Cal was director/co-creator of the hit show Office Party which enjoyed sell out runs at the Barbican and the Edinburgh Fringe. In 2010 he co-created Pasión sin Puñales with Spanish film star Rossy de Palma for stadia in Madrid and Bilbao. He is Associate Director on the hit show One Man Two Guvnors at The Royal National Theatre. Cal works regularly as a television director and his feature film, The Bubonic Play, is in post production.
Note
This sitcom won The Sitcom Mission 2011.