Medicine to Follow
A situation comedy performed as part of The Sitcom Mission 2012
Written by Stephen Keyworth & Mark Clompus.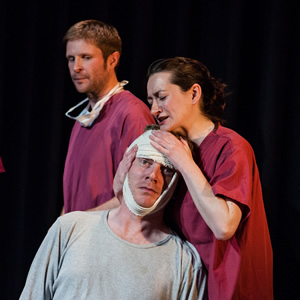 Medicine to Follow is a comedy about the beginning of a new medical drama, inspired by the writers' experience of working on Holby City and Casualty.
Hunter Shepherd wrote Knuckle Sandwich, a gritty low budget feature film that became a critical and box office hit. Now he's been asked by a TV production company to come up with a new medical drama. He'll spend the next months in a real hospital following real doctors and creating an incisive, cutting edge drama that goes where other shows dare not. But things don't go to plan. The three medical advisers have issues and secrets that threaten to throw the show off kilter before it's even started. And, like all writers, Hunter will do anything do avoid writing. Can Ella his producer marshal this madness into a hit that will save all their careers?
Stephen Keyworth & Mark Clompus
Stephen Keyworth and Mark Clompus were both chosen for the BBC's 2006 Writer's Academy, and went on to write for EastEnders, Casualty, Holby City and Doctors.
Mark has recently written Jimmy in Broadmoor - a play about Jimmy Savile - for Theatre 503. He has also written children's television, cartoons and drama documentaries as well as more than twenty episodes each of EastEnders and Doctors.
Stephen has had two sitcom pilots commissioned by BBC Comedy, and last year he won the Shine Pictures Big Idea feature film prize. Work for Radio 4 includes The Continuity Man, My Difficult Second Album, Gondwanaland and a ten-part adaptation of A Farewell To Arms. Stage plays include Mad For It at Manchester's Royal Exchange Theatre (nominated Best New Play in the Manchester Evening News Theatre Awards), Dog Well Done (Winner of the Amnesty International Theatre Award) and Zimbabwe Boy for Flight 5065 at the National Theatre.
'Medicine to Follow' Notes
Performed in Heat 2, Semi Final 2, Grand Final