Series 6, Episode 3 (Rufus Hound & Diane Morgan)

Do The Right Thing: Series 6, Episode 3 (Rufus Hound & Diane Morgan)
Rufus Hound and Diane Morgan guest on a show that covers a lot of ground - from running out of petrol in the desert, via getting to sleep, dealing with homophobic parents and going to school reunions, to housemates having loud sex and a couple of belting lawyer-based scenarios with expert guest criminal defence lawyer Greg Foxsmith.
If you enjoy Do The Right Thing, then please do share it with your friends and acquaintances - we reckon it's a good show, now we just need to reach more ears! Also... it's very helpful if you rate and comment on the show on iTunes, follow us on Twitter (@DTRTpodcast), and 'like' the show on Facebook. Thanks!
And if you're at the Edinburgh Fringe Festival this summer, why not check out host Danielle Ward's show Seventeen - on every day at 2.40pm at Just the Tonic at The Caves (Venue 88). Info & Tickets
Published: 8th August 2016. Length: 45 minutes. Size: 61.7mb
Next DTRT Episodes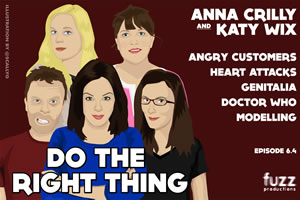 Date: 15th August 2016 Length: 46 mins Size: 62.6mb
Series 6, Episode 4 (Anna Crilly & Katy Wix) Double act Anna & Katy join Danielle, Margaret and Michael to discuss angry customers, heart attacks, defaced photo frames, Doctor...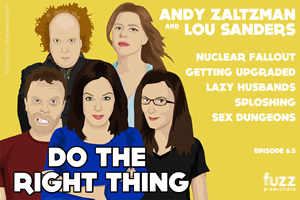 Date: 22nd August 2016 Length: 45 mins Size: 61.1mb
Andy Zaltzman and Lou Sanders are on board as we discuss building nuclear fallout shelters, hotel upgrades, lazy husbands and sex, with sexpert Alix Fox. If you're enjoying Do...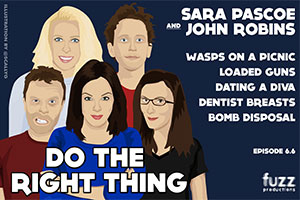 Date: 29th August 2016 Length: 40 mins Size: 55.3mb
Sara Pascoe and John Robins are the guests as we discuss wasps, how to take a bullet, dating a diva, being turned on by a dentist and bomb disposal -...