2017 Summer Special 1 (Cariad Lloyd & Phil Wang)

Do The Right Thing: 2017 Summer Special 1 (Cariad Lloyd & Phil Wang)
Cariad Lloyd and Phil Wang are the guests for the first of two summer special episodes. The teams discuss volcanic eruptions, noisy neighbours, evil twins, loud sex, battle re-enactors, violent cats, baldness and antiques with expert guest Mark Hill (surely the first DTRT guest who is also a regular on Antiques Roadshow?). The show also features the return of former guest and No Such Thing As A Fish stalwart Dan Schreiber - this time very skillfully stepping in for the absent Producer Ben.
Apologies for the sound quality of this show - we had a few problems with the microphones!
If you're at the Edinburgh Fringe Festival this summer, why not check out Michael Legge's show Jerk - Info and tickets
And if you enjoy Do The Right Thing, then please help get it into the ears of all the would-be-listeners out there. Also... follow us on Twitter, 'Like' it on Facebook and comment on iTunes. Thanks!
Published: 29th June 2017. Length: 51 minutes. Size: 69.7mb
Next DTRT episodes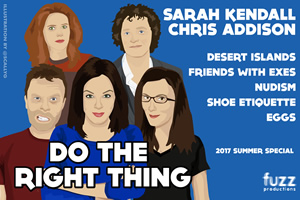 Date: 20th July 2017 Length: 47 mins Size: 64.9mb
Sarah Kendall and Chris Addison join the gang for the second and last of our summer special episodes. The teams get a bit tipsy and discuss desert islands, jizz bridges,...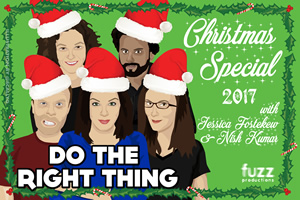 Date: 18th December 2017 Length: 56 mins Size: 76.9mb
Jessica Fostekew and Nish Kumar come down our chimneys for this year's Christmas Special. And they bring with them a sack full of ice rescues, dodgy presents, evil families, wrapping...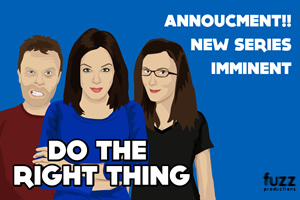 Date: 27th February 2019 Length: 3 mins Size: 4.3mb
Hello. Nice to see you again. The long-awaited 7th series of Do The Right Thing is going to appear this summer and it's a whopping 12 episodes long. Over the...