Series 6, Episode 5 (Andy Zaltzman & Lou Sanders)

Do The Right Thing: Series 6, Episode 5 (Andy Zaltzman & Lou Sanders)
Andy Zaltzman and Lou Sanders are on board as we discuss building nuclear fallout shelters, hotel upgrades, lazy husbands and sex, with sexpert Alix Fox.
If you're enjoying Do The Right Thing, then please tell other people about it via mouth, social media, sending a letter or telepathy. Also... please rate and comment on the show on iTunes, follow us on Twitter (@DTRTpodcast), and 'like' the show on Facebook. Thanks!
And if you're at the Edinburgh Fringe Festival this summer, you can see excellent shows by Danielle Ward, Andy Zaltzman and Lou Sanders whilst you're in town.
Published: 22nd August 2016. Length: 45 minutes. Size: 61.1mb
Next DTRT Episodes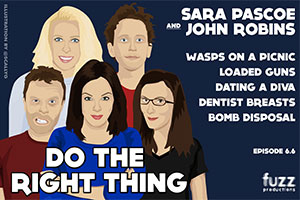 Date: 29th August 2016 Length: 40 mins Size: 55.3mb
Sara Pascoe and John Robins are the guests as we discuss wasps, how to take a bullet, dating a diva, being turned on by a dentist and bomb disposal -...