Series 6, Episode 6 (Sara Pascoe & John Robins)

Do The Right Thing: Series 6, Episode 6 (Sara Pascoe & John Robins)
Sara Pascoe and John Robins are the guests as we discuss wasps, how to take a bullet, dating a diva, being turned on by a dentist and bomb disposal - the latter with explosive expert guest Steve Rimmer.
If you're enjoying Do The Right Thing, then please tell other people about it via mouth, social media, sending a letter or telepathy. Also... please rate and comment on the show on iTunes, follow us on Twitter (@DTRTpodcast), and 'like' the show on Facebook. Thanks!
Published: 29th August 2016. Length: 40 minutes. Size: 55.3mb
Next DTRT episodes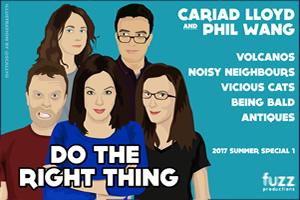 Date: 29th June 2017 Length: 51 mins Size: 69.7mb
Cariad Lloyd and Phil Wang are the guests for the first of two summer special episodes. The teams discuss volcanic eruptions, noisy neighbours, evil twins, loud sex, battle re-enactors, violent...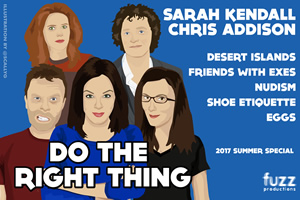 Date: 20th July 2017 Length: 47 mins Size: 64.9mb
Sarah Kendall and Chris Addison join the gang for the second and last of our summer special episodes. The teams get a bit tipsy and discuss desert islands, jizz bridges,...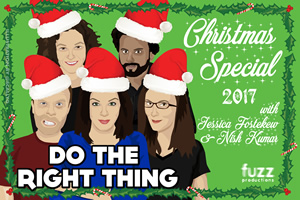 Date: 18th December 2017 Length: 56 mins Size: 76.9mb
Jessica Fostekew and Nish Kumar come down our chimneys for this year's Christmas Special. And they bring with them a sack full of ice rescues, dodgy presents, evil families, wrapping...