AIOTM Audio Extra 5

As It Occurs To Me: AIOTM Audio Extra 5
AIOTM Audio Extra 5: Hootenanny Lies. It's the penultimate AIOTM of the series, but the videos won't be out for a couple of months at least, so enjoy this bonus topical podcast which predictably is mainly concerned with a piss-covered President elect, but there's also time to cover Last Of The Summer Wine, washing baked bean tins, the return of the naughty dog, and who has the best manoeuvre. And for lover's of Dr Seuss and water sports there is a return for Farage in the Garage.
If you want to help us finance the video podcast then head to gofasterstripe.com/aiotm for merch and secret channel pass, or come and see the final recording on February 12th. And do check out Rich's live tour dates
Published: 16th January 2017. Length: 26 minutes. Size: 36mb
Next AIOTM Episodes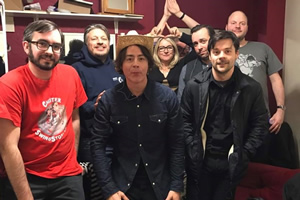 Date: 14th February 2017 Length: 30 mins Size: 41.7mb
AIOTM Audio Extra 6: The Tigers Come at Night. It's been on helluva slog, but we're nearly there. And on the final audio extra before the completely different video series...