Sir Donald Sinden dies aged 90
Sir Donald Sinden dies aged 90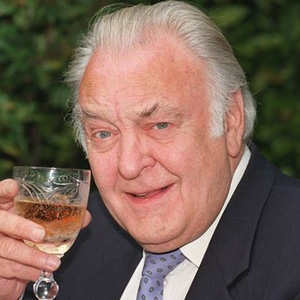 Sir Donald Sinden CBE has died at the age of 90.
He had been unwell with prostate cancer for a number of years, and died this week at his Kent home.
In a long and celebrated career that dated back to the early 1940s, Donald Sinden initially made his name on stage as a Shakespearean actor, before starring in dozens of films and television programmes.
His son, Marc Sinden, said today: "He worked out that he only had a total of five weeks' unemployment between 1942 and 2008."
However, it was his starring roles in the sitcoms Two's Company and Never The Twain for which he was best known to the public and for which he will likely be best-remembered.
In the 1975 - 1979 LWT series Two's Company, Sinden played Robert, the stiff-upper-lipped, stereotypically English butler to brash American novelist Dorothy McNab, played by American actress Elaine Stritch, who died earlier this year.
Never The Twain saw Sir Donald - appointed a CBE in 1979 and knighted in 1997 for services to drama - star alongside Windsor Davies as argumentative and stubborn antiques dealer Simon Peel. The enduringly popular Thames comedy ran for 11 series, from 1981 to 1991.
In a statement issued today, Marc Sinden said: "Even though his death was expected, it is still a huge loss to his family and we, his brother, his son, his four grandchildren and great-grandchild will all miss his humour and knowledge.
"We would all like to share our appreciation for the Pilgrims Hospice and the carers that looked after him and us with such dignity, consideration and care until the end."
Sir Donald is also known to have been the last living person to have known playwright Oscar Wilde's lover, Lord Alfred Douglas, and was one of only two people to attend his funeral.
Born in 1923 in Plymouth, Sinden had planned a career as an architect and surveyor, but found himself on stage in Brighton at the start of World War II, fulfilling a role intended for his cousin Leon, who had been called up to fight.
Other comedy roles include starring as Stephen Young in the mid-1960s ecclesiastical sitcom Our Man From St Mark's; a recurring guest role as Patrick Cargill's brother, Philip, in Father, Dear Father; and in films including Josephine And Men; Doctor In The House; A Day To Remember; Twice Round The Daffodils; Operation Bullshine; and Your Money Or Your Wife.
Sir Donald has most recently been seen on screen earlier this year, presenting the Sky Arts documentary series Great West End Theatres.
Never The Twain is currently being repeated by ITV3. Series 2 Episode 4, Blood Brothers, will be broadcast at 4:50pm today.
Here is an episode of the hit 1980s series:
Share this page