Behind The Filter on BBC3
BBC Three to broadcast Phoebe Walsh's Behind The Filter pilot
BBC Three is to publish Behind The Filter, a sitcom pilot about an online influencer's bleak off-screen life
It stars Phoebe Walsh, who has co-written the 15-minute episode with Guardian journalist Harriet Gibsone
The pilot - coming 8th June - sees central character Ruby recording a podcast called Feminism In Your Ears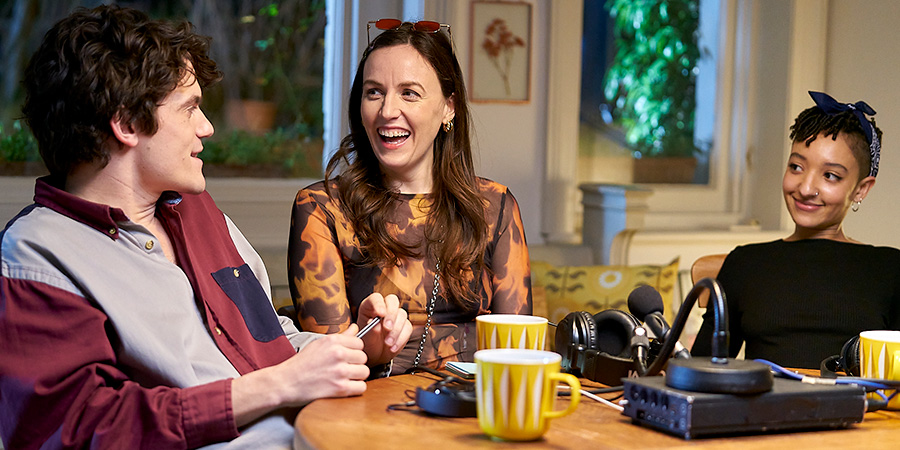 Phoebe Walsh is making a BBC sitcom about an online influencer's bleak off-screen life, British Comedy Guide can reveal.
The comic, formerly part of the Oyster Eyes sketch troupe, stars in the pilot of Behind The Filter - a wry perspective on the lonely lives of Instagram influencers, coming soon to BBC Three.
She has written the pilot with Guardian journalist Harriet Gibsone.
Walsh plays Ruby, who "never imagined that her life would turn out like this. Single, unemployed, 'the wrong side of 25', suffering from Irritable Bowel Syndrome and still living at home with her parents (Upstart Crow's Dominic Coleman and Green Wing's Pippa Haywood).
"But the time has come for her to truly make her mark on the world, to do something quite significant with her life - make a podcast!"
Joining Ruby on her first ever show are "cool activist" Charlotte and "aloof heartthrob" Barney, played by Sex Education's Patricia Allison and Edward Bluemel, with Omar Malik (Tracey Ullman's Show) also featuring.
Producers tease: "As Ruby desperately tries to impress her guests, will her show Feminism In Your Ears convince them and her family that there's more to the millennial existence than just endlessly scrolling on Instagram?"
Made by Big Talk, the production company behind Friday Night Dinner, Cold Feet and The Goes Wrong Show, the 15-minute pilot was shot in London in February and is directed by Enterprice helmer Ella Jones, with Lara Singer producing.
Walsh, whose acting credits include a recurring role on The Javone Prince Show and guest spot on Stath Lets Flats, also has a burgeoning US writing career.
She worked on last year's Four Weddings And A Funeral television series for Hulu, and she is part of the writing team for forthcoming Apple TV+ sitcom Ted Lasso, in which Jason Sudekis plays a clueless American football coach who moves to England to manage a Premier League football team, despite having no knowledge of soccer.
Behind The Filter will be available on BBC iPlayer from 6am on Monday 8th June.
As can be seen below, Walsh previously made a Behind The Filter taster in 2018, featuring Barney Fishwick of sketch duo Giants and Alesha Pryce.
---
For updates, click the button below.
Share this page
This story was updated on the 28th May to include the now-confirmed iPlayer date.