More weird and wonderful comedy sightings at the world's biggest arts festival...
Up to scratch?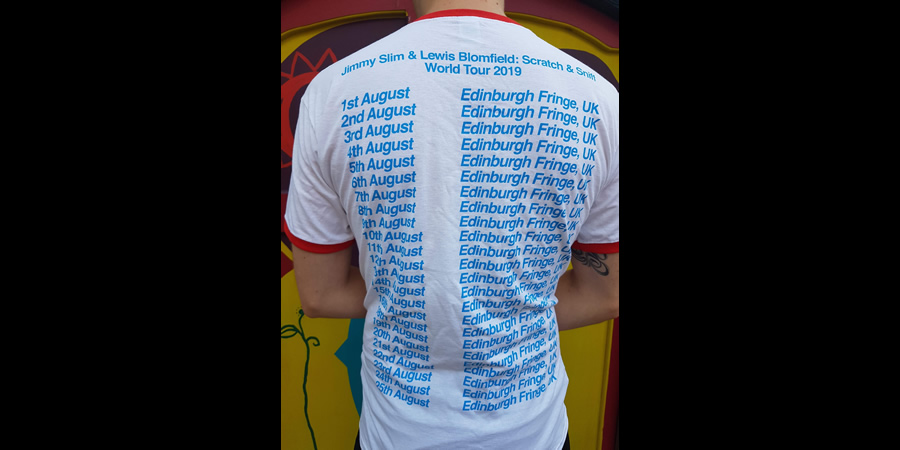 In our first round-up of weird and wonderful things at the 2019 Edinburgh Fringe we mentioned the show Scratch and Sniff - Jimmy Slim and Lewis Blomfield - with their scratch and sniff flyers that didn't actually smell of anything, although that's fair enough really: it didn't say 'Scratch and Sniff and you will be rewarded'.
They also produced some excellent on-tour t-shirts that, by the last week, had almost sold out. They were offering the last one for £50, because that's the value they reckon it'd cost the show, as they could no longer hold it up as a final gag - proper economic thinking, that. Who needs Dominic Frisby?
The chaps were also wondering how on earth they can muster a pull-quote from our previous Dispatches piece, but we've now seen the show and are happy to oblige: it's a hilarious, sometimes horrifying mess of fun (although possibly not for the lady in front of us who eventually made a run for it. Must have been intrigued by those flyers).
Police Cops in Hospital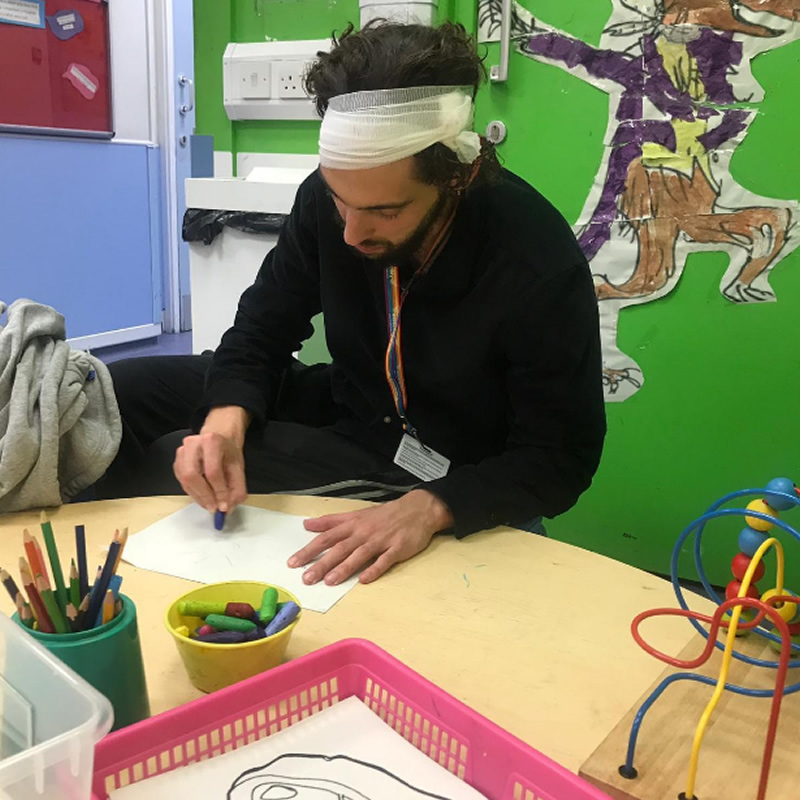 Pastiche kings Police Cops went a bit method with their Badass Be Thy Name show. Nathan Parkinson takes up the story:
"It was a really weird end to a comedy show. I was wearing fake eyes so I couldn't see - the irony! - and was doing my 'end of show dramatic death scene' and, as I fell, I smacked my head on the side of a speaker at the front of the stage.
"Once I realised I was bleeding pretty badly I did some dazed improv about how realistic this part of the show was, but no one laughed; or everyone laughed but there was too much blood in my ears to hear them. As I got off stage and the Assembly team were bandaging my head up, I caught a glimpse of my reflection; still in my priest costume, having moments before been acting a scene where I met God - I wondered whether I was being sent a message.
"Doctors said I wasn't concussed but my memory might be affected for a little while, they also told me my memory might be affected for a little while. The whole experience was pretty scary. The best part was accidentally being sent to the children's hospital where they said they couldn't treat anyone over the age of 12 (and they were checking ID). But they had an arts and crafts table so at least I got a kickass picture of a giraffe out of the whole experience."
An Important Plug
No dirty jokes at this gig: Zach Zimmerman performed a one-off of his show Clean Comedy from a bath, to eight people who'd donated to American anti-gun charity the Brady Campaign; they raised $110, which Zimmerman matched to $220. He wasn't fully clothed, or we'd have done the 'money laundering' gag.
"It was the first time anyone's watched me bathe, except for my mom," said the comic. "As a child. I ended up wearing tighty-whiteys 'cause I couldn't get the bubbles quite strong enough to hide my nether regions, so I'm sure she'd appreciate that the show was very clean."
But did that audience shower him with praise?
Hello...!
It's a great place for face-spotting, the Fringe, if you're into that sort of thing.
Ian Hislop was knocking about this year, presumably to see his son Will pretend to be a Norwegian pop star in Giants are Fjord. As was comic and Have I Got News For You writer Kevin Day, who's often doing some show-directing and watching his son Ed Night continue up the comedy ladder. And - continuing the theme - original HIGNFY host Angus Deayton popped into the Hive to see Phil Ellis's show (Deayton was at the Fringe anyway, admittedly, with Radio Active).
But definitely the biggest name we clocked was Tom Hardy, strolling purposefully between Bob's BlundaBus and the SpiegelYurt. The Hollywood a-lister wasn't in a show as far as we know, although just imagine him attempting stand-up in full mega-muffled Bane voice (come to think of it Bec Hill does a bit of Bane in her impressively ambitious sci-fi show, I'll Be Bec... or she did the night we went, anyway).
Cart Blanche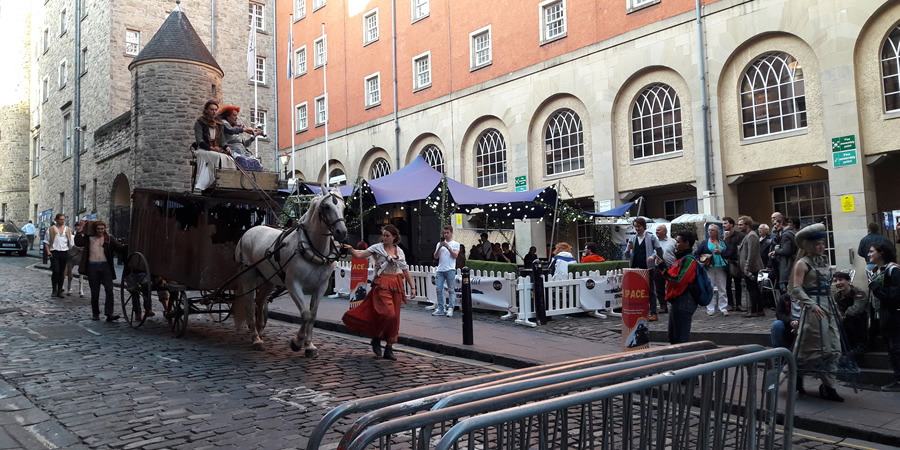 Speaking of spotting stuff, minutes after Deayton had located the Hive, this sight stopped the flyerers in their tracks as it trundled down Niddry Street, followed by a goat. Any clues, anyone? Is it how Angus gets around these days?
Great Minds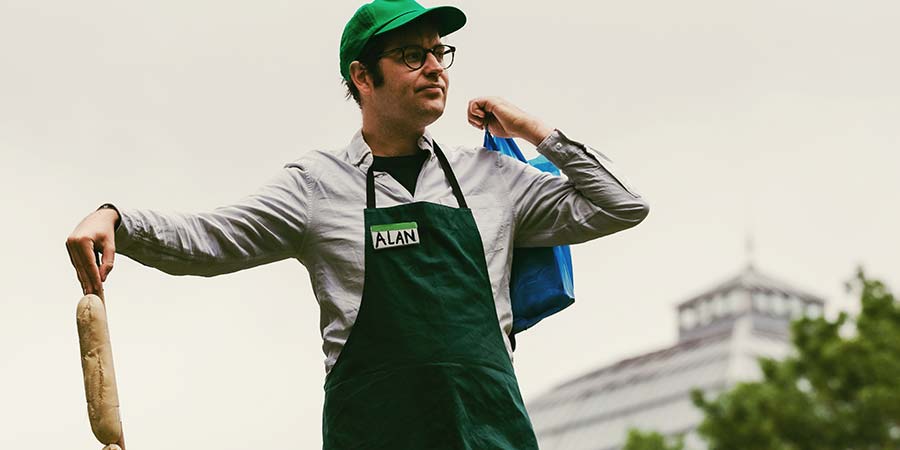 Sticking with that venue, if Billy Connolly's old bandmate Gerry Rafferty needed any confirmation that his song Baker Street features the most iconic sax solo, ever, then The Hive is the place to be. Absurdists Adam Larter and Paul Currie both do a version of that solo in their shows - but not on proper saxophones, naturally. Saxy boys.
Both the Weirdo-king Larter and the now award-nominated Delightful Sausage also randomly rework a famous bit from classic old game show The Generation Game into their shows, with the cuddly toy and all that: the Sausage version gets very dark.
Much less dark, two Kiwi shows go big on the haka this year: James Nokise in God Damn Fancy Man explained what those chants actually mean, while the awesome comedy cabaret show Super Hugh Man features a live one, plus tap, showtunes and a Wolverine musical. What more do you want?
Sausage invade Laws
The Delightful Sausage had a busy Fringe... As this tongue-in-cheek tweet from Stuart Laws reveals, they did their bucket speech in his show too:
See tweet
Innovative Solutions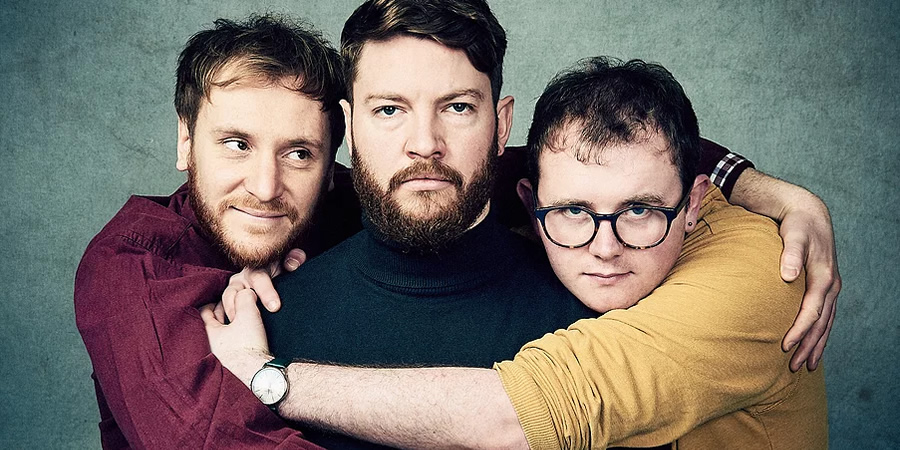 One rarely-mentioned awkwardness that most Fringe shows endure is latecomers - and it's particularly noticeable for those performing at Assembly Studio 2 according to one solo comic we spoke to, as the two gangways lead up right past the stage; hence they're often sent up in one manageable surge.
Good acts turn such things into gold, of course, and sketch troupe Sleeping Trees have the best way of dealing with latecomers we've ever seen, early in their thoroughly enjoyable show in that venue: Silly Funny Boys. We won't spoil it here but it's a corking idea, and fits right in with their faux benefit-show theme. Did they plan it with this venue in mind, we wonder?
JJ Whitehead and the Goblet of Father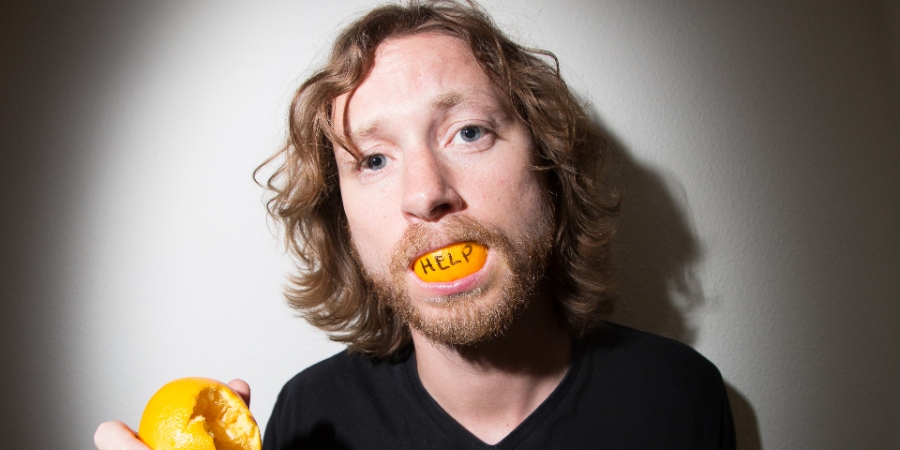 Another Fringe headache is trying to see shows with other people, which can end up like a military operation - honestly, solo show-going is the way forward. Take JJ Whitehead - his dad stood him up for a solid reason. He explained:
"My father and his squadron - The 405 from Greenwood, Canada - were visiting with the 206 Scottish Squadron in Kinloss in 1976 (I was six months old) and they stole an old beer stein/goblet from their mess hall. I guess it was important and was to commemorate the founding of the squadron.
"The deal that they have in the military is that things get returned when the other squadron makes a return visit. Well, the Kinloss Squadron never did visit the Greenwood squadron.
"So, tomorrow my father will be sitting at a table in his hotel at 2pm (instead of coming to a show with me), waiting for a representative from the Kinloss Squadron to come and meet him and take the beer stein back.
"I wanted him to come to Seymour Mace's show with me but he's such an old military man he didn't even bring a way of contacting the guy to postpone this important meeting another half-hour - lol."
Sticking It To Them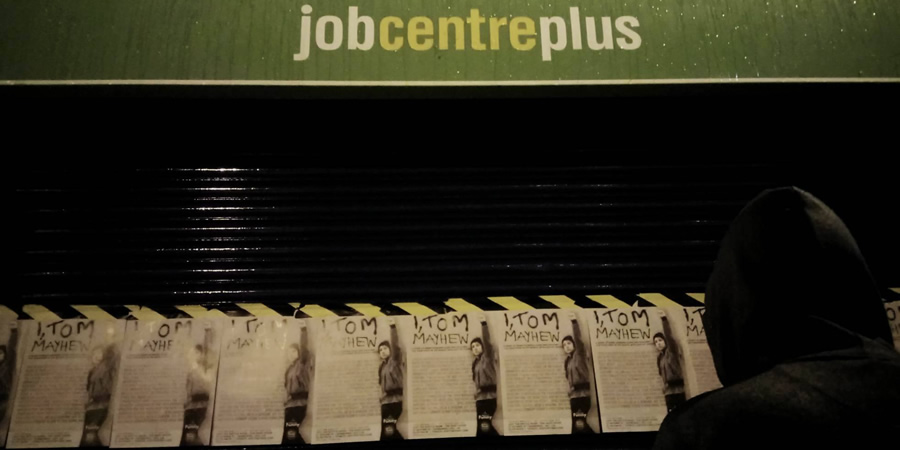 Pretty much everywhere in Edinburgh had a Fringe poster on it. Tom Mayhew's show I, Tom Mayhew is about his three years of unemployment, and his grievance against the government. So he went to the High Riggs Job Centre in Edinburgh on Friday night, put his posters over it, and left them there all weekend for the staff to find on Monday morning. Although if the staff did turn up, and heckle, he wouldn't have been able to do that old retort: "I don't come to your work and..."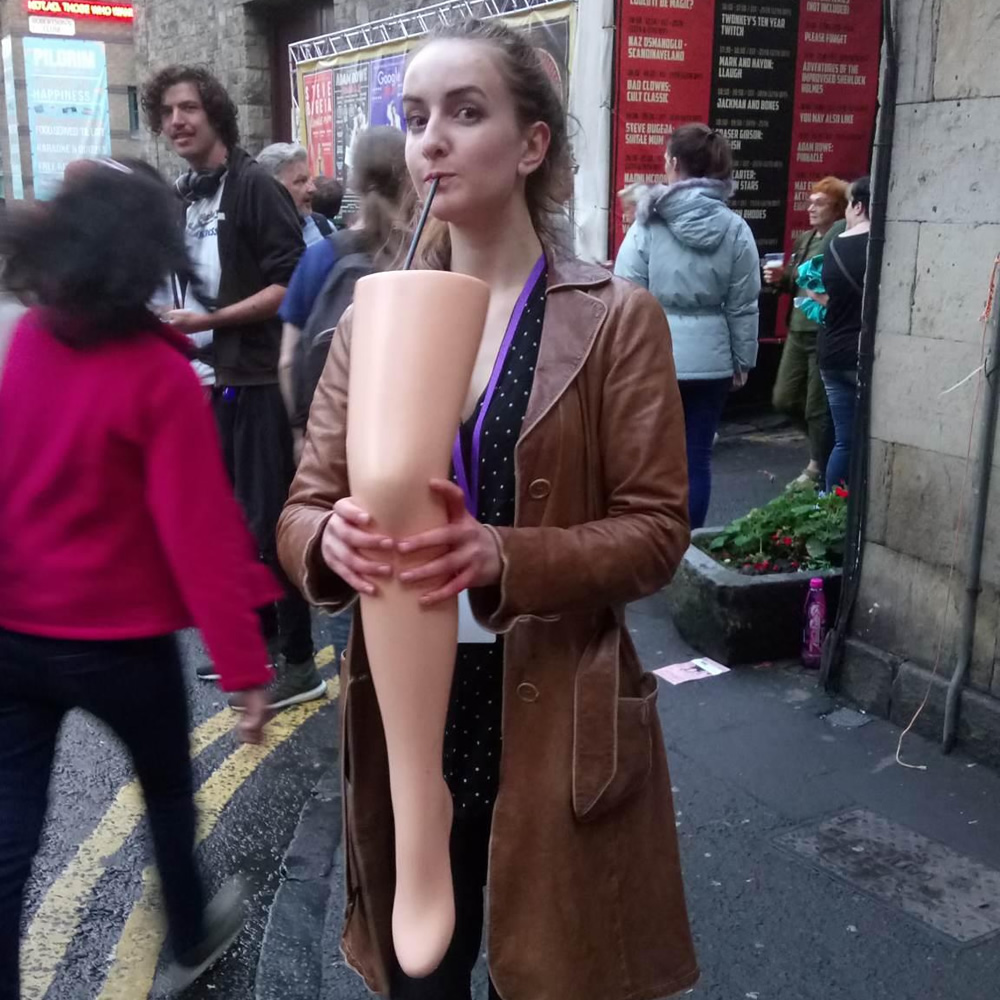 Elsewhere, different acts have different flyering techniques. Eco-scientist and comic Matt Winning made half-sized flyers this year to halve the carbon footprint - also, they fit nicely in the wallet. Julia Masli advertised the physical comedy show Legs by walking up and down Cowgate drinking out of a leg: when people stared, she flyered them.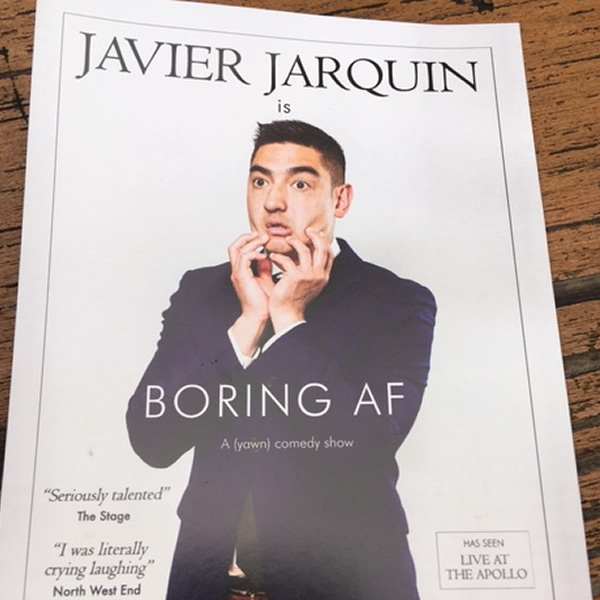 And Javier Jarquin had some big posters up for his duo the JustUs League, but a pleasingly low-key slight-of-language on his solo-show flyer: "Has seen Live At The Apollo."
Marchmonsters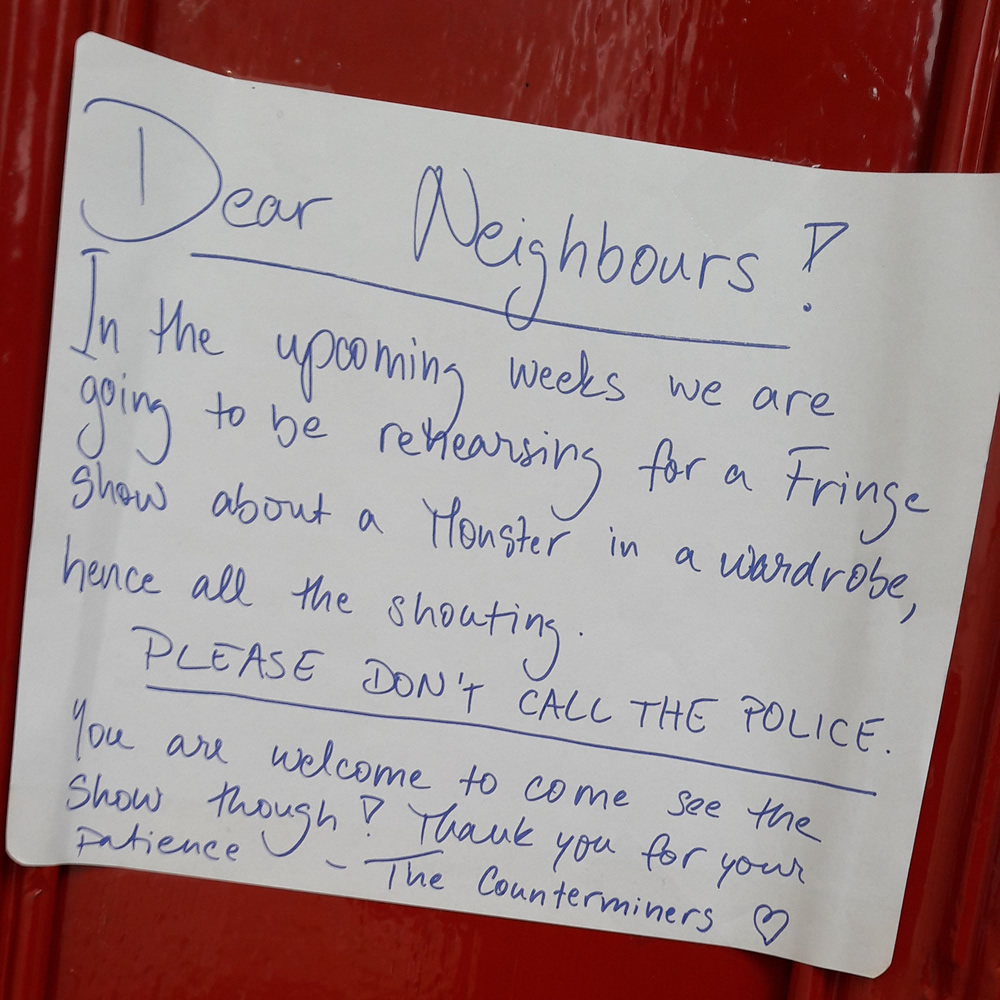 Arguably the Fringe's real creative hub is just past the Circus Hub over in Marchmont, where a big chunk of festival types seem to stay (certainly the human traffic across The Meadows suggests so, night and day). Those grand townhouses are home to all sorts of interesting endeavours: although sometimes it's best to warn the neighbours.
The people behind comedy theatre show Mother and the Monster certainly did, as they rehearsed in the building your BCG correspondent stayed in. They'd left a big wardrobe by the front door for most of the Fringe too, which (having read their show blurb) we're now assuming had a monster in it all along. Still, there are scarier cabinets...
The World's Smallest Venue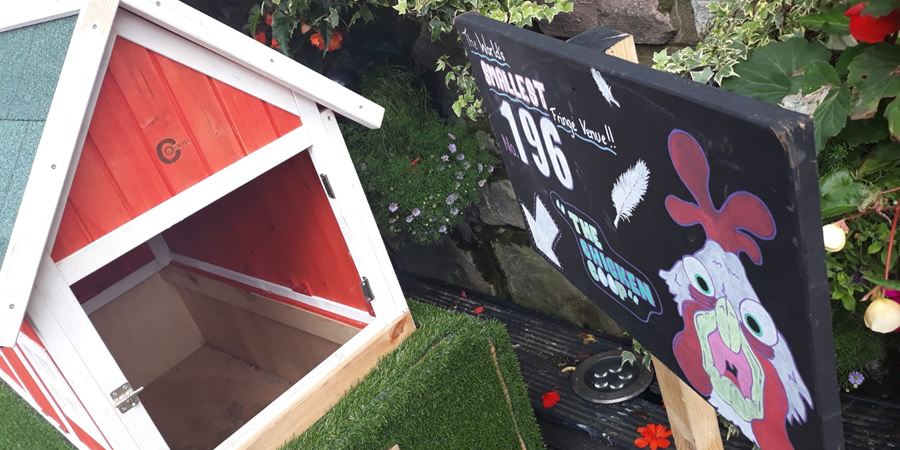 People were scrambling to have an eggcelent time at The World's Smallest Venue @ Coop. Featuring the funniest yolks around, there was no need to tread on eggshells at Venue 196, which was poaching talent from all over the Fringe!
An Electric Performance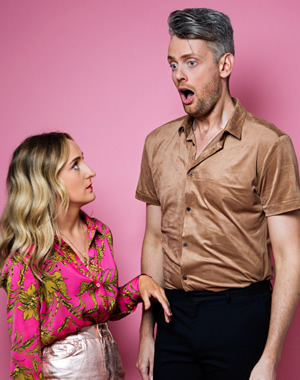 And one final injury. Comedian Ricky Hunt from the double act Hunt & Murphy got some unwanted positive feedback during their late-night performance at Old Tolbooth Market.
"All I saw was white light when my lips touched the microphone head," he recalls. "I thought 'the show must go on' and continued, but then sparks flew and the microphone leapt across the room."
Comedy partner Abbie Murphy stopped the show when she realised it wasn't a joke. "I looked at Ricky, he was really pale," she explains. "Weirdly, he was sweating under his eyes."
The gig eventually continued, but without microphones this time. No shocks there.