Mark Steel
Mark Steel: Who Do I Think I Am?
Stand-up
8:15pm (1 hour)
5-16 & 18-30 Aug 2015
12 - 14
This is a 2015 show that has now finished.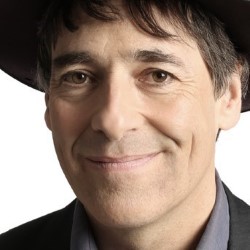 Show details
Stand-up show starring Mark Steel performed on the following days in August 2015...
Mon
Tue
Wed
Thu
Fri
Sat
Sun
03
4
5
6
7
8
9
10
11
12
13
14
15
16
17
18
19
20
21
22
23
24
25
26
27
28
29
30
31
1
2
Venue details
Critically acclaimed star of BBC1's Have I Got News For You and BBC Radio 4's Mark Steel's in Town, Steel makes his glorious return to Edinburgh after 19 years away from the Fringe after discovering who he really is. 'He's a man with a passionate desire to communicate his ideas, who is also very funny' (Guardian). 'Excellent stand-up' (Times). 'Steel's rapier wit cuts to the chase' (Observer).
Share this show
Reviews
Press coverage
Full press release
It never really bothered me that I'd never met my mum.
It never occurred to me I needed to meet her to 'find out who I was', as it didn't seem likely I'd discover I was someone different to who I thought I was. Could it turn out I was three stone lighter than I thought, or I spoke Italian or supported Arsenal or had a fear of Liquorice Allsorts?
But after the birth of my own son, I realised it's quite an event to have a child, and she may well remember giving birth to me, and maybe even the adoption.
So over a 12 year period I tracked her down. She didn't want to meet me, she told the researcher who contacted her, but she did say who my father was.
To start with, and this was only a gentle opener compared with what was to come, he was the world backgammon champion of 1976.He was a multi- millionaire trader on Wall Street, had been the closest friend to Kerry Packer, and an associate of the Royal family.
This didn't seem entirely at ease with all my years as a socialist.
When I met him he told me he'd paid my natural mother to have me 'dealt with'.
I told him I was now in touch with her family, so I could try and get him his money back if he liked.
That's the first part of this story. Then it gets more interesting...
I haven't done a show at the Edinburgh Festival for 20 years, but a stand-up show telling this story, I reckoned, would be one worth telling.
---
Tweets by mrmarksteel