Goose
Goose: Kablamo
Stand-up
3:20pm (1 hour)
6-30 Aug 2015
9 - 10
This is a 2015 show that has now finished.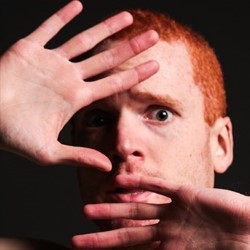 Show details
Stand-up show starring Adam Drake and Ben Rowse performed on the following days in August 2015...
Mon
Tue
Wed
Thu
Fri
Sat
Sun
03
4
5
6
7
8
9
10
11
12
13
14
15
16
17
18
19
20
21
22
23
24
25
26
27
28
29
30
31
1
2
Venue details
Sweaty one-man cartoon. Breakneck poly-character comedy from an MDMA marionette. You won't know what's hit you but you'll like it. 'Original, ambitious edifice' **** (Chortle.co.uk). 'Had audiences in stitches' ***** (Stage). 'Theatrical mastery and comic innovation' **** (Fest). 'Inspired' **** (List). 'Maverick comedy ... one of the most indescribably wonderful pieces of theatre I've ever seen' ***** (ThreeWeeks).
Share this show
Reviews
Press coverage
Full press release
Following the sell-out success of their 2014 show, Goose hurtle back to The Edinburgh Festival Fringe this year with their highly anticipated second show. Adam Drake is the sweaty one-man cartoon and Kablamo is a speed-of-light hour of breakneck poly-character comedy from an MDMA marionette.
You won't know what's hit you but you'll like it.
Adam Drake (Writer/Performer) graduated from Cambridge Footlights in 2012. He has been a regular face at the Edinburgh Festival Fringe since 2009 both as a Performer, Writer and Director. He created, directed and co-wrote the critically acclaimed sell-out two-woman sketch show BEARD in 2012 and with Gein's Family Giftshop he runs Suspiciously Cheap Comedy in London, which frequently hosts acts like Tim Key, Mark Watson and The Boy With Tape On His Face.
Ben Rowse (Writer/Director) graduated from Cambridge in 2012. He wrote sketches and monologues with Cambridge Footlights and his first full-length play Pilot sold out Corpus Playrooms and scored a host of five star reviews. His one-man show No One Man, No Cry sold out the Pleasance Theatre in London and was again well received.
In 2013 Adam and Ben joined forces to co-write a one-man farce, Robin, in which Adam also performed under Ben's direction. The show garnered a host of four and five star reviews and they went on to form Goose in 2014 on which they were co-writers with Adam once again performing under Ben's direction. The show was a huge success and confirmed Goose as one of the leading lights in the new generation of Comedy protagonists.
They currently have a Channel 4 pilot in submission with Talkback and are developing scripted projects with Hat Trick.
Credits