Adam Riches
Adam Riches is Coach Coach
Stand-up / Storytelling
9:45pm (1 hour)
5-30 Aug 2015
7 - 14
This is a 2015 show that has now finished.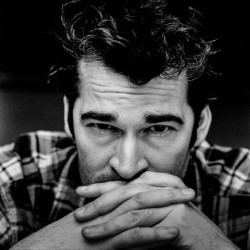 Mon
Tue
Wed
Thu
Fri
Sat
Sun
03
4
5
6
7
8
9
10
11
12
13
14
15
16
17
18
19
20
21
22
23
24
25
26
27
28
29
30
31
1
2
Venue details
Let's get ready to Volfsball as the Queen Dome Centaurs battle the Courtyard Lizards in the Foster's Edinburgh Comedy Award winner's brand new show that just so happens to be the greatest frickin' sports movie you ever done saw, live on stage! 'A triumph of cunningly crafted, high-energy character comedy' (Time Out). 'Will make you laugh yourself silly and what could be better than that?' (Telegraph). 'I rule in this' (Coach Coach). ***** (Telegraph). ***** (Independent). ***** (Time Out). ***** (Scotsman). ***** (Chortle.co.uk).
Share this show
Reviews
Press coverage
Full press release
After a host of critically acclaimed one-man shows that earned him the reputation as the "ballsiest audience-interactor on the Fringe" (Daily Telegraph), Adam Riches is set to take a brand new direction with his new show Coach Coach, which features a cast of 11 and tells the story of the ultimate High School Sports Coach.
Audiences are invited to cheer on their favourite Volfsball team as the Queen Dome Centaurs battle the Courtyard Lizards for the glory of the Yakult Cup. There will be comedy, drama, hamstrings and maybe, just maybe, a last-minute Hail Mary from a member of the audience to win the game and save the show.
Having decided to do the show, the search for an American sport capable of being (believably) played on the Queen Dome stage was the first mountain to climb, with Football proving to be too vast and Basketball and Baseball proving to be too dangerous, even for a man who spun several swingballs around audience members heads with wild abandon in 2011. Fortunately fellow comedian Marek Larwood (We Are Klang) had invented his own - Volfsball - a combination of Netball, Rollerball and pure awesome.
Adam said, "Coach Coach is a character I have always wanted to flesh out and give more stage time to than the usual ten minutes in a multi-character show, so when the idea came to tell his story over an hour alongside a host of other actors playing a bunch of other parts, it felt like the perfect way to evolve what I had been doing before into something new and fresh. The idea is to use the stadium-like atmosphere and shape of the Queen Dome to recreate an American High School Sports Movie complete with all the big, heartstring-tugging moments that genre entails. The show will end with the actual match being played for real that we will then have to adapt our script and actions to according to how the scoring goes. Typically, in keeping with all my previous shows, I've taken that pivotal, career-defining moment out of my hands and placed it on the shoulders of the poor, unwitting fool we select from the front row"
And so, with the Coach having found his sport and Pleasance having agreed to actually raise the roof of the Queen Dome (and move all the expensive lighting out of the way), Coach Coach is on for Edinburgh 2015 and Adam's next phase of 'Operation Contravene Health and Safety' is underway.
Adam Riches won the Fosters Edinburgh Comedy Award in 2011 for Bring Me the Head of Adam Riches, and was invited to perform at the Montreal Just For Laughs Festival. He was named Time Out Comedy Person of the Year 2011 and nominated as The Times South Bank Sky Arts Awards Breakthrough Act of the Year. In 2012 he was nominated for three Chortle Awards, for Breakthrough Act; Character and Sketch; and Best Show.
His most recent credits include STOP (Trafalgar Studios, June 2015), Detectorists (BBC), Horrible Histories (BBC), Top Coppers (BBC), Drunk History (Comedy Central) and Murder In Successville (BBC).
Cast
Coach Coach - Adam Riches
Mrs Coach - Stevie Martin
Missy Coach - Liz Smith
'Willy' T. Wolf - David Elms
Tug Heartstrings - Charles Booth
Memphis Alabaster - Nick Hall
Swish Swisherstein - Daniel Cook
Douche Bleacher - James Riches, Ben Wilson (role share)
The Wrist - Ben Target
Principal Tucker - Richard Gadd
Video Interview
---
Credits
Tweets by tigcoriches