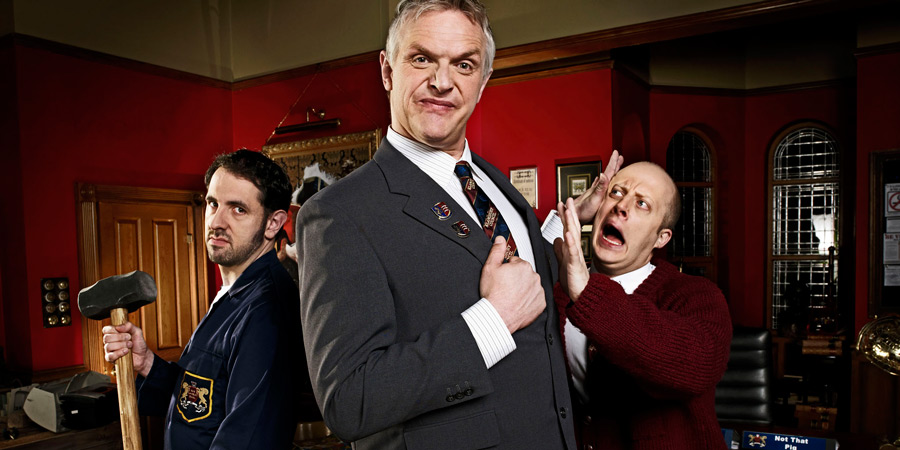 Another comedy also has this name.
Genre

Sitcom

Broadcast

Channel

Episodes

Starring

Writers

Director

Producers
Sketch group We Are Klang's TV sitcom was is billed by the BBC as "an inventive new sitcom somewhere between The Young Ones and The League Of Gentlemen".
Filmed in front of a live studio audience, this comedy from the sketch troupe is the offspring of traditional sitcom and cutting edge live comedy.
The show follows three councillors of Klangbury, who are so incompetent that they have reduced the town to a shambling wreck. When faced with the prospect of losing their jobs, they are forced into drastic action.
Our three anti-heroes are Councillor Marek (the hapless baldy), Councillor Steve (the psychotic one), and Council-leader Greg (the fat, tall Rik Mayall lookalike). They unleash their unfathomable incompetence across this once smoothly functioning town.
Greg longs to be an upstanding civic leader but, unable to cope with the pressures of the job, he takes it out on inept simpleton Marek, who needs little help in looking idiotic but gets it all the same from psychotic (but lovable) schemer Steve.
Each week, their ineptitude scales increasingly improbable heights as they're called upon to resolve a municipal issue/impending disaster.
Salvation is invariably snatched from the jaws of debacle as the three bungling buffoons rally together to save the day, usually assisted by an unlikely chunk of luck.
Production company

Laugh track

Live audience
Location
View recording details
Broadcast details
First broadcast

Thursday 30th July 2009 on BBC Three at 10:30pm

Last new broadcast

Thursday 3rd September 2009 on BBC Three at 10:30pm

Length of episodes

30 minutes

Last repeat

Sunday 4th April 2010 at 11:00pm on Radio 7
Website links