Heavy Petting
Heavy Petting
Sketch show
11:05pm (1 hour)
16-26 Aug 2012
Free
This is a 2012 show that has now finished.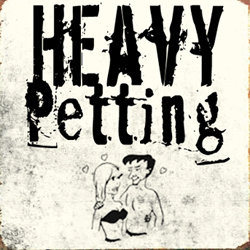 Mon
Tue
Wed
Thu
Fri
Sat
Sun
01
2
3
4
5
6
7
8
9
10
11
12
13
14
15
16
17
18
19
20
21
22
23
24
25
26
27
28
29
30
31
Venue details
The award-winning Heavy Petting will make you laugh your socks off (bring spares) with their sketches, jokes and faces. An hour of relentless hilarity - your sides will ache, then split, then catastrophically and irreversibly rupture. You'll be wishing for a dull moment that will never come as you try to stop your kidneys sliding out of the side of you. Between them Heavy Petting have written or made stuff for BBC2 (Shooting Stars), BBC3 (Comedy Shuffle), Radio 4 (The Wondermentalist Cabaret), Dave (Totally Viral) and Take Hart (a painting of a fish). We smell funny. It's a start.
Share this show
Full press release
Middlesbrough's best-kept comedy secret are about to unleash a live show on Edinburgh as part of the Laughing Horse Free Festival.
Heavy Petting are five friends from Teesside who came together through a shared love of wearing silly hats and making people laugh. Since forming last year they have performed extensively in the North East, become the official sketch group of Casa Bellini Burlesque Night in Newcastle and worked with the producers of The League of Gentlemen and How Not To Live Your Life on Alchemy EH1, a live collaborative sketch show based in Edinburgh.
James Harris, a founder member of the group says "So far the response has been amazing, and being the only English comedians chosen to perform at Alchemy, on a bill that included Susan Calman and Daniel Sloss, was just brilliant. But now we can't wait to do our own full-length show, and where better to start than the Edinburgh Fringe?"
"We have fairly simple goals for this show: to have fun, to entertain whoever turns up, and to land a multi-series contract with HBO. If anything else happens, that'll be a bonus."
Separately the Heavy Petting team have written for Shooting Stars, Spacehopper and Scallywagga (BBC3), The Comedy Unit's Rough Cuts live show and podcast, plus sketches for acts like Dan Skinner, more famous in his guise as Angelos Epithemiou.
Credits