Here's the results from our annual poll which aims to discover what the best and worst comedies of the previous year were. Thanks to everyone who voted - there's no shock results this time, but the winners and losers do provide an interesting record of the nation's comedy tastes in 2007.
Best New British TV Sitcom 2007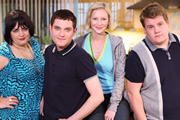 Gavin & Stacey
It wasn't the strongest of years for new British sitcoms - many debut entries crashed and burned in the ratings. Outnumbered came close to being voted the favourite new sitcom of the year, but in the end it was just beaten in the poll by Ruth Jones and James Corden's Gavin And Stacey. The comedy made a massive impact on those that saw its debut on BBC Three, and this was reflected in the voting.
Worst New British TV Sitcom 2007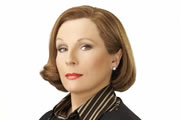 The Life And Times Of Vivienne Vyle
According to our poll, Jennifer Saunders 'comedy' about a daytime TV chat show host was the most disliked new sitcom in 2007. We suspect this is because the show came across as more of a preachy drama than the sitcom it was meant to be. Vivienne Vyle also suffered because of the way BBC Two promoted it - the show was broadcast under the new "Thursdays Are Funny" brand, which was a mistake as it built up the audience's expectations a little too much.
Best Returning British TV Sitcom 2007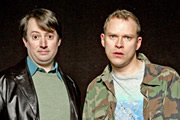 Peep Show (Series 4)
2007 is notable for some very strong established sitcoms delivering a good series. According to our poll, the second series of The IT Crowd and Not Going Out were very popular, but Jesse Armstrong and Sam Bain's cult comedy was the biggest favourite. There's no sign of Peep Show losing its appeal any time soon, our visitors just love Jeremy and Mark's socially awkward adventures.
Worst Returning British TV Sitcom 2007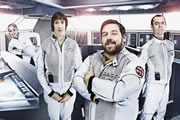 Hyperdrive (Series 2)
It's very hard to find anyone who liked this space comedy, it therefore doesn't come as much of a surprise to discover that Hyperdrive was the sitcom people didn't want to see again. Early the next year the BBC realised it was a dud, and axed plans for any more adventures aboard Camden Lock.
We also asked those taking part in the poll to choose their favourite sitcom special from the year just gone. The 'Extras' special was voted the best special of 2007, whilst Christmas Day's 'To The Manor Born' was the one that people thought shouldn't have come back.
Best British TV Sketch Show 2007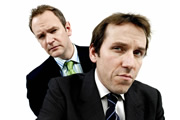 The Armstrong & Miller Show
Over 50 hours of new sketch comedy was broadcast on TV in 2007 and three quarters of it was, in our opinion, absolutely dire. The return of Armstrong and Miller was a real highlight though. Their new BBC1 sketch show kept a large percentage of the audience very entertained. The immature RAF pilots instantly became classic comedy characters, like totally man.
Worst British TV Sketch Show 2007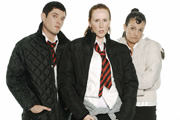 The Catherine Tate Show
When our computer told us that the third series of Catherine Tate's comedy show had been voted above series like A Bucket O' French & Saunders, Adam And Shelley and Tittybangbang to be labelled the least funny comedy sketch show of 2007, we made it do a re-count (as, after all, it attracted huge viewing figures). But no, it was indeed the show that received the most negative votes in this category - it seems the backlash against Tate's broad characters has begun!
Best British TV Panel Show 2007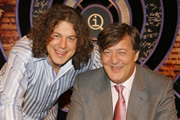 Quite Interesting (QI)
2007 saw all the big panel shows notch up more series. The new entries in the genre were no match for the long-running Have I Got News For You, 8 Out Of 10 Cats, Mock the Week, QI and Never Mind The Buzzcocks. Of those shows, it was Series 'E' of QI that picked up the most votes. It just goes to show that there is a large audience out there for high-brow, clever, intelligent comedy.
Worst British TV Panel Show / Satire 2007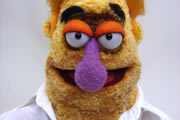 And Then You Die
'Clever, witty and intelligent' are certainly not words that could be used to describe with this panel show though. In case you can't remember it (quite likely), And Then You Die was a 'comedy' panel show on Channel Dave hosted by a puppet. Calling it cheap and nasty would be kind - pretty much everyone that had seen it voted it the 'Worst Panel Show Of 2007'.
Worst Comedy Of The Year 2007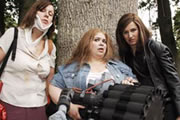 Tittybangbang
Last year, this female-led BBC Three sketch show was voted the worst sketch show of 2006 in our awards; however the commissioners must have been fans as it came back for another series in 2007. This time, you've decided to give it the ultimate thumbs down by naming it the comedy you most dislike across all the genres.
Comedy Of The Year 2007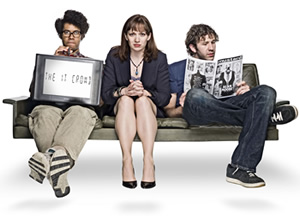 The IT Crowd
It seems your favourite comedy of the year was the second series of The IT Crowd. Curiously this didn't win the returning sitcom category above - we can only put this down to the fact that everyone only had one vote here, across all the genres. We guess there were more die-hard IT Crowd fans voting than there were Peep Show fans (i.e. many of those that voted for Peep Show in the category above had a different overall favourite?). Whatever the case, it seems C4 have created a much-loved sitcom.
British Comedy Guide Editors' Award 2007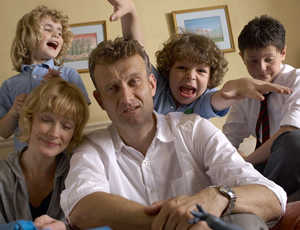 Outnumbered
This is the award we keep behind each year to hand out to the show, person, channel, or indeed whatever else we think deserves some extra recognition. We think the 2007 show that deserved this most was a semi-improvised sitcom about family life. It was rudely shunted about the BBC schedules making it hard for people to find - but those that did manage to catch it couldn't praise it enough... our inbox filled up with positive emails.
It was the first sitcom in ages to represent what true British middle-class family life with kids is like - it didn't peddle the tired old stereotypical sitcom view, and thus a lot of parents found themselves identifying with the situations and laughing a lot. There was great acting from the cast too, particularly the kids, and this is what made the show so watchable. The children's un-scripted questions gave the comedy real warmth, reality and humour!
Editors note: The next year, 2008, saw Outnumbered finally get the recognition it deserved. It was given a much better time slot and thus picked up huge ratings. It also went on to be voted Best Sitcom Of The Year in our awards!