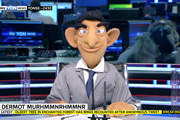 Here are three great trailers that were used to promote the first series of Yonderland...
The eight part series, which started in November 2013, stars the acclaimed lead cast of Horrible Histories. It follows the story of 33-year old mum Debbie Maddox who unexpectedly finds herself in an extraordinary world inhabited by a collection of eccentric (and usually idiotic) characters, some of whom happen to be puppets, with only an Elf by her side.
Here is Dermot Murhmmnrhmmnr with the latest news from the magical realm....
See also: More clips
Published: Monday 9th September 2013