Tomorrow, and tomorrow, and tomorrow,
Creeps in this petty pace from day to day.
It's the bleak midwinter, plague has hit London, and as Christmas approaches Will and Kate are forced to spend the holiday season together in wave fifteen of state-enforced home confinement in Will's London lodgings.
Things have moved on from where we left the TV series back in 2018, and we've jumped from the late 1500s to 1603. This was a time in Shakespeare's life when there really was a lockdown as plague swept through the capital, forcing all theatres to close. It was during this time that The Bard is rumoured to have penned (or at least planned) one of his greatest works: King Lear.
It's something of a supreme irony that due to this year's global pandemic, Upstart Crow's West End spin-off - The Upstart Crow (in which David Mitchell, Gemma Whelan and Rob Rouse, amongst others, reprised their roles from the TV series) - was forced to end its run early, along with every other show across the country, in one of theatre's darkest days since that very outbreak of plague. Even spookier, the play concerned itself with Will creating King Lear. The play saw Mark Heap's character enter proceedings bedecked in a pointed plague mask, yet audiences were blissfully unaware in February and early March of the extent of what was just around the corner.
It is during 2020's covid lockdown that Ben Elton penned this year's Upstart Crow special: a full half-hour two-hander episode, complete with online audience, with Mitchell returning as the great Bard and Whelan as Kate, the landlady's daughter - in true sitcom fashion, we never actually see the landlady herself.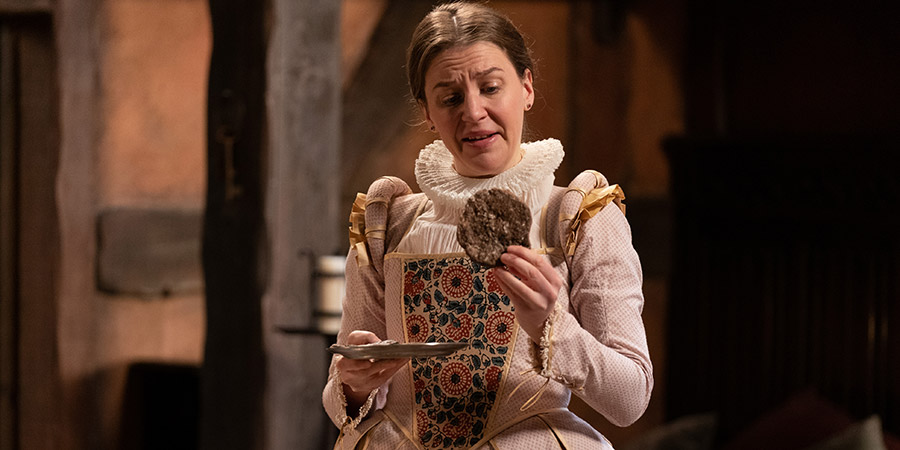 This Christmas episode is set a couple of years before the Olivier-nominated West End production. Kate and William are spending all their time together during lockdown, except for when Will has to pop out to the market whilst wearing his 'plaguey beak' (and he's definitely not stockpiling). Tasked with writing a brand new play for the King, and in something of a gloomy mood, his thoughts turn to the gritty tragedy of Macbeth. However, he lacks inspiration, and as time drags on (and on, and on), all Kate has to offer him are her disastrous baking efforts. Tempers invariably fray, but can they reconcile and make a merry Christmas out of what at first glance seems to be an inevitably bleak one?
A two-hander (often referred to in TV terms as a 'Bottle Episode') is a tricky business for a sitcom, but when it's done right it makes for a classic that sticks in people's minds for years to come: think Rik Mayall and Ade Edmondson's ferris wheel-confined episode of Bottom, Hole, or Red Dwarf's Marooned. Of course, it relies on the skill of its leads, which is no issue for Mitchell, who can always be relied upon to deliver an impeccable comedy performance, nor indeed for Game Of Thrones' brilliant Gemma Whelan. Similarly, Ben Elton has no problem finding material from 2020's bizarre pantomime of events.
The episode boasts a razor-sharp and consistently funny script; tricky political pitfalls and overly sanctimonious messages are deftly steered around; and the comedy is surprisingly edgy and thought-provoking at times. While it largely concerns itself with indirectly satirising the events of 2020's pandemic (particularly delightful is Kate trying to explain to Will the joys of making up very surreal fifteen second dances to pass the time) there's plenty of Shakespearean merriment to be had: Will is given a ticking-off from Kate for lifting part of his 'Scottish Play' from another source. The episode gets its full title (Tomorrow And Tomorrow And Tomorrow: A Lockdown Christmas 1603) from this soliloquy in Macbeth:
There would have been a time for such a word.
Tomorrow, and tomorrow, and tomorrow,
Creeps in this petty pace from day to day
To the last syllable of recorded time,
And all our yesterdays have lighted fools
The way to dusty death. Out, out, brief candle!
Life's but a walking shadow, a poor player
That struts and frets his hour upon the stage
And then is heard no more: it is a tale
Told by an idiot, full of sound and fury,
Signifying nothing.
Upstart Crow's genius lies in making Shakespeare accessible and entertaining; to have the nerve to announce some plays as 'crappage' and to revel in the glory of others. You don't have to be a Shakespeare aficionado to enjoy the series. Ben Elton's scripts have such a wealth of detail about The Bard's life and plays that with David Mitchell portraying him, Shakespeare somehow seems a more reachable figure. I'm sure it's not overstating it to say that many people have felt that they wanted to read and experience more of Shakespeare's plays through Upstart Crow's influence alone.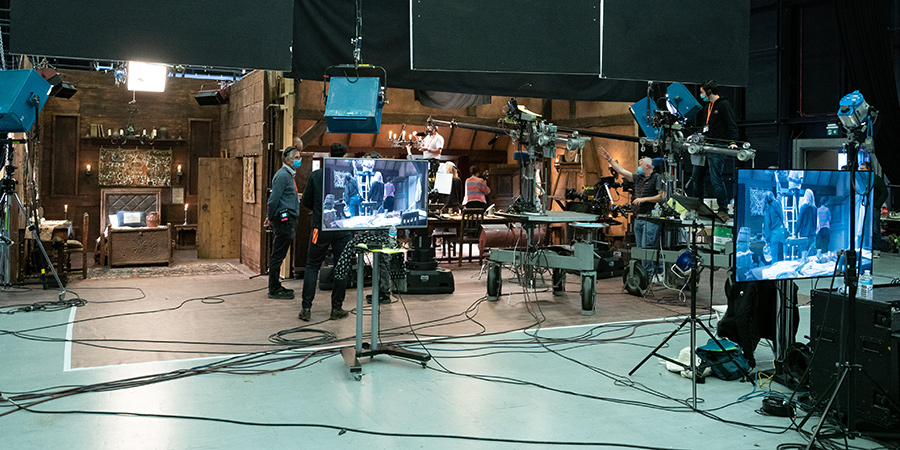 The episode ends pondering on whether society has learned to be kinder during these hard times? 'Do we ever futtocking learn?', the playwright wonders.
Upstart Crow was created back in 2016 to coincide with the 400th anniversary of Shakespeare's death and ever since it has become a show that seems to find itself in the right place at the right time, mirroring itself with Shakespeare's life, now more literally than we could ever have imagined.
This latest Christmas special offers a reflection of the madness of recent events, but also a feeling of optimism. It's the 2020 Christmas special that we needed. Long may The Bard's adventures continue!
---
Published: Friday 18th December 2020