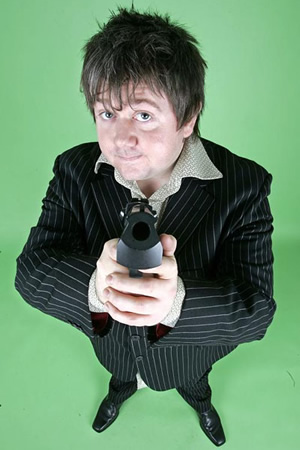 John Warburton (pictured right) is the writer of new sitcom pilot Inn Mates. He kindly allowed us to ask him a few questions. Here's the result:
Hi John. Thanks for talking to us. Perhaps we could start off by asking you to explain a bit more about the background to how your sitcom came about?
I'd always wanted to write a sitcom about a pub, because I grew up in one. But it was such a daunting prospect because Cheers and Early Doors had already done it perfectly. One as a studio, and one as a single camera. Then you've got the brash and loud Time Gentleman Please plus the surreal World Of Pub. It didn't feel there was any way I could realistically pitch against that sort of canon.
But then I had this idea about a pub sitcom where you never see the bar. Because, let's face it, sitcoms are about people and not places. So I developed the idea of The Sunday Lunchers, set in a carvery, single camera where you just go from table to table dropping in on people's conversations.
I got on a scheme called the College of Comedy at the BBC which was the chance to be mentored in the development of a script and so I decided to write this for the College project. I took it away on a residential, read it and took notes from the others. I met with Brian Dooley who wrote The Smoking Room and he gave me notes on it. It all helped a lot. Finally, in March last year we had 15 minute extracts performed at a rather smart showcase at TV Centre.
So what's Inn Mates essentially about then?
It's about the people you find yourself stuck with. Whether it's friends or colleagues or a son you never knew you had hunting you down. It's about going through a quarter life crisis. It's about people trying to find their way in the world.
Has much changed from your original Comedy College pilot?
Character wise, we lost the old ladies - there were two brilliant smoking old ladies sat outside who insulted everyone. They were brilliant. But apparently we didn't have enough money for them. which was a shame, because they were really good at insults. There were some real ale spods in the original who have gone and been replaced by some Police Community Support Officers.
Tone wise... it's a bit more youthy. There was a pregnancy and a baby in the original, but that was written more for a BBC Two audience. When it became clear they didn't have any slots available until the next ice age it went to BBC Three and had to be a bit less 'middle-aged'.
How did you find the process of writing a sitcom for TV?
Piece of cake. Don't know what all the fuss is about.
That is such a lie. Writing anything well is probably the most difficult thing you can write. People are complicated creatures and getting everything to make sense is like performing some kind of ridiculously complex emotional algebra. The writing is the good part. The bit where it gets annoying is where everyone else starts sticking their oar in.
Any tips for aspiring writers hoping to get their pilot on TV too?
Some people work with a view that if they chuck enough stuff out there sooner or later something will get made. I know people who it has worked for. But I can't do that. I think you have to be passionate about your characters. Not in a wrong way you understand. But you've got to love them and love their world. You have to make your script the best it can ever be before you send it to someone, because as soon as someone gets your script all they do is try and pull it apart. Look for all the problems and get rid of them using complex emotional algebra.
What was it like to hear Neil Morrissey had signed up to play Brian?
Brilliant. He's a great comedy actor, he knows everything there is to know about beer and he was mates with Bev Callard who used to own the pub where we filmed. He turned up and said: "Oh my god, I have been really pissed in here."
Ha ha. Do you have a favourite character, or pair of characters?
I couldn't possibly say. They've all got so much potential.

Fair play. There's a fair bit of nudity in the script, with a couple of the male actors made to look a bit silly as a result... do they hate you now?
You have no idea how much nudity was cut out. It actually transpired that on a final read every single male member of cast was getting their backsides out. Neil Morrissey's bum was edited out because "we" thought there were too many. I would have kept it in. Not that I've got a thing for his bottom, just that... well.
You're also a stand-up comedian. Which do you prefer - the writing, or performing live?
I love them both. I feel very privileged to do the work I do. You'd think each would inform the other, but in truth they don't. Writing stand-up has suffered a bit over the past couple of years because I've been so busy writing narrative.
You've also done some acting - were you not tempted to write a role for yourself?
I was thinking about playing Chiz the PCSO opposite Lisa Riley. But she couldn't do it. So when we cast Beverly Rudd I thought it would be too creepy for me to be fancying her as I could be her dad. Luckily as it turns out. Because we got Andrew Ellis.

Do you think Inn Mates has the potential to go to a series?
I've got hundreds of pages of ideas for all the characters. It could run longer than Last Of The Summer Wine if they let it!

Finally, a question we like to end on, what's your favourite comedy shows?
I love a lot of American comedy. Loving The Big Bang Theory and 30 Rock at the moment. East Bound and Down is superb, It's Always Sunny in Philadelphia is good. I was brought up on Only Fools and Horses and Are You Being Served?.
Paul Calf's Video Diaries, Red Dwarf and the original BBC The Hitchhiker's Guide To The Galaxy telly series were the shows I watched over and over again growing up. Favourite sitcom ever? Friends, probably.
Cheers John. Best of luck with your sitcom.