Channel 4 orders a second series of I'm Spazticus
Channel 4 orders a second series of I'm Spazticus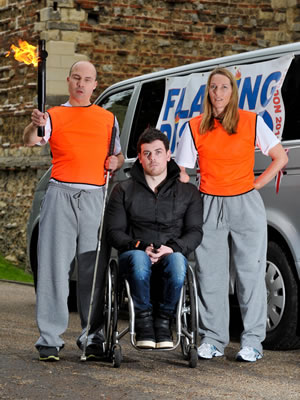 Channel 4 have today announced the return of I'm Spazticus, the prank show in which a cast of disabled actors prank able-bodied members of the public.
The show was originally conceived as a Comedy Lab pilot in 2005, but it wasn't until this summer that a full series was made. Four new episodes were broadcast on consecutive nights in August as part of the channel's Funny Fortnight season, and linked to the channel's build-up for its Paralympics coverage.
Stunts included a wheelchair parachutist seemingly stuck in a tree, a blind man going on a blind date and asking the waiter to devise a code to let him know if his date is hot or not, and fake collections for a charity called 'The Guide Dwarves Association'.
The press reaction to the series was mixed, but Channel 4 is clearly pleased with debate about disability that it stirred up.
Channel 4 says: "The new series will again see individuals with varying disabilities pranking members of the public in a cheeky and irreverent way. The show will mix hidden camera and mockumentary style shooting to create a series of hilarious situations, featuring a number of recurring figures and one-offs character."
Nerys Evans, Acting Head of Comedy at Channel 4, adds: "I'm Spazticus showcases some of the best disabled talent around and I'm pleased that we are going to see a second series of hilarious pranks."
Jamie O'Leary, the Director of production company Zeitgiest Television, says: "Zeitgeist are thrilled to be taking I'm Spazticus on to the next stage. It really demonstrates Channel 4's appetite for challenging comedy, their support of disabled talent and commitment to regional indies - it's great news."
The new series of I'm Spazticus will air in 2013.
Elsewhere, Channel 4 has been widely praised for creating and broadcasting The Last Leg With Adam Hills, its irreverent nightly comic highlights programme shown nightly during the Paralympic Games, in which host Adam Hills and guests brushed aside a number of taboos. According to The Sun, the channel is now looking to sign up Hills for future projects.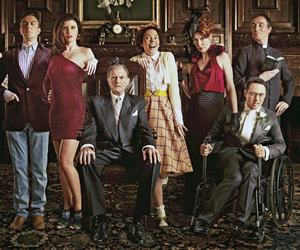 A full series of Bad Sugar, another Funny Fornight pilot, has already been reported on, however Channel 4 officially confirmed detail of the commission today, saying a full series would air in 2013.
Written by Peep Show's Sam Bain and Jesse Armstrong, and starring Julia Davis, Olivia Colman and Sharon Horgan, Bad Sugar is a single-camera sitcom centred on a dysfunctional, wealthy mining dynasty family.
Bain & Armstrong say: "We're looking forward to spending 2013 writing for the three funniest women in Britain, while the producers stockpile mink stoles, shoulder pads and hairspray."
Executive Producer Sophie Clarke-Jervoise comments: "We're thrilled to be making Bad Sugar for Channel 4. The combination of Sam & Jesse writing, together with three comedy goddesses, make it a dream project", and Channel 4's Nerys Evans adds: "We're delighted to announce a series of Bad Sugar, not only with the brilliant writing talents of Sam and Jesse but also starring the country's most ridiculously talented comedy cast."
It is understood that further pilots from the Funny Fortnight series are expected to be given full series, but it is not know which yet. The other pilots screened during in the season were Verry Terry, The Function Room, Toast Of London, Vic And Bob's Lucky Sexy Winners, and Just Around The Corner. The channel also broadcast one-off specials Whatever Happened To Harry Hill? and The Boyle Variety Performance, and the two-parter Them From That Thing.
Below is a video featuring clips from the various Funny Fortnight shows:
Share this page