Sarah Alexander & Neil Morrissey join new BBC One sitcom
Sarah Alexander & Neil Morrissey join new BBC One sitcom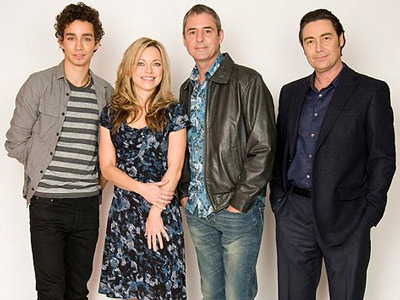 Coupling's Sarah Alexander and Men Behaving Badly star Neil Morrissey are to lead the cast of a brand new BBC One sitcom, it has been announced.
Me And Mrs Jones has been written by long-term collaborators Oriane Messina and Fay Rusling, whose credits include Smack The Pony, Green Wing and Campus, and focuses on the life and loves of a 'yummy mummy', as she attempts to cope with "love, affection, sex and motherhood between an ex-husband, one grown-up son, two young daughters and male admirers with a 20 year age gap".
The series is to star Sarah Alexander as the central Mrs Jones character, with Nathaniel Parker, last seen as the duplicitous Agravaine in BBC One hit drama Merlin, as her on-off boyfriend, and Neil Morrissey as her ex-husband. Misfits alumnus Robert Sheehan will play their grown-up son.
Hartswood Films, the company behind the new series, was also responsible for hit early 2000s sitcom Coupling, in which Alexander starred, as well as Men Behaving Badly, the 1990s hit in which Neil Morrissey made his name. Morrissey's last comedy role was a 2010 BBC Three pilot entitled The Inn Mates, whilst his last comedy series was as male lead in two series of Carrie & Barry - also a Hartswood production.
The company, lead by veteran producer Beryl Vertue, has also achieved recent success with its Sherlock drama series. Vertue will act as executive producer for Me And Mrs Jones, whilst Nick Hurran directs. Producer Serena Cullen's own company Serena Cullen Productions is also involved in the series.
BBC comedy commissioner Cheryl Taylor said: "If there has been any anxiety recently about the number of funny women working in comedy, here we have the perfect antidote with the wonderful Sarah Alexander starring in a highly entertaining series written by Fay and Oriane and produced by Beryl and Serena. Perfick".
Beryl Vertue added: "Producing comedy for the BBC is something we have done with great pride for many years and I am delighted we are back on BBC One with a new series. Hartswood Films has long been a creative hub for comedy, and it is a genuine pleasure to be working with the talented team behind Me And Mrs Jones."
A pilot episode was filmed at Teddington Studios and on location in Teddington in November 2011. Production for the 6-part series begins on the 21st of May.
Share this page