Pandemonium series
Tom Basden's sitcom Pandemonium ordered by BBC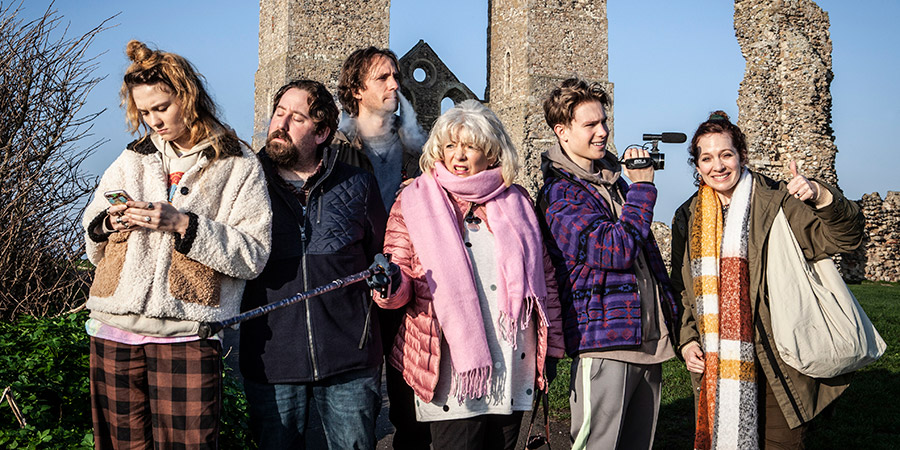 Plebs creator Tom Basden has landed a BBC One sitcom, British Comedy Guide can exclusively reveal.
Production is underway on six 30-minute episodes of Pandemonium.
The commission follows a successful pilot that aired at Christmas, focusing on the Jessop family as they struggled with spending quality time together during the coronavirus pandemic, taking their summer holiday in Margate in October.
Starring Katherine Parkinson and Jim Howick as Rachel and Paul Jessop, Alison Steadman (Gavin & Stacey) played Paul's mother Sue.
Freya Parks (School's Out Forever) was the couple's daughter Amy, with Jack Christou (Penny On M.A.R.S.) as their son Sam. Basden played Rachel's brother Robin, with Tori Allen-Martin (Pure) as his high-maintenance fiancé Cherry and Mica Ricketts (As Dead As It Gets) as Amy's girlfriend Maya.
Written by Basden and capturing the Jessops at various stages of the pandemic, from early 2020 optimism for their upcoming holiday in California and Robin's marriage to Cherry, through to them bickering at each other on holiday and Robin and Amy's relationships in trouble, Pandemonium employs the distinctive device of presenting most of the action from the perspective of Sam's home camera.
Director Ella Jones (Back To Life, Enterprice) is returning to helm the series, made by BBC Studios. It is yet to be confirmed whether the full cast will return or if the sitcom will retain the name Pandemonium.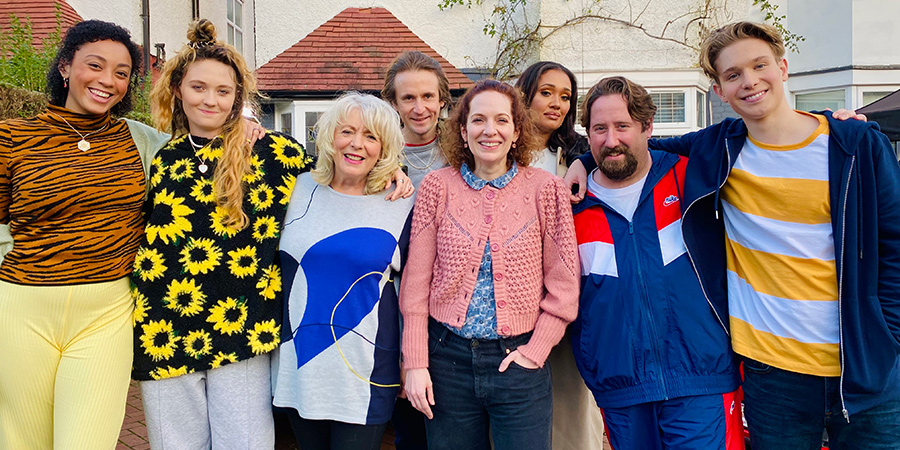 "My Grandad used to film our holidays to Cornwall when I was a kid and his videos were often very funny by accident, because he'd capture things that were embarrassing or ridiculous despite setting out to make the family look happy and harmonious" Basden explained when the pilot was announced. "I also liked the idea of a family talking to the camera and being aware that they were being filmed as it puts them under even more pressure to project positivity while everything is going wrong around them.
"My aim was to make something that felt real and recognisable, so I hope it's got the tone of sitcom classics like The Office or Outnumbered, with some of the warmth of Gavin & Stacey, and even though it looks pretty different, something like The Simpsons."
He added that: "I'd wanted to write a sitcom about a family going on holiday for some time, as I think there's something really funny and high stakes about people under pressure to have a good time together, and the stress and anger this tends to produce instead.
"Growing up, I was a big fan of the National Lampoons Vacation films, and I wanted to capture some of that warmth and chaos that comes from a group of people with very different attitudes, all bundled together and unleashed upon the world."
Reviews for the pilot were positive, with The Independent calling it "a valiant effort at exploring our current predicament". The i described it as "a testament to the tonic of laughter" and The Telegraph noted that "it's a wise sitcom that gives Alison Steadman all the best lines."
A stand-up, writer and actor, Basden will shortly return in the third series of Ricky Gervais's Netflix comedy After Life, while Ghosts' Howick reprises his role as Mr Hendricks in the recently dropped third series of Sex Education on the streaming channel.
Meanwhile, The IT Crowd star Parkinson has joined the second series of Mel Giedroyc and Sue Perkins' Sky assassin comedy Hitmen, playing a psychopathic villain who's built up a lifestyle empire. Other guest stars on the series include Sanjeev Bhaskar, Mat Baynton, Nina Wadia and Jessica Knappett.
A BBC spokesperson declined to comment on Pandemonium.
---
For updates, click the button below.
Share this page