Caroline Quentin's Life Of Riley will not return for fourth series
Caroline Quentin's Life Of Riley will not return for fourth series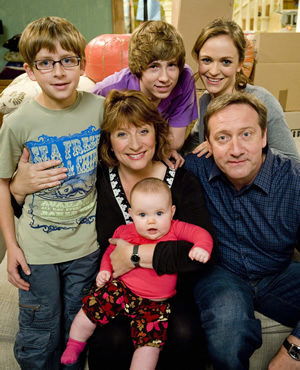 BBC One's remaining family audience comedy after the cancellation of My Family has also been axed, the British Comedy Guide understands.
The sitcom, about a husband and wife on their second marriage and their respective children, ran for three series on BBC One between January 2009 and June 2011, totalling 20 episodes.
Starring Caroline Quentin as wife Maddy and Neil Dudgeon as husband Jim, the broad sitcom failed to capture a notable fan-base and - as a mainstream, family-aimed comedy - was almost universally loathed by critics. However, the programme often gained respectable (if not wavering) audiences, opening with 4.5 million viewers for the first episode of Series 3 in April. The final episode in June was watched by 2.31 million viewers, a 10% audience share.
The show's child stars were Lucinda Dryzek and Taylor Fawcett as Katy and Danny, Jim's children, plus Patrick Nolan as Maddy's son, Ted.
Life Of Riley creator and lead writer Georgia Pritchett is to have a new pilot, Up!, trialled at the Salford Sitcom Showcase 2011 later this month. One of six comedies being tested at the event, it is being produced by Catherine Bailey Productions Ltd, the company behind Life Of Riley.
Pritchett's past credits include My Family, 2DTV, Not Going Out, Miranda, Have I Got News For You, Spitting Image and Feel The Force.
The series also faced criticism for its staffing in 2009 after it was revealed that it was one of a number of BBC shows filmed in Glasgow but using large numbers of crew flown in from London.
The move to end the series follows the appointment of former BBC Three boss Danny Cohen to head up BBC One. He has outlined a wish to produce more successful, mainstream comedies for the channel, but has also made clear that they need not be based around middle-class families, and specifically stated a wish to see more blue-collar characters in the station's comedy shows.
Here is a clip from the final series of Life Of Riley:
Share this page