Rhys Thomas new music spoof
Kemps in new Rhys Thomas music spoof for BBC Four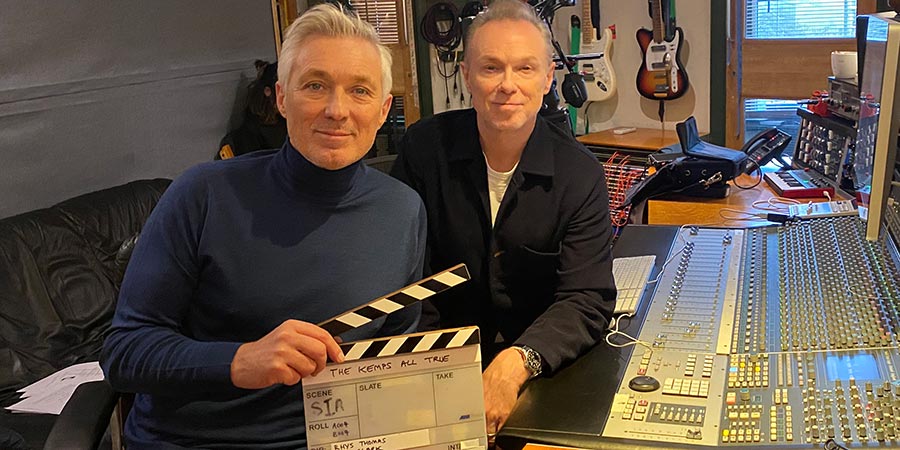 Rhys Thomas has been commissioned to make a new music documentary spoof for BBC Four.
The Kemps: All True is a 60-minute special that will follow Gary Kemp and Martin Kemp, the actors and real-life brothers who found fame in hit 1980s pop group Spandau Ballet.
After the Kemps posted photographs on Twitter teasing the script at a read-through last week, a BBC source confirmed to us that the rumours are "true".
Now, British Comedy Guide can exclusively confirm that the comedy will feature not only the Kemps, but a range of guest stars from the music industry, and actors Simon Day, Perry Benson, Christopher Eccleston, Tony Way and Lucy Montgomery.
The Kemps: All True will see the siblings playing fictionalised versions of themselves, as middling-successful actors engaged in various new projects but still struggling to throw off the chains of Spandau Ballet and their former pop star status.
Other stars include Martin's wife Shirlie; gangster film icon Alan Ford; and other guests to be confirmed.
Speaking to British Comedy Guide, Rhys Thomas explained: "After Brian Pern ended, we wondered 'can we do this with real rock stars?' Based around the prog-rock scene, feeling quite blokey, Pern never quite got quite the audience we thought it should have, so we looked at the pop world. Who better than the Kemp brothers? They were huge pop stars, heart-throbs, and have since shown that they can both act."
The programme will be seen by many as inspired by the cult hit documentary film Bros: After The Screaming Stops, following fellow 80s pop siblings Luke and Matt Goss, and aired by BBC Four at Christmas 2018.
However, BCG has learned that The Kemps: All True was in development earlier in 2018 and is modelled more on programmes in the vein of Alan Yentob-fronted arts documentary series Imagine.... Thomas explained it is a "spiritual successor" to Thomas's previous spoof rockumentary series, Brian Pern.
Running for three series between 2014 and 2017, Brian Pern followed the current-day career of eponymous (fictional) 1970s prog-rock star Pern - played by Simon Day - and the tensions with his former bandmates in 'Thotch'.
The Kemps: All True was originally intended to be made in 2019 for broadcast at Christmas, but production had to be postponed. It will air on BBC Four later in 2020, at a date yet to be confirmed.
---
On Friday 17th January, the BBC confirmed the commission, issuing the following statements.
Martin Kemp says: "After being known as Roman Kemp's dad for a few months, I'm really happy to be getting back in the limelight and being known for being that one from Spandau Ballet who hit someone over the head with an ashtray in EastEnders; as well as spending some time with my brothers, Gary and Ross."
Gary Kemp says: "I'm thrilled that the BBC are making this probing documentary into the lives of my brother and me, and great to be in the delicate yet blood-stained hands of the wonderful Rhys Thomas. Anyone who knows Rhys's work can expect a little more probing than is usual. Our lawyers await."
Shane Allen, Controller of BBC Comedy says: "I had to look up the word hagiography in relation to this....as it's the complete opposite of that. Fair play to Gary and Martin for being good sports and going along with the screwball comedy brain of Rhys Thomas."
Cassian Harrison, Controller of BBC Four says: "It's 'True' that BBC Four has always supported the most outstanding talents in British music. After 40 years, the Kemp brothers are clearly indestructible and we're delighted we can assist them in their attempts to go for 'Gold' again. I for one wish them the best of luck!"
---
For updates, click the button below.
Share this page