Herbert Clunkerdunk series
The Mind Of Herbert Clunkerdunk series ordered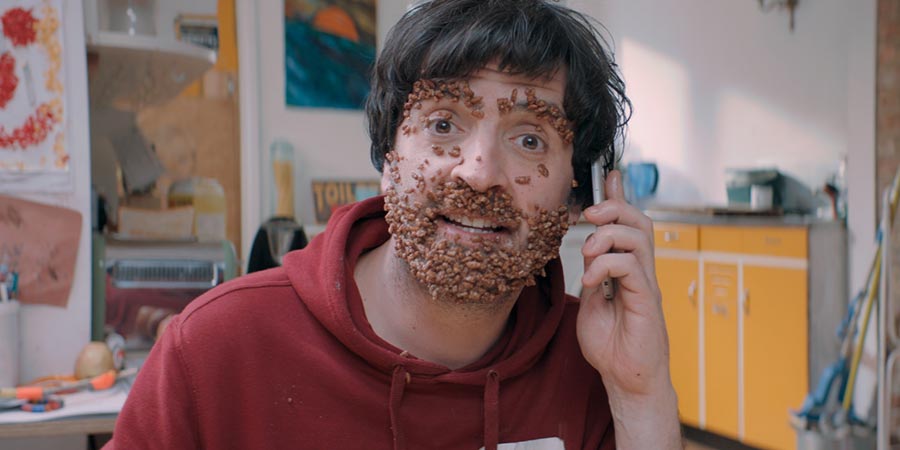 BBC Two has ordered a series of The Mind Of Herbert Clunkerdunk, the sitcom starring Spencer Jones.
The format, which was piloted in September as part of the Comedy Shorts strand, will now be made into a four-part series.
The show sees Spencer Jones performing as his alter ego, Herbert Clunkerdunk, and features surreal moments and props.
The BBC says: "Joining Herbert are regulars Dom Coleman as the irrepressible, unpredictable Jonny Wallop and Lucy Pearman as Bobby Kindle, Herbert's wife, who forever supports him as he tries to juggle real-world responsibilities: work, family, finances, and being a good dad. Expect to see a mix of impromptu music videos and talking household objects as Herbert navigates his way through everyday life only to be constantly interrupted by his quirky imagination."
On his new commission, Spencer Jones says: "To be given a full series for the BBC is one of my ultimate dreams come true. I was so chuffed to get it. However, that feeling has now slowly faded away and I'm absolutely bricking it. But I'm going to use the fear to push me to make this the best thing it can be. I've got a brilliant team of highly skilled people around me, so if Clunkerdunk ain't 'the nuts', then I can safely say it is completely my fault. How terrifying."
David Simpson, who is producing the show for Tiger Aspect, says: "I'm so thrilled that people are going to see more from the brilliant mind of Spencer Jones. He's a true original and this programme is Spencer at his very best. Wallop!"
Kate Daughton, Head of Comedy for the BBC, adds: "Spencer Jones has created a unique and gleefully daft world for his alter ego Herbert Clunkerdunk. We can't wait to see what imaginative tomfoolery he has in store for us in this new series of comedy shorts for BBC Two."
In a BCG interview at the time of the pilot, Jones said he has much material from his live stage act to draw upon. "I have 4 hours of material to choose from that's already been on stage and there's another 10 hours of material in books and videos and songs that I can choose from. Squeezing it in is always a decision based on loads of chats with the people I am working with."
Spencer Jones, who also stars in Upstart Crow alongside Dominic Coleman, will next be seen on screen in BBC One sitcom Mister Winner. Lucy Pearman, who plays Bobby Kindle in Herbert Clunkerdunk, will also appear as his partner in that show.
Filming on The Mind Of Herbert Clunkerdunk will begin in early June, with the resultant four episodes, each 10 minutes long, expected to be shown on BBC Two later in the year.
---
For updates, click the button below.
Share this page