Plebs Series 5 guest stars
Guest cast revealed for Plebs Series 5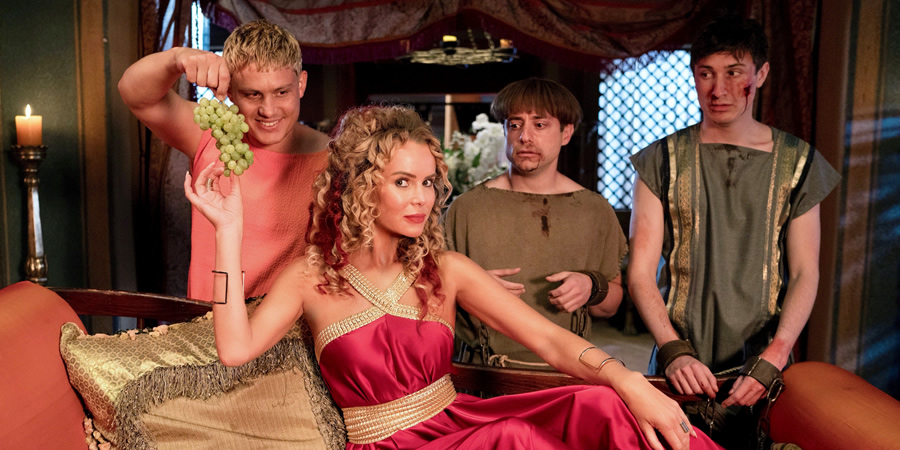 Production is underway on the new series of Plebs.
Series 5 of the hit Ancient Rome-set sitcom commenced filming in Bulgaria this week, and it has been announced that Amanda Holden is amongst the guest stars who'll appear in the ITV2 show.
Holden will play Rufina, a lusty aristocrat at a banquet, who sets her sights on gate-crashing pleb Jason, making him her play-thing for the evening.
Also confirmed to appear in Series 5 are Emilia Fox (playing a detective), Tony Robinson (playing an archaeologist), John Thomson, Tracy Ann Oberman, Kevin Bishop, Leo Gregory (playing a chariot hooligan), Nigel Lindsay and Phil Davis.
The new series - written again by Sam Leifer and Tom Basden - sees the return of stars Tom Rosenthal (Marcus), Ryan Sampson (Grumio), Jon Pointing (Jason), Tom Basden (Aurelius), Ellie Taylor (Gloria), Maureen Lipman (Landlady), Karl Theobald (Landlord), Samantha Spiro (Sylvia) and Danny Webb (Lepidus).
Series 5 will be shown on ITV2 in Autumn 2019.
---
For updates, click the button below.
Share this page