This Time With Alan Partridge
Alan Partridge returns to BBC One in magazine show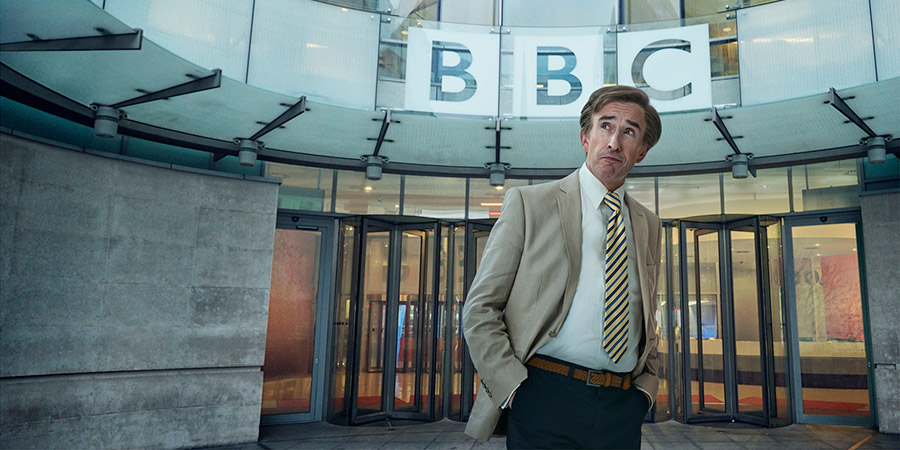 As previously reported, Alan Partridge is to return to the BBC in a new comedy series.
Steve Coogan's character will be seen as the temporary co-host of a weekday evening magazine programme.
BBC One has announced that filming begins today on the project, This Time With Alan Partridge, which sees him back on screen at the broadcaster in "his first return to live television since his 90s chat show Knowing Me, Knowing You was cancelled after a guest was fatally shot on air".
The faux programme will inevitably draw comparisons with real BBC magazine series The One Show.
Having been seen in a number of comedies for Sky in recent years, This Time will be Partridge's first major return to the BBC since sitcom I'm Alan Partridge ended in 2002.
The BBC explain: "This Time is the perfect shop window for a man of Alan's gravitas and will, or should, see him finally recognised as one of the heavyweight broadcasters of his era.
"The show itself is a heady mix of consumer affairs, current affairs, viewer interaction, highbrow interview and lightweight froth; very much the sweet spots for a man whose CV boasts over two decades of weekday local radio. And with an array of diverse subjects on the agenda, it promises the perfect fit for a man whose broadcasting style has been described as 'equidistant between chitchat and analysis'."
Joining Coogan on the sofa will be Susannah Fielding as his female co-presenter Jennie Gresham, and Tim Key as Simon 'formerly Sidekick Simon' Denton. Further casting will be announced in due course.
The six-part series from Baby Cow Productions is due to be broadcast later this year. It has been written by Coogan with now long-term Partridge collaborators Neil and Rob Gibbons, who also direct.
---
For updates, click the button below.
Share this page