Partridge's Brexit BBC return
Alan Partridge returns to the BBC as a pro-Brexit broadcaster
A new Alan Partridge comedy will see the character back at the BBC as a "voice of Brexit"
A full series will be broadcast in Spring 2018, with details of the format still emerging
Steve Coogan, Neil Gibbons and Rob Gibbons will write the series later this year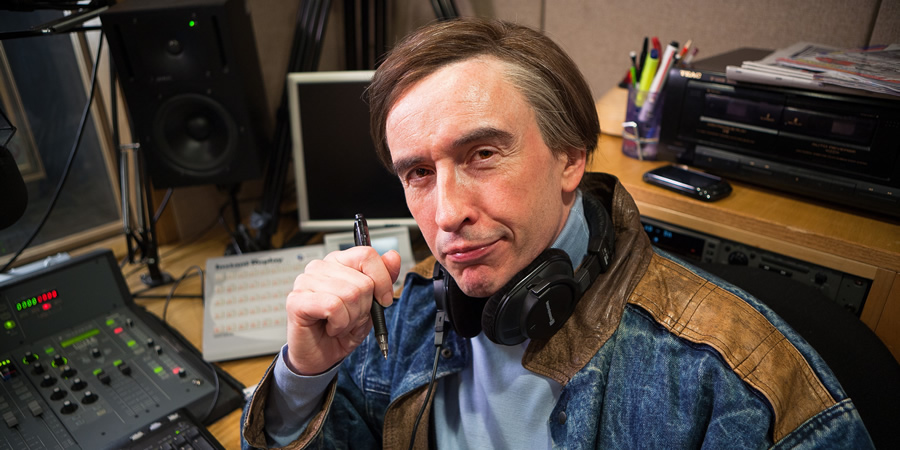 Steve Coogan has given initial information about his character Alan Partridge's impending return to the BBC.
It was confirmed in June that Partridge would be returning to the broadcaster, however further details have yet to be announced. The hapless radio DJ and former TV chat show host was last regularly seen on the BBC in sitcom I'm Alan Partridge, which concluded in 2002.
Speaking in a wide-ranging interview with the pro-Remain newspaper The New European, Coogan revealed that Partridge's return would be explained amidst the UK's vote to withdraw from the European Union.
To be broadcast on BBC Two in Spring 2018, the new sitcom will be based on a return to the BBC for Alan Partridge, re-hired by the corporation as a pro-Brexit voice.
Alan's previous adventures, across series for the BBC, Sky, and a feature film Alpha Papa, have seen the error-prone TV and radio host variously insult and injure audiences, guests, dignitaries, station executives, and become involved in an armed stand-off.
Coogan told the paper: "Alan would have voted Brexit for sure. Hard Brexit, given the choice. He's a Brexiteer because the Daily Mail told him to be.
"Because he has got a show on the BBC, we have a problem, because we have to explain why he's a failure, but that he has a show. The logic of what he is doing has to make sense. It's conceivable, because in this age of Brexit, they might think they need to get in touch with the 'Little Englanders' they ignore."
Explaining further, he said: "Alan's inept but he's also honest and well-intentioned. It's a Little England thoughtlessness. He tries not to be sexist, then is sexist. He's the kind of person, a bit like my dad, who tries to impress but it comes out wrong.
"But the thing with Partridge, is that you can have fun with characters that you don't like to burst the bubble as well, in a sort of 'Emperor's New Clothes' kind of way. As well as being a bit of an idiot himself, you can actually use him to speak truths. To say things that are sort of a bit ignorant, but actually, people secretly agree with him."
Further details about the new Alan Partridge project are expected to be revealed later this year. It will be produced by Coogan's production company, Baby Cow, for BBC Two, and written by Coogan alongside current Partridge co-writers and twins, Neil Gibbons and Rob Gibbons.
---
For updates, click the button below.
Share this page