Not Going Out to return for Christmas Special
Not Going Out to return for Christmas Special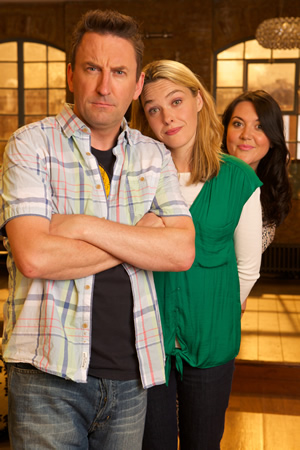 Lee Mack has revealed that his hit sitcom Not Going Out is to return for a new Christmas special.
Talking on Alan Carr: Chatty Man, the comedian confirmed that, contrary to what viewers and the industry had been lead to believe, his long-running sitcom has not actually ended but will return for a new special episode on BBC One this December.
Not Going Out, which is known for its fast, gag-packed scripts, launched in 2006 and has now run for over 50 episodes. Series 7, which was broadcast in October to December last year, picked up healthy ratings of around 3 to 4 million viewers an episode.
However, despite the continued popularity of the show, many people believed the sitcom had come to a natural end because the final episode, broadcast on Christmas Eve, saw the central character of Lee finally marry Lucy, his landlady for whom he had held a long-term secret crush.
Speaking to Alan Carr tonight, Lee Mack confirmed categorically: "We're coming back for a Christmas special this year of Not Going Out."
Elaborating, he explained: "At Christmas we got married in the show and everyone thought that was the end of the show. Everyone kept telling me it had ended apparently - like commissioners and things - but we are coming back for a Christmas special."
Asked "what changed your mind?", the star said: "Basically I decided to have time off. I never killed it off completely - I said I might not do any more, I thought I'll think about it and I genuinely... this is a truthful answer, I thought 'do I never do it again, or do I carry on doing it?'... and I was so undecided I thought 'I'll just do a Christmas special and put off the decision to next year'."
He jokingly concluded: "What also helped was my wife going 'please get out of the house, you're doing my head in!'"
The BBC has yet to officially confirm the news, so it is currently unclear which cast members will return for the special. Starring alongside Mack in Series 7 were Sally Bretton as Lucy, Katy Wix as Daisy, Bobby Ball as Lee's dad Frank, Geoffrey Whitehead as Lucy's father, Deborah Grant as Lucy's mother and Hugh Dennis as new neighbour and friend Toby.
The series finale also saw Tim Vine, who was a regular in the show for the first five series, return for a cameo appearance.
Full details on the new special are expected to be revealed later in the year.
Lee Mack was appearing on Chatty Man to plug The Complete Series 1-7 DVD, which will be released in shops on 1st June.
Share this page