Sky commissions Trollied Series 4 and announces FX US deal
Sky commissions Trollied Series 4 and announces FX US deal
---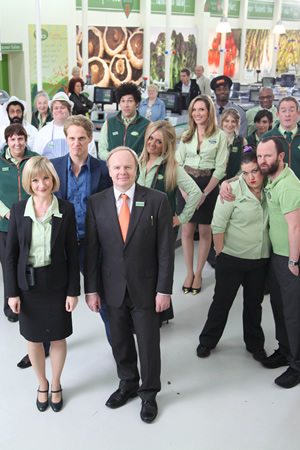 Sky has today announced a comedy co-development deal with US broadcaster FX, and a fourth series of the supermarket-based comedy Trollied.
The sitcom, set in fictional northern cut-price store Valco, follows the lives of the Warrington branch's mismatched workforce. Much as in a real shopping environment the staff line-up has seen numerous changes, previously starring Jane Horrocks as Deputy Manager Julie, Mark Addy as butcher Andy, and Jason Watkins as branch manager Gavin.
Further details of the Series 4 commission have yet to be revealed, but it is expected that Watkins and most of the supporting cast will return and that the series will be broadcast in the run-up to Christmas.
Already known to be returning to Sky's entertainment channels for new series are comedy dramas Mount Pleasant and Stella, police spoof A Touch Of Cloth, and Irish-set sitcom hit Moone Boy.
Sky also today announced a development deal with Trollied production company Roughcut TV. The agreement will see the company developing shows for general entertainment channel Sky1 and the female-orientated entertainment station Sky Living, with international sales conducted by Sky Vision if any series are commissioned. The production company's existing and non-Sky formats will be sold handled by FremantleMedia.
Sky Head of Comedy, Lucy Lumsden said of the deal: "Trollied has been a huge hit with Sky customers and we look forward to developing even more great new homegrown comedy through this new partnership."
The satellite broadcaster also announced today that it has struck a co-funding and co-development deal US television network FX. Both companies are controlled by Rupert Murdoch's 21st Century Fox media conglomerate.
Sky said today: "The two-year agreement will see Sky and FX Networks co-fund and co-develop new half-hour scripted comedy. If the projects are commissioned, the shows would be broadcast on Sky1 HD or Sky Atlantic HD.
"The co-development deal builds on Sky and FX Networks' expertise in creating distinctive, award-winning comedy and will involve the very best on- and off-screen talent from both Britain and the US. The goal is to create new shows that will sit alongside series such as Sky's A Touch Of Cloth and Alan Partridge's Mid-Morning Matters and FX Networks' Louie and It's Always Sunny In Philadelphia."
Lucy Lumsden says of the deal: "We're hugely excited about working with FX Networks to develop distinctive brand new comedy and further strengthen our commitment to original home-grown programming. Partnering with the world's most renowned broadcasters lets us bring Sky customers something truly special, and we look forward to working with the most talented comedy writers and performers in both Britain and the US."
Eric Schrier, President of Original Programming for FX Networks and FX Productions, adds: "We are truly excited to partner with Sky and create comedies that will bridge the Atlantic and entertain audiences in both the UK and US. This partnership will open doors for us to discover new comedy talent and develop their stories in this unique foreign exchange programme."
The set of Trollied was recently destroyed in a high-profile challenge segment on BBC Two's hit motoring show Top Gear:
Share this page