Monty Python Live details revealed
Monty Python Live details revealed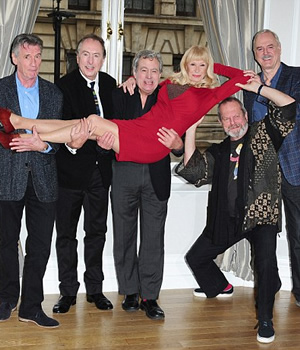 The five members of Monty Python have confirmed that they will appear as Monty Python Live on stage next year, for the first time in nearly 40 years.
John Cleese, Terry Gilliam, Eric Idle, Terry Jones and Michael Palin held a press conference at the Playhouse Theatre, London, to announces the one-off "greatest hits" show at the O2 Arena.
Carol Cleveland, who has performed in many of the Pythons' previous projects, was also in attendance.
The performance is scheduled for Tuesday 1st July 2014, with tickets going on sale on Monday 25th November at 10am. Eric Idle will direct the show, with tickets under £100, starting at £27.50 and going up to £95 - "only £300 cheaper than the Rolling Stones".
The show is initially billed as a one-off performance "to see if we can do it", but if successful the production is highly likely to tour internationally.
Story Update, 25th November: All the tickets sold out in 43.5 seconds, promoting the group to announce another four dates for the 2nd to 5th July... these then sold out in 55 minutes. In total, 14,500 tickets were sold within the hour. Eric Idle said: "It's totally amazing. I don't think we realised quite how much Python is loved round the world. We look forward to paying off Terry Jones' mortgage soon."
The sixth member of Monty Python, Graham Chapman, died in 1989. Referring to Chapman, initial promotional artwork for the tour proclaims "one down, five to go".
The press conference was hosted by Warwick Davis, with the comics each deliberately sat in front of another's name card, and answering direct questions according to those cards. It was joked that the Pythons had received host-city bids for their planned new live show from across the globe. Khatar was declared the winner, but unsuitable.
Eric Idle promised that Monty Python Live would contain "a little comedy, a lot of pathos, some music and a tiny bit of ancient sex". The stage show will contain big-budget song-and-dance numbers, which Arlene Phillips will choreograph. She has previously worked with the Pythons on musical numbers like Every Sperm Is Sacred.
Asked as to who took the longest to convince to take part in the reunion, the group responded that it was "probably" Michael Palin, who had vetoed previous ideas to reform, largely due to his own workload with his various BBC travel series.
On the make-up of the show and whether there would be any new material, John Cleese explained: "People really do want to see the old hits, but we don't want to do them exactly in a predictable way. It's going to be a sort-of mix-up, I think." He later said that there would be "some version of the parrot".
Michael Palin promised "some new material, stitching together some oldies", and Eric Idle revealed they would also perform "quite a lot of" material that had never been seen live before. Terry Gilliam added that he would be digging into his archive of animations to punctuate the performance.
The show is officially described as including "some of Monty Python's greatest hits with modern, topical, Pythonesque twists".
However, Cleese described it as "impossible" to perform the famous Ministry of Silly Walks sketch any more, due to his knee and hip replacements.
Responding to a query about whether the show would go to the US, where they last performed live, at the Hollywood Bowl on 15th September 1980, John Cleese joked: "I think we're all a little tentative about performing in failed states though, aren't we?"
Questioned by international press, Cleese added: "The only problem with [going to] Australia is that there are planets closer than that."
The group also confirmed that the show will be filmed for commercial DVD release to "flog later" and made available for "any [TV] organisation that puts in a bid". Michael Palin explained they had once devised a Holy Grail sequel in which a group of crusaders got diverted en route to the holy land, but effectively ruled out the production of a new Monty Python film due to their packed schedules.
However, prompted by a question about returning to their old home of BBC television, they did not entirely rule out a new TV series. The troupe appeared to challenge the BBC to repeat Flying Circus, and to offer them a new commission.
They said: "Well, you'll have to ask the BBC about that. The BBC do have rights to [Monty Python's Flying Circus], terrestrial rights in this country, but actually it hasn't been on in about 20 years."
The stars said they were not worried about damaging their legacy, pointing out they have not simply "milked" their material in the past, but that "the cow died years ago". Gilliam commented: "After you're 70 you can be absolutely shameless."
Palin said, "I didn't think it was possible to be silly over 70 [years of age], but actually it's easier, I think. And very necessary."
John Cleese added: "The main danger we have is the audience knowing the scripts better than we do."
Asked about the loss of Graham Chapman, the group explained: "We'll miss Graham, quite a lot. But he will be there. We will be incorporating him, on screen, in film, remembering him." Idle added: "In fact, we've told him we're going to be on, and if there is a God, he'll show up."
Monty Python Live will be produced by Phil McIntyre Entertainments.
Other information will be detailed later at MontyPythonLive.com
Here is a video featuring highlights from the conference:
Monty Python Live will be the group's first major joint comedy project since the 1983 film Monty Python's The Meaning Of Life. It is highly significant news, as Monty Python are seen internationally as amongst British comedy's most talented and influential comedians, both individually and collectively.
The 1969 - 1974 TV sketch show Monty Python's Flying Circus effectively waved in a new era of sketch comedy, and all the members of the group have created and starred in a number of notable British comedy productions individually. Monty Python's Life Of Brian, the troupe's controversial 1979 film, regularly appears at the top of lists counting down the funniest films ever made.
The last time Cleese, Gilliam, Idle, Jones and Palin performed together was in 1998 at the Aspen Comedy Festival, at which they accidentally spilled the 'ashes' of Chapman over the stage.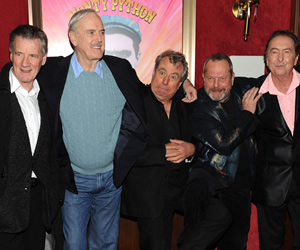 Since then the iconic comedians have publicly met a number of times for promotional reasons. Most recently, earlier this year they took part in The Meaning Of Monty Python, a TV broadcast discussion to mark the 30th anniversary of The Meaning Of Life. However, in this case Idle was appearing via video link.
As reported by BCG last Saturday, Michael Palin and Terry Jones have been working together again in recent weeks to film new scenes for a DVD release of their 1969 sketch show The Complete And Utter History Of Britain.
The live stage show Spamalot, which is based on the group's 1974 film Monty Python And The Holy Grail has been a huge hit, but does not star the Pythons themselves. Launched in 2005, the stage format has made tens of millions around the world.
The stage show, devised by Idle, has proved controversial however. Earlier this year the original film's producer, Mork Forstater, won a High Court case in regards to the royalty rights to the production.
Below is a video extract from The Meaning Of Monty Python in which the comedians talk about "The Meaning of Life, comedy, fish and their own mortality".
Share this page